In this post, Nicholas Duvall, Research Development Officer for Science and Engineering at the Research Support Office, reflects on a recent visit from EPSRC, suggests how Edinburgh researchers can engage with this funder, and looks at a major new funding scheme for early-career researchers, the UKRI Future Leaders Fellowships.
Last month, the University of Edinburgh hosted a visit from the Engineering and Physical Sciences Research Council (EPSRC) as part of a series of visits to Strategic Partner Universities. During the visit, Amanda Chmura (Associate Director) and Vivienne Blackstone (Senior Manager for University Engagement and International) spoke with and took feedback from a number of researchers from EPSRC subject areas, at various career stages, and addressed the College of Science and Engineering in an open forum.
In her presentation, Dr Chmura spoke about EPSRC's place in UK Research and Innovation (which formally launched on 3 April), the body which encompasses the seven Research Councils, Innovate UK, and Research England. UKRI aims to provide a greater strategic vision for UK science, and should allow for greater coordination of activities between the councils, including on interdisciplinary initiatives. Dr Chmura also highlighted some of the new opportunities which will be launched by UKRI soon, such as the Strength in Places Fund (£115m to help support regional growth by identifying areas of emerging R&D strength) and a Fund for International Collaborations (£110m which will provide opportunities for engaging with partners overseas to enhance the UK's excellence in research and innovation). Of particular interest to many researchers in the university will be the UKRI Future Leaders Fellowships scheme (information for UoE applicants can be found here), which aims to support early-career researchers and innovators with outstanding potential. It offers a flexible, long-term package of support for up to seven years, including salary and research costs, with a commitment from the host institution to offer the fellow an open-ended position at the end of the award period. There will be six calls over the next three years, and the scheme is open to research projects across the whole of UKRI's remit, with no barriers to interdisciplinary research. If you are interested in making an application, get in touch with the Research Support Office (RSO) and your school or centre as soon as possible.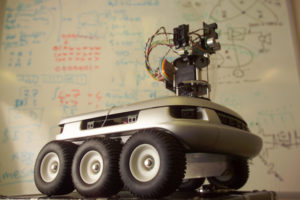 EPSRC also welcomed feedback on the funder's awards portfolio from the research community at Edinburgh. They spoke to early- and mid-career researchers, who were able to articulate some of the obstacles which they had identified in their work. For example, the options for early-career researchers to request funding for equipment were limited; and some summer application deadlines could pose a problem for people working around school holidays. Likewise, following changes EPSRC made last year in its offer for researchers at the beginning of their independent research careers, by closing the First Grants scheme and replacing it with the New Investigator Awards, which do not have an upper value limit, EPSRC were (and still are) particularly interested in hearing from the research community about how they have found this change. Researchers at the meeting were keen that the eligibility criteria for the scheme not be too restrictive, especially where an early-career researcher had been invited to participate on a larger application. Of course, you may still apply for a New Investigator Award if you have been named as a co-investigator on an EPSRC application and this is your first proposal as a Principal Investigator, and the RSO is able to give advice on all aspects of putting together an application, including eligibility, costing as well as being able to review your proposal as it develops.
The EPSRC see protecting long-term fundamental research as an important part of their role, by making the case to government and industry that investing in science and engineering is vital to maintaining the UK's position as a leader in research and development. The university community can work with EPSRC to make the case for funding science and engineering research. One of the best ways for researchers at the University of Edinburgh to do this is by participating in the EPSRC's panels and advisory groups. The council recruit regularly for members of their strategic advisory bodies, and there are spaces for academics, and others, at various career stages. Several subject themes have Early Career Forums, which recruit on an annual basis. EPSRC also encouraged researchers to get in touch if they are interested in serving as a panel member for a particular competition. Participating in these bodies is an excellent way for getting the voice of your subject heard within the corridors of power; it can give you, and your colleagues, valuable insights into the research funding landscape; and is a great way to demonstrate commitment to the future of the discipline.
Dr Nicholas Duvall is Research Development Officer for Science and Engineering at the Research Support Office, University of Edinburgh.
NB – Each of the three Colleges is running their own internal process to identify applicants for the UKRI Future Leaders Fellowship Scheme so please speak to your Head of School or Director of Research for details or contact your Research Support Advisor.
More from this author
Share