Celebrating 4 million enrolments on our free short online courses
Celebrating 4 million enrolments on our free short online courses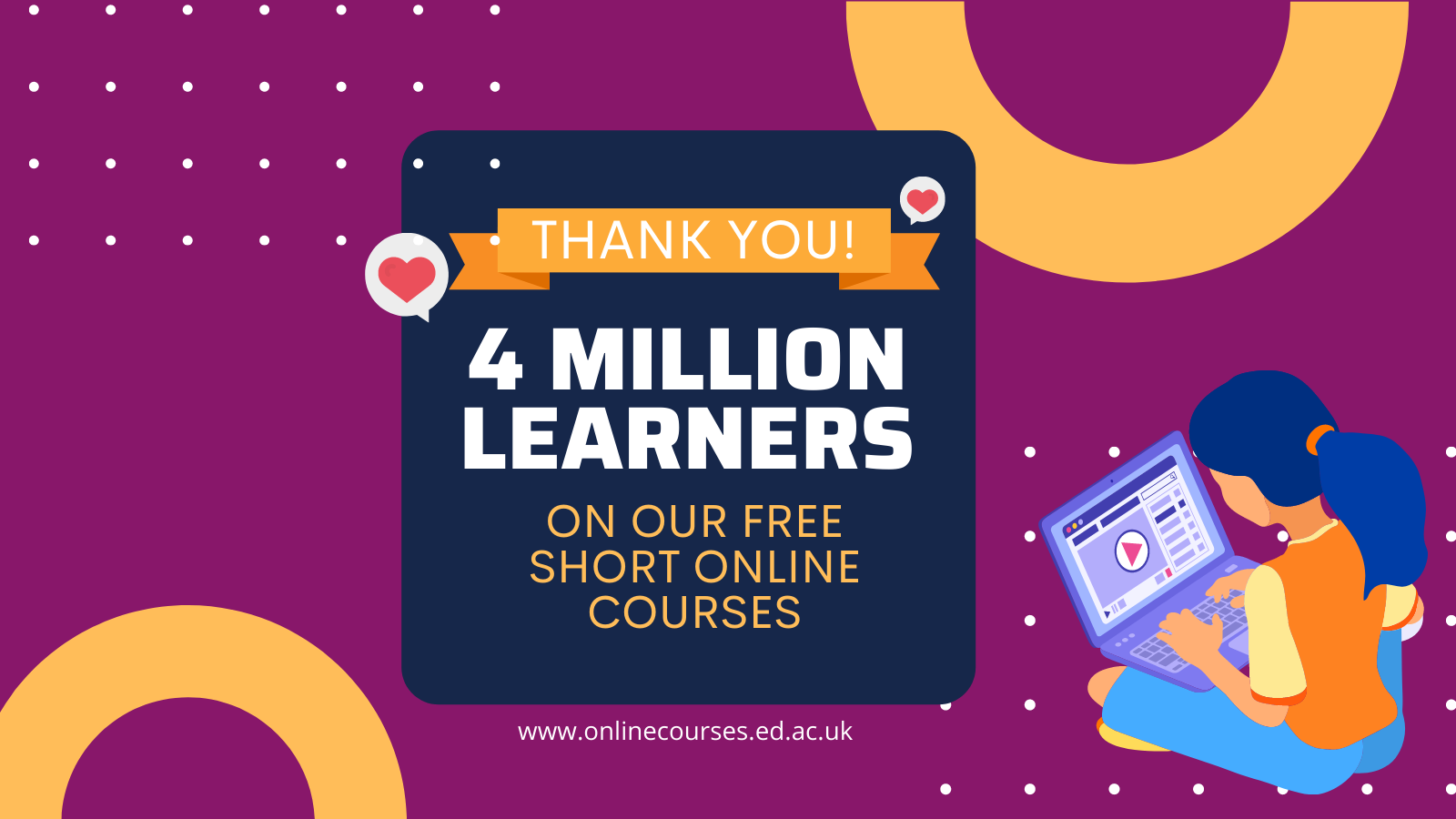 We are happy to announce that the University has officially reached an incredible milestone of 4 million enrolments on our 80 free short online courses! A huge thank you to our keen learners who engage meaningfully with the courses and participate in lively discussions.

These online courses are completely free to take and have no entry requirements. Led by world-class academics and supported by teaching assistants, they typically require only 1-2 hours of study each week for around five weeks on established online learning platforms such as Coursera, FutureLearn, and edX. W
e are proud to offer these free courses as part of the University's commitment to knowledge exchange and community outreach.
The courses cover fascinating subjects in several fields including business, education, arts, history, and STEM. Courses include "Climate Solutions", "How to Create an Online Course", "The Truth About Cats and Dogs", and "Digital Marketing Fundamentals" – just to name a few! 
A significant number of our courses are related to the 
environment and sustainability
 – a crucial subject area to learn about to ensure a better world for society to live in. We would like to highlight the "
Learning for a Sustainable Future: Live at COP26
" course which ran for 2 weeks in parallel with the recent United Nations Climate Change Conference in Glasgow. "Live" insights were provided into the important issues being discussed – and course content will remain open, free and accessible as a resource for school, community and individual use beyond COP26.
Here's what Dr Melissa Highton, Director of Learning, Teaching and Web (LTW) Services and Assistant Principal Online Learning had to say about our recent achievement:
"

It is exciting that 4 million people have chosen to study something online from University of Edinburgh, this broad engagement worldwide ensures that our courses are open to all.

"