Who could argue that the birth of a child is not a magical event?  Besides 'magic,' however, there are other words that could accurately describe this period, like the word 'changes' – Changes in our everyday routine, sleep, mood, priorities, expenses, social interactions and, most of all, our social roles.
You are now the 'mum' or the 'dad' of someone and this is a characteristic that will accompany you forever. It is a quality, nevertheless, that changes over time, in terms of its contents and its associated responsibilities. Earlier researchers suggest that the growth of the brain is dependent upon and influenced by the socioemotional environment, and for the developing infant, the mother essentially is the environment. In the decades afterwards, however, the importance of fathers to their children's development has increasingly gained recognition.
The role of both mothers and fathers is, therefore, especially important during the first steps of a child's development!
As part of my PhD at the University of Edinburgh, I explore the characteristics that support the smooth emotional development of babies, and specifically of the babies whose parents experience mood instability during this period.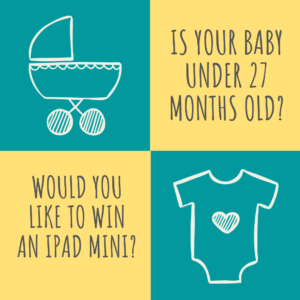 If you are a mother or a father with a baby up to 27 months old and find this purpose as important as we do, please put on some music and grab a cup of tea! You could support our mission by simply completing this survey!
It will take max 25 minutes to complete this survey. Your participation is completely anonymous, and the survey is open to all parents, regardless of mental health status or place of living. At the end of the survey, you will be able to take part in a prize draw to win an iPad mini and to express your interest in receiving an overall summary of the survey findings.
Your contribution would be truly valuable! A better understanding of the emotional links between parents and their babies could help future parents and their babies to get the support they need when they need it!
---
---
Share