1.5.4 Our January 17th Meeting with the NLS
1.5.4 Our January 17th Meeting with the NLS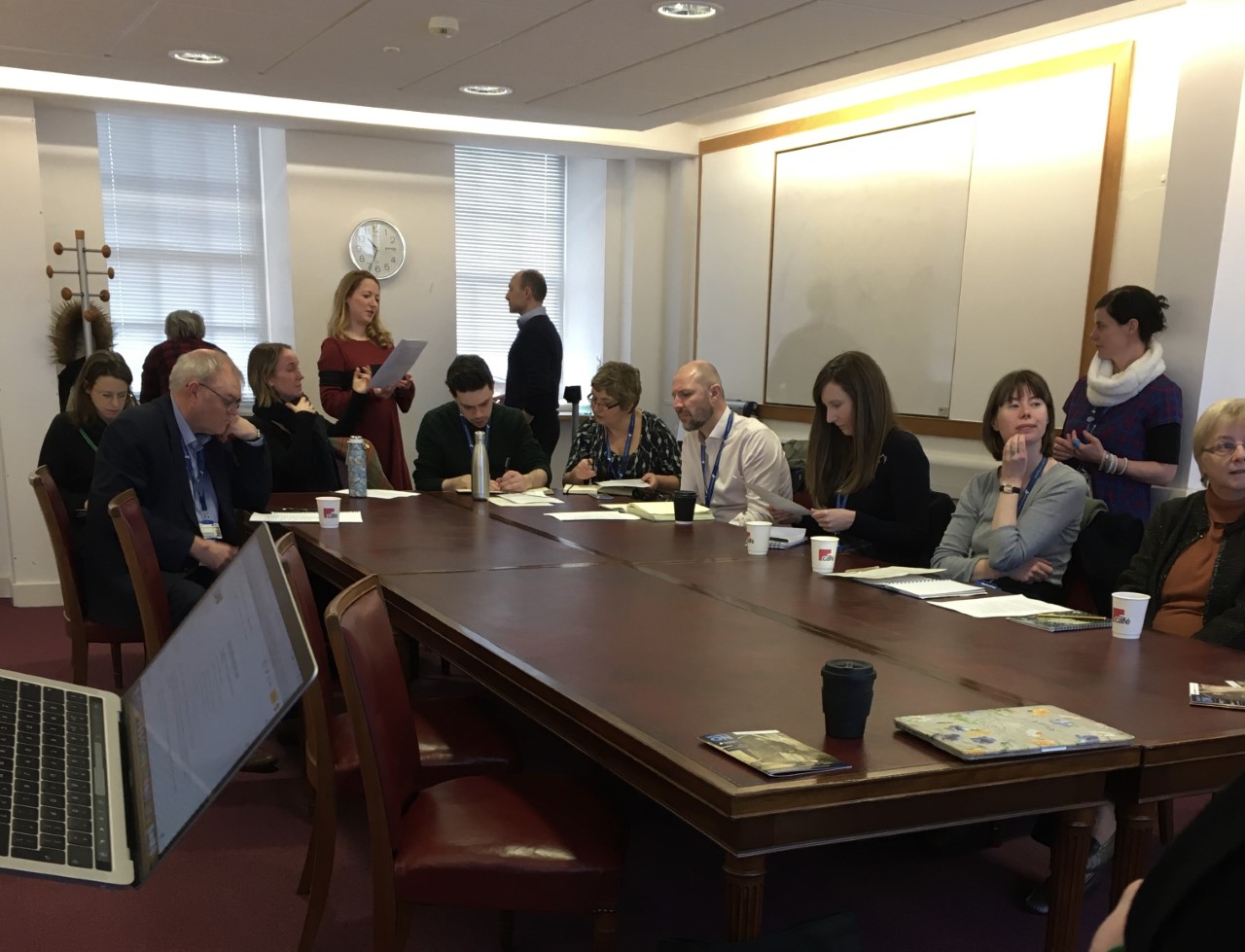 At the beginning of Semester 2, we were asked to re-present our ideas to a group of NLS staff, including members from Curatorial, Events, Exhibition, Conservation, Digital Learning, IT, Front of House, Public Engagement, and Security.
While our Final Pitch in Semester 1 had gone over well, the team at the NLS still had many unanswered questions having to do with logistics of our space, the running of the actual day, our particular objects, IT needs, our social media campaign, and the function of the Conversation Corner.
This event caused a lot of stress within the group.  The email we received from Sheena proposing it, while worded perfectly neutrally, was followed up by a long list of copied and pasted questions from various NLS staff, which made us feel very under-the-microscope.
At the meeting, we opened with a mini version of our Final Pitch, then touched on all the questions we had been sent, and Melanie showed several Sketch Up models of how we envisioned the room layout.  At the end of it, there was a large amount of discussion with us about details we had been waiting on answers from the Library for, and about logistics between the Library departments. It seemed that many people had heard bits and pieces of what we were planning, and to sit everyone down together not only allowed us to show them all a full plan, but also allowed the various departments a space to communicate with eachother regarding logistics of pulling this off.
Takeaways and For-Next-Times:
It became clear to us in this meeting the extent to which the Library was going out on a limb to let us have essentially full creative freedom.  Graeme Hawley in particular mentioned several times that even if things don't go to plan, this is a learning experience, and the Library will be grateful for that data in future.
Melanie's Sketch Up models are what I think really sold our project to the staff who still had questions and doubts.  Once those had been shown, the ideas we had seemed to click with everyone in the room.  This showed us the importance of visual tools in communicating ideas and pitches to future institutions.  I think those models really saved a lot of our ideas from potential bureaucratic anti-risk death.
Entry Wordcount: 383
Running Total Wordcount: 2572