1.5.6 The Octanorm Disaster
1.5.6 The Octanorm Disaster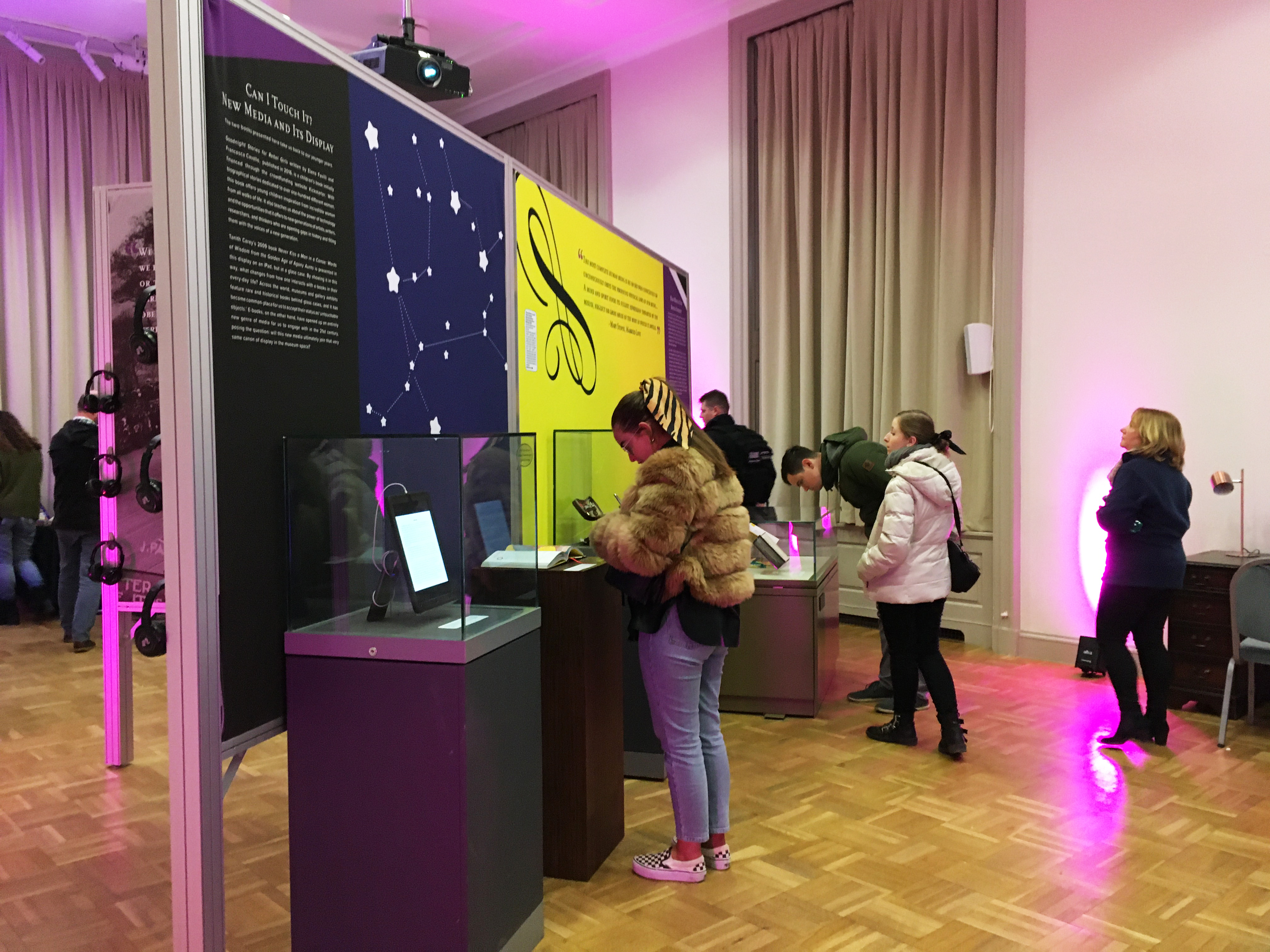 In my entry of December 22nd, I mentioned that we were planning to use a large x-shaped Octanorm structure in our exhibition.  In January, we received a list of the Library's available Octanorm pieces, and owing to a lack of compatible parts with our initial design, had to re-design to a t-shaped structure.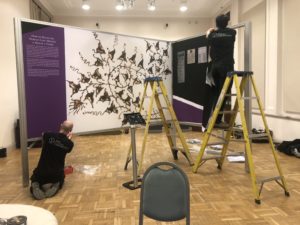 Due to a lack of communication from the Library's usual Octanorm printer/assembler, we confirmed two other suppliers in late January: Mackinnon Slater for printing, and Old School Fabrications for assembly.
Wednesday the 26th, 8 days before opening, we received an email from Scott at Old School Fabrications saying the pieces on the Library's Octanorm parts list were not compatible with our design.  We calculated that we had about £1300 to spare in the budget to put towards fixing the situation, and I undertook the coordination of that.
I first attempted to rent additional Octanorm pieces from a company, who instead offered to fully reprint and assemble on a non-Octanorm system for £2500.  I next contacted Kevin at Mackinnon Slater, who said the fabric panels were already printed, and suggested we find contact SP Designs, who had originally ordered the Octanorm for the Library in the hopes they could lend us materials or put us in contact with the direct Octanorm supplier.  A call to Scott at Old School yielded further information that the printed graphics would not fit our proposed structure anyway, as we had not understood the assembly method of the system.  Scott provided us with two parts lists: one of pieces needed to make what was on hand work (with some fabric panel pinning), and one of pieces needed to build a structure to fit the already-printed graphics.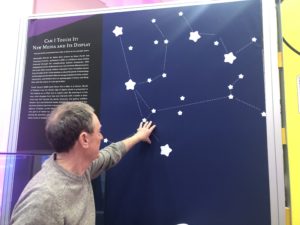 SP Designs put us in contact with RTD Systems, the direct supplier.  The ideal setup came to £2200, and the make-do setup came to £1200, both including overnight shipping from London.  We ordered the make-do option, and the pieces arrived the day before our exhibition opened.
On the morning of the exhibition, Scott and Dan from Old School discovered that the original list of available Octanorm pieces from the Library was incorrect: the vertical pieces were taller than expected, and several of the horizontal pieces were also longer than expected.  After a time of tense consultation with Old School and with Calum and Sheena, we secured permission from the Library for Old School to hacksaw the horizontal pieces to the correct size to fit our graphics.  Ultimately this worked in our favour, as the set-up looked much better at a taller level, and Old School was then able to size the armature to properly fit our graphics.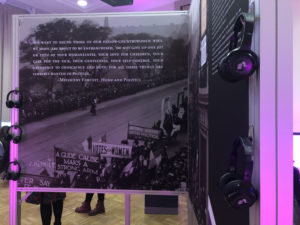 Takeaways and For-Next-Times:
My frustration with the initial company's lack of communication and my worry about timelines caused me to decide I'd rather find different suppliers than pursue a response.  If I had tried harder to contact them I could have avoided miscommunications that happened later down the line. However, all the issues ultimately led to us building a structure that was nicer looking than the one we had initially designed.
I have learned from this experience that I have grown to work well under pressure.  A supervisor of mine once observed that when I felt overwhelmed, I would often get flustered and hit a productivity wall.  This situation with the Octanorm has shown me that I have overcome that particular challenge, and also that I thoroughly enjoyed the challenge.
From this I learned that if you are working with an unknown system, never to assume that it will function in a rational manner, and always familiarise yourself with it before diving in.
Entry Wordcount: 603
Running Total Wordcount: 4561