Edinburgh Undergraduate Operational Research Challenge
Edinburgh Undergraduate Operational Research Challenge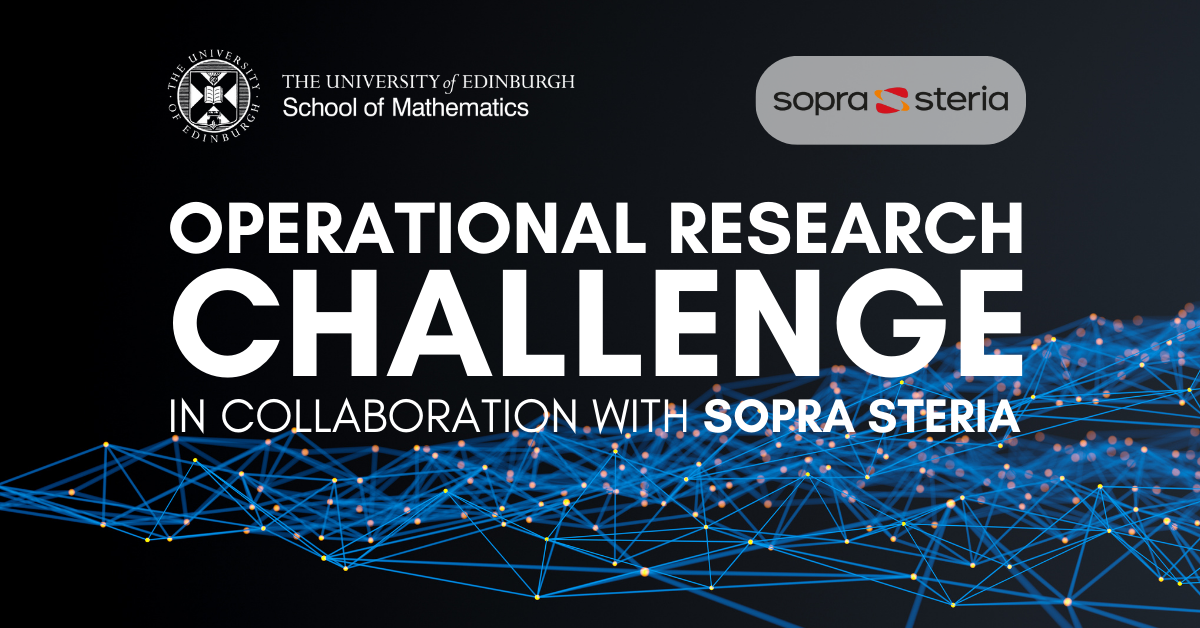 Established in 2021, the School of Mathematics runs an annual Operational Research (OR) Challenge open to undergraduates across the UK. The purpose of the challenge is to introduce students to the field of OR, as it is not often included in undergraduate curriculum, and showcase the broad range of practical problems that can be solved using OR methodologies.
Each year, teams of one or two students sign up to work on an OR problem posed by the School of Mathematics and an industry partner. Running each challenge in collaboration with an industry partner allows participants to network and interact with practitioners who use OR techniques on a daily basis as well as with university researchers.
This year, our OR Challenge was run in partnership with Sopra Steria, who proposed a resource allocation problem with a business consultancy perspective. We had students participating from across the UK, including from institutions such as the University of Leeds, University of Oxford and Imperial College London, as well as our own University of Edinburgh.
The teams submitted reports presenting their solutions to the problem, which were reviewed by a panel including academics from the University of Edinburgh and consultants from Sopra Steria. Out of 144 entries, three teams were selected as finalists and invited to Edinburgh to present their solutions in-person to the panel. The quality of the reports and presentations was impressive. After a long deliberation, the results were:
1st prize: Ethan He (University of Edinburgh), who was awarded a paid summer internship with Sopra Steria and £400
2nd prize: James Marriner (University of Glasgow) who was awarded £300
3rd prize: Fuad Jamari and Fatih Aziz (University of Bristol) who were awarded £50
Congratulations!
Thank you to all the students who participated in the Challenge, and to Sopra Steria for their support on this year's challenge.
We are already working on next year's edition of the challenge. Registration will open in September 2023.
For more information about the Challenge, please see our website.
Undergraduate Operational Research Challenge
If you are interested in becoming an industry partner of the OR Challenge in future, we would love to hear from you! Please contact our Business Development Team (business.development@ed.ac.uk).
Share