Workshop with National Grid ESO AI Centre of Excellence
Workshop with National Grid ESO AI Centre of Excellence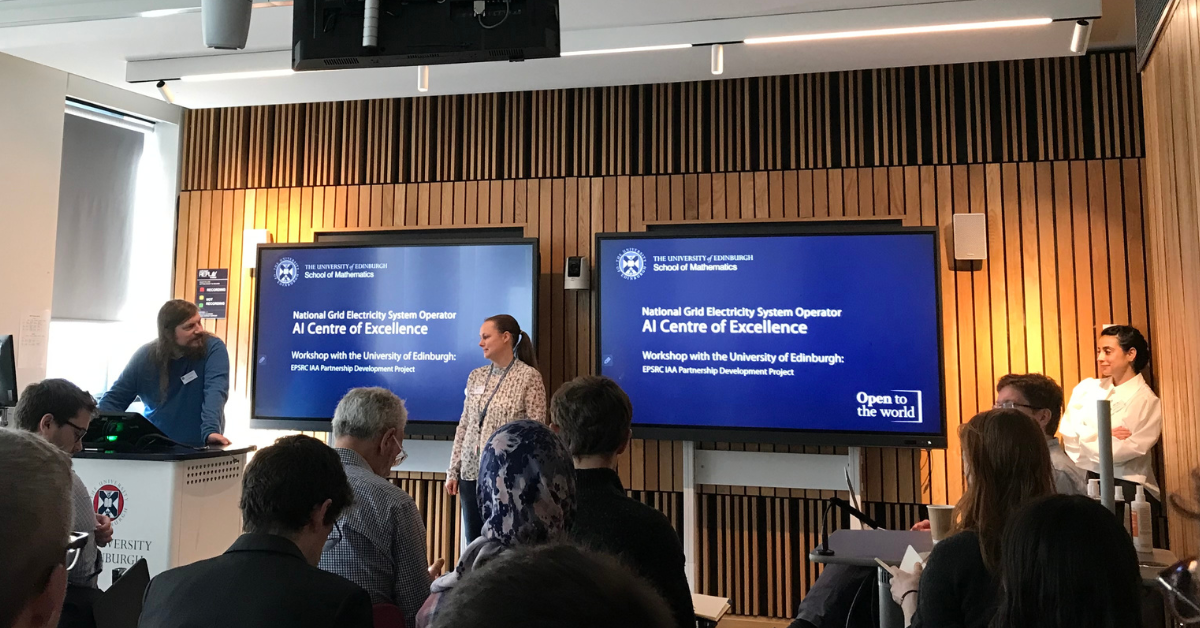 Earlier this month, we ran a successful workshop with National Grid ESO, hosted at the Bayes Centre. The workshop was delivered through the EPSRC IAA Partnership Development scheme as part of establishing connections with National Grid ESO's new AI Centre of Excellence.
The purpose of the workshop was to discuss a range of data and decision-making use cases, with the overall aim of engaging more researchers with data science expertise into the area of Energy and its related challenges of moving to Net Zero.
Our objectives for the workshop were to:
Increase our knowledge of the challenges National Grid ESO faces, in order to better understand how our expertise can help to address these challenges.
Further develop use cases with the AI Centre of Excellence, and contribute to the development of an academic engagement model within the Centre.
Broaden the group of researchers at the interface of AI, data science and Energy.
Create and facilitate inter-disciplinary approaches to challenges.
Identify key stakeholders within the University of Edinburgh to work with National Grid ESO in an effective way.
Increase capacity of expertise in Energy in preparation for larger challenges ahead.
Possible outcomes of the workshop include:
Projects with the potential to progress to a NIA application. Following the workshop, we are already aware of some researchers exploring possibilities in this direction.
Generation of student projects suitable for postgraduate students (MSc and PhD students).
Increase in academic links with National Grid ESO (particularly through the new AI Centre of Excellence) to further relevant conversations in this area.
In addition to participants from the School of Mathematics, we had excellent engagement from a range of research staff across multiple Schools, including the School of Informatics, School of GeoSciences, School of Engineering, Business School, and EPCC.
Many thanks to all those who attended, and to Dr Lars Schewe, Rosie Wilkie and Maria Tovar Gallardo for coordinating this event with National Grid ESO. If you are a University staff member interested in working with National Grid ESO, please contact Rosie Wilkie (business.development@maths.ed.ac.uk).
Read more about National Grid ESO here: Innovation | ESO (nationalgrideso.com)
It was a great pleasure to engage with students and researchers from the University of Edinburgh. The energy industry needs creativity, outside of box thinking and problem solving to address Climate Change challenges. It was great to see the participants coming together to do exactly that!
– Darya Nizhnikova (Customer Innovation and Technology Partner, National Grid ESO)
Share