Dr Catherine Middleton, Historic Environment Scotland
About the author
 As a history student at Glasgow University in the early 1990s, I won the Ewing Prize. I did not know then that James Ewing was the most prominent slave owner in early 19th century Glasgow.  If I had known, I would never have accepted the prize.  I only discovered this link when the university published its pioneering study examining its links with the profits of transatlantic slavery in 2018.  That report, together with a BBC Scotland documentary on the same subject, fired my desire to look closer at the links between the profits of transatlantic slavery and the Scottish historic environment, and at country estates in particular.  I was very familiar with these, having worked for HES specialising in development management in designed landscapes for over a decade. But I did not know about their links to transatlantic slavery.  So, I sought to revisit these familiar places with a new set of questions. In doing so, I am finally beginning to engage with the legacy of transatlantic slavery in this part of the Scottish built environment. I also hope that my work, in some small way, will make amends for the Ewing Prize that helped launch my career as a historian.
Scottish involvement in transatlantic slavery
In Scotland there has long been a sense of historical 'amnesia' about Scottish involvement in transatlantic slavery. This is reflected in how Scotland's historic environment has been recorded, which has traditionally focused on buildings and country estates as works of art. They have been celebrated as the masterpieces of individual architects, artists, fashionable landowners and patrons of the arts. This aesthetic approach to the historic environment is important but it has resulted in gaps in our knowledge and understanding of the full, complex cultural significance of these country estates.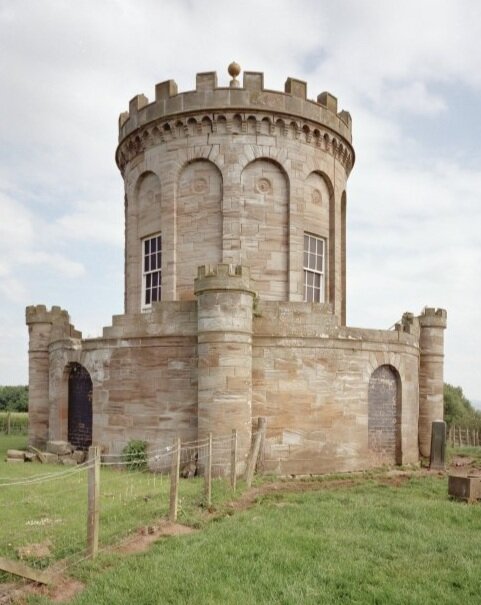 Oswald Tea House, Auchincruive, Ayrshire (Image: http://canmore.org.uk/collection/1274009)
Oswald used his profits from the transatlantic slave trade to purchase the Auchincruive estate in 1764 and they funded extensive agricultural and estate improvements. In 1778 he commissioned Robert Adam to design the tea house, a sophisticated, high status building built using high quality materials in which he and his family could drink tea, a fashionable social activity symbolic of elite wealth and prestige. Buildings of Scotland states that it is 'the outstanding piece of architecture on the estate. More than any other building it symbolised Oswald as a gentleman of respectability.' Coming from the aspiring middle classes, Oswald purchased Auchincruive in order to consolidate his transition to the landed gentry, giving him access to considerable political and social influence. The tea house, designed by Britain's foremost architect at the height of his fame, was Oswald's successful bid to establish himself as a fashionable and respected member of the Scottish elite. Gentrification was part of the process of calculated detachment from the transatlantic slave trade.
The source of Oswald's wealth as a slave trader, his motivations for commissioning it and its role as a symbol of his transition into the Scottish landowning elite are fundamental parts of the story of the Auchincruive tea house.  However, this explicit link between the transatlantic slave trade and Oswald's tea house at Auchincruive is currently missing from our understanding of the cultural significance of the building.
Why is this important? 
As the lead body in the historic environment, HES has been exploring how our national records, archives and designations, as well as our decision-making, should reflect all aspects of this legacy. We need to address these gaps in our knowledge and understanding of the full, complex cultural significance of these country estates.The understanding of the level and nature of investment of the profits of transatlantic slavery in the Scottish built environment adds an important new layer to the significance of country house building and estate enhancement in 18th and early 19th century Scotland. It puts these people and their estates into an international, imperial context, as participants and beneficiaries of the transatlantic economy, one that was based on and profited from the exploitation of slave labour. The contribution that enslaved people from Africa played in the creation of these places is a key element of their cultural significance.The tea house at Auchincruive is currently in a poor condition. However, without a full understanding of its cultural significance, we cannot make informed decisions about its future.  We need consider how this information informs conservation decisions.  We need to ensure that these issues are recognised in all of the work we do and to encourage open, informed debate about how we approach these historic places. Any future plans for it will have to acknowledge and respond to this new understanding of its significance.