Friday Talk | Jamie Crewe: DEMONIC HALF-PERSON
Friday Talk | Jamie Crewe: DEMONIC HALF-PERSON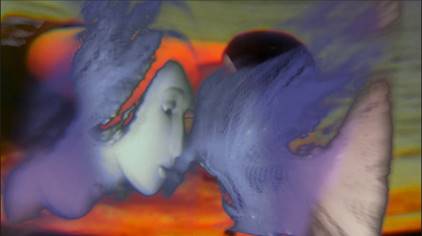 We are delighted to announce the Friday Talk Lecture series for 2022 / 23 accademic year, a host of exciting artists will be joing us through out the semester.
The first Friday Talk Lecture will be with Glasgow based artist Jamie Crewe, who will give a lecture titled DEMONIC HALF-PERSON, on Friday 7 Oct at 11am – 1pm, West Court, ECA Main Building.
---
DEMONIC HALF-PERSON In this artist's talk Jamie will discuss a technique that recurs throughout my practice. Jamie  has named this technique DEMONIC HALF-PERSON, and it describes positions or states of inhumanity, and things that are not quite people.
What might be escaped when humanity is shrugged off, or torn from you like a shoulderless gown? What are you licensed to do to a person who is not (fully, completely, or correctly) a person? What does everyone else have that I am missing? This talk will chart the recurrence of such questions and themes across Jamie's life and practice.
Jamie Crewe is a beautiful bronze figure with a polished cocotte's head. She grew up in the Peak District, England, and is now settled in Glasgow, Scotland. 
Jamie studied the BA in Contemporary Fine Art at Sheffield Hallam University from 2006-2009, and the Master of Fine Art at Glasgow School of Art from 2013-2015. She has presented several solo exhibitions, including Ashley at LUX Moving Image, London (2020); Solidarity & Love at Humber Street Gallery, Hull (2020); Love & Solidarity at Grand Union, Birmingham (2020); Pastoral Drama at Tramway, Glasgow (2018); Female Executioner at Gasworks, London (2017); and But what was most awful was a girl who was singing at Transmission, Glasgow (2016). Their work has also been presented as part of I, I, I, I, I, I, I, Kathy Acker at the Institute of Contemporary Arts, London (2019); as part of the KW Production Series at Julia Stoschek Collection, Berlin (2018); as part of the Glasgow International 2018 Director's Programme in the group show Cellular World at GoMA, Glasgow (2018); and as part of the Artists' Moving Image Festival 2016 at Tramway, Glasgow (2016). She has also recently directed A Luxury (2021), a short film responding to Shola Von Reinhold's novel LOTE (2020), commissioned by Edinburgh International Book Festival, and contributed six drawings to The Moon Spins The Dead Prison: An Anthology of Abolition (2022), a publication by The School of Abolition.
In 2022 Jamie released False Wife, a new work commissioned in tandem with a research project at Edinburgh Law School, responding to the theme of identity deception and its history in Scots law. The work, composed of a local website and a poppers training video, was available to download throughout April 2022, and its video portion was screened at the European Media Arts Festival in Osnabrück, Germany, where it was awarded the EMAF Award for groundbreaking work in media art. In 2020 they were awarded one of ten Turner Bursaries on the basis of their sister shows, Love & Solidarity and Solidarity & Love, at Grand Union, Birmingham, and Humber Street Gallery, Hull (both 2020). Jamie was the recipient of the tenth Margaret Tait Award, Scotland's most prestigious moving image prize for artists, and the resultant work, a semi-autobiographical rural horror film titled Ashley (2020), was premiered at Glasgow Film Festival in March 2020.