School of Art Friday Talk | Fabian Villegas
School of Art Friday Talk | Fabian Villegas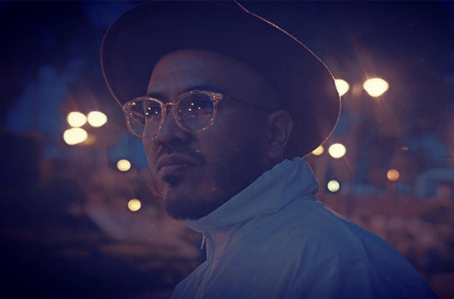 Friday Talk Lecture and Workshop this Semester will be on Friday 18 February with artist Fabian Villegas both events will be delivered live online via Zoom.
Fabian Villegas writer, journalist, spoken word artist, Scholar and Researcher in South epistemologies, Decolonial thoughts and Racial Studies, born in Mexico City. Geopolitics, intersectionality, epistemologies of communication and testimonial literature are fundamental topics addressed in his body of work.
From 2007 to date, he has given multiple conferences, seminars, lectures and workshops in multiple universities, academic, cultural and community centers in Mexico, the Dominican Republic, Brazil, Costa Rica, Haiti, Guatemala, Venezuela, Puerto Rico, Belize, Panama, Cuba, Uruguay, France, Spain, El Salvador and E.U.
Member of the Facciónlatina independent journalism and communication network, which articulates 17 countries, 32 groups and 200 members from Latin America and the Caribbean. Co-founder of "Contranarrativas", a horizontal and collaborative project of knowledge production, cultural management and free communication, committed to the visibility, dissemination and production of epistemologies, narratives and decolonial and peripheral aesthetics of the global South.
Co-founder of the global Hip Hop and cultural production collective Quilomboarte. Quilomboarte is a creative laboratory of artists, musicians, filmmakers, writers, activists who articulate different cultural practices on the decolonial and racialized epistemologies in Latin America and the Caribbean.
Founder of Contranarrativas' sub project, "Aula Pública", which is a pedagogical space that seeks to decentralize the production of knowledge through seminars, workshops, lectures, webseminars, on Global South Studies, racism, decolonial perspective that has articulated around 240 participants from 41 countries in America, Europe and Africa. In July 2007, together with Bocafloja, a multidisciplinary artist, poet and a international Hip Hop exponent, he co-wrote the book "ImaRginación: Hip hop as an excess of the political". In 2012 with Algarabía project he published the Anthology of oral history and testimonial literature " Metaphors of Decoloniality.
In December of 2014 he published his first book of narrative and creative essay entitled "En Blanco y Prieto, Geopolitical Itinerary of Decoloniality". Presented in Mexico, the Dominican Republic, Uruguay, Costa Rica, Belize, the United States and Brazil. In October 2015, the International Poetry Festival of Costa Rica, published his first Spoken Word book, "Mascarada, corpo-políticas y lenguajes de madera".
Friday Talk series
For 2021/22, the School of Art is delighted to welcome a collaboration between the New Art Exchange (NAE) in Nottingham and the School of Art, in the development of our Friday Talk series. This series of talks are a critical part of the engagement our students have with practicing artists, curators and researchers, every year.