'Not Only' A Symposium on Artistic Research 28-29 October 2021
'Not Only' A Symposium on Artistic Research 28-29 October 2021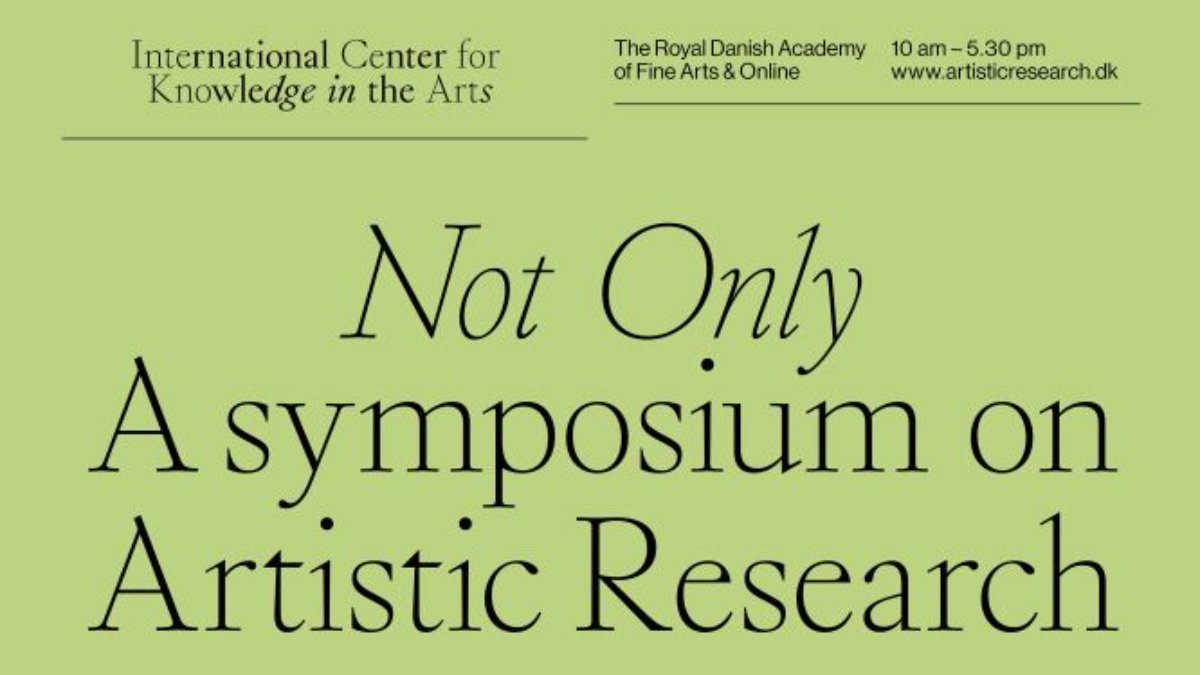 'Not Only' A Symposium on Artistic Research:
28-29 October 2021
With: Thommy Andersson, Maibritt Borgen, Emil Gryesten, Jane Jin Kaisen, Andreas Liebmann, Rikke Luther, Angela Melitopoulos, Vytautas Michelkevičius, Rasmus Ölme among others. Location: Festsalen, The Royal Danish Academy of Fine Arts, Schools of Visual Arts, Kongens Nytorv 1, 1050, Copenhagen, Denmark &
Livestream
We warmly welcome you to take part in our annual symposium which this year explores how artistic research promotes art as a practice-based form of knowledge, but not only that: it also promotes new artistic spaces for action within and beyond formally defined knowledge cultures.With the theme Not Only, we have been inspired by the anthropologist Marisol de la Cadena's conceptual toolbox where a practice can both be very specific and at the same time form part of a diverse field of knowledges or ecologies of practice. Contrary to reductive definitions of art and knowledge, the symposium instead points to artistic practice and artistic research as complex quantities that always contain something more. This "more" will be unfolded through presentations of current and completed artistic research projects from the Danish higher art educations in dialogue with invited international guests. Themes during the two days include studies of other ecological worldviews, colonial knowledge cultures, materiality in the digital age, (re-)interpretation and re-imaginings of the artist role. Curated and organized by Kristoffer Gansing and Christina Marie Jespersen, The International Center for Knowledge in the Arts. See the full programme at
www.artisticresearch.dk
Registration
The International Center for Knowledge in the Arts cuts across disciplines and institutions in the arts in order to promote and facilitate artistic research.