At a second Lines presentation, I showed the Boy Who Gave His Heart Away and described its literary, artistic, typographic, electronic, and printed relationships. This illustration was commissioned by Nick Wells, from whom I received an email via the Central Illustration Agency:
From: Nick Wells <Nick.Wells@radiotimes.com>
Subject: Radio Times commission
Date: 23 May 2016 at 11:58:14 BST
To: ben@centralillustration.com
Hi Ben
I was wondering whether Jonathan Gibbs would be available for one of our small radio illustrations for the next issue of the Radio Times? Fairly swift turnaround as usual with a sketch ASAP and final artwork end-of-play Wednesday, but it's relatively small as always (dimensions w:38mm x h:72mm) and the normal of fee £200. I've attached the brief synopsis for the radio programme below and would love to see what Jonathan can do with it. Could you let me know ASAP. Much appreciated.
Nick
Nick Wells
Senior Designer
Radio Times Magazine
Immediate Media Company London Ltd | Vineyard House | 44 Brook Green | London W6 7BT
020-7150-5422
nick.wells@radiotimes.com
Synopsis:
 It is August 2003 and two mothers are facing the most terrible sequence of events – their teenage sons are dying. Mark McCay from Paisley and Martin Burton from Nottingham were fit, healthy, happy young men until a heart virus and brain damage took a devastating hold, respectively. Writer and journalist Cole Moreton approaches the subject of organ donation with great sensitivity, allowing the boy's families the time and space to recall the worst moment of their lives. His voice is there only when a clarifying update of events is needed. To hear one of the mothers describe placing her hand upon the beating chest of the boy who received her son's heart is unbearable and yet, despite the aching sorrow, this ultimately an uplifting tale of hope and the supreme generosity of the human spirit.  
JANE ANDERSON                                                                               Radio Times 4-10 June 2016
**********
Throughout this project, the lines of communication were entirely electronic. Actual artwork never left my studio except by digital means. Of course, this is commercial work, but it is not merely so. This was an illustration for sound: the human voice on radio, in a documentary context.
I corresponded with the author, Cole Moreton, and the RT designer Nick Wells.
The small-scale illustration is used at the top right of the Radio listings page. The print run for Radio Times is 750,000 copies. Print quality is excellent for an ephemeral newsprint publication. This journal has a history of presenting the best of contemporary British illustration.
The artwork was made late at night and early in the morning, over two days, and sent by email as a 300dpi jpeg. It is a wood engraving
There are nine graphic designers at the Radio Times.
[Previous RT wood engravings have been commissioned for 'Book at Bedtime', on Radio 4: Barry Lyndon by William Makepeace Thackeray; New Grub Street by George Gissing; The Idiot by Fyodor Dostoyevsky and The Female Shipwright by Mary Lacy]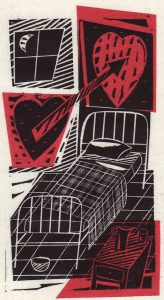 The Boy Who Gave His Heart Away