Reading Time:
4
minutes
---
Programme of Study and Year: Bsc Computer Science (Hons), 2nd year
Intern Position: ChatGPT and OpenAI Intern
Hobbies: Aerial dance, reading, (can I call enjoying the meadows with friends on a sunny day a hobby?)

Favourite song right now: Colorado – Golden Vessel / Say Yes To Heaven – Lana Del Ray
Describe your role in 4 words: so many tabs open
---
Hi :)) I'm Wietske, one of the two ChatGPT and OpenAI Interns at ISG. It's a snazzy job title! But what does it mean? Spending my summer 9-to-5 conversing with ChatGPT, spitting out everything I require with a few well-crafted words… is not quite yet the reality. ChatGPT, as talented as it is, hasn't mastered my job yet. 
I'm writing this in my fifth week – a bit later than planned, but busy busy! At last, allow me to give you a sneak peek into our exciting project and what we've been whirling through the hours with so far. 
We began with some background research to begin familiarizing ourselves with the project direction, attempting to map out the field and clarifying our project vision. 
Our project brief is: first, to evaluate the impacts and risks of existing AI technologies on education technology and services. Next, identify opportunities to integrate AI into two sides of LTW – the work involved in running the services (helping the staff) or into the services themselves (helping the students/members of the university using these services) with the aim to improve efficiency and experience. Finally, we hope to develop a solution to a prioritized use case and some strategies for implementing AI in Learning Teaching and Web (LTW). 
Translation: So far that means we've been on everyday quests to find the latest crucial information from the belly of the internet (desk research) and embarked on expeditions into the minds of knowledgeable comrades (interviews with staff members in LTW). Alongside, the additional side-quests of training sessions, interactive research workshops, presentation planning etc. 
At the recent LTW All Staff meeting, we were given the opportunity to give a presentation: a brief overview of an array of generative AI technologies, aiming to broaden horizons and inspire the creativity of LTW's brainstorming. I was a little nervous, but after several rehearsals I think it went well. 
I said ChatGPT couldn't do my job for me yet, although it could be very good at interviewing people, asking further questions tailored to the responses, and then summarizing their thoughts – some of my work so far. However, I am always conscious of eliminating the human touch in our interactions – which would be a big loss in my opinion. I remember once listening to a podcast episode discussing how technology has gradually reduced our interactions with other people in everyday life. Despite me personally being a big fan of the self-checkout tills, the episode really resonated with me and continues to shape my perspective. 
These themes of trying to reduce the indirect negative consequences of technology and a drive to leverage tech for positive change are integral to my passion for computer science and also why I applied to this internship. Naturally, our research also lies beyond the technical realm, covering the ethical aspects, the risks, the myths and more. 
Coming up next: researching and evaluating any treasured leads found in the interviews, continuing to narrate our findings into a report and personally, I hope there might time and potential for me to code something of a small prototype for an identified use case, perhaps with OpenAI's API. 
My favourite parts of the role (along with intern lunches) are getting to research incredibly interesting, cutting edge technology for my job and speaking to the lovely people of LTW.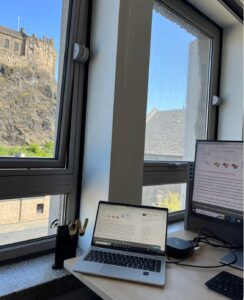 Please come talk to me if you'd like to discuss anything about generative AI, tech for good, sci-fi movies, fantasy books, aerial dance or something else…
Thanks for reading, I hope this has been informative and maybe even made you want to give generative AI a shot, if you haven't already. If you're unsure where to start, here are some delightful first dips into the depth of ChatGPT's power (the more detail you give, the better the responses will be):
I have these ingredients <> at home, what recipes can I make?
Ask for meal plans and the shopping list, tell it what you like and don't like, how much meat/fish/veggie/vegan meals you'd like per week
Ask it to plan your day for you, give it the tasks you need to complete, roughly how long they'll take, priorities or the orders that some things need to happen before others
Ask it to write you a blog post
Rephrase these sentences for me, using a <e.g. professional/friendly> tone:
Write me 10 possible presentation titles for my presentation on <topic>
Ask it for a tailored gym plan
Summarise this article into 5 sentences/bullet points: <long article>
What are the steps needed to solve <this maths problem>?
Remember that ChatGPT is storing data for training purposes, so don't give any sensitive information. ChatGPT is not connected to the internet (so can't read links or give sources etc) unless you are using the plugin available on ChatGPT Plus, and you should always verify the results yourself with alternate sources as it can sometimes 'hallucinate' – completely make things up.
I hope you have a great day 🙂
Wietske
P.S. Yes, I did ask ChatGPT to write me a blog post (after I wrote this one, as I like to compare without the prior influence), but mine was still better. For now