Reading Time:
5
minutes
Ari Badlishah,  MSc Marketing student, has been an intern in ISG since October last year and is a Digital Marketing Intern for the Online Learning Marketing Team.  She helps promote the University's online masters programmes and free short online courses.  She loves to hear stories from our online learners, they are interesting and inspiring.  Outside of work she loves to dabble in all things creative and exploring Edinburgh.
Starting my MSc Marketing at the University of Edinburgh, I was keen for part-time work to gain extra experience and make some extra income on the side. However, the challenge was to find a suitable job that would be manageable alongside my demanding studies. My undergraduate alma mater in the UK was generally very accommodating and flexible when it comes to students who work part-time with them. So, before I even started my course, I was already aiming to get a job with the University.
Somehow, a miracle happened on the first day of my studies. A new WhatsApp message on my phone said, "We are on the hunt for a new Digital Marketing intern to work with the Information Services Group starting October 2020". The role seemed perfect – one day a week until August 2021 (so not too heavy!). Plus, the responsibilities were aligned with my interests and previous work experience, and on top of that, I'd be working under the University. Long story short, I was fortunate enough to get the role. Now it's June, and what a journey it's been since then!
Here are five benefits I gained from working part-time with the University while studying (other than obvious things like £££):
Feeling a greater sense of connection to the University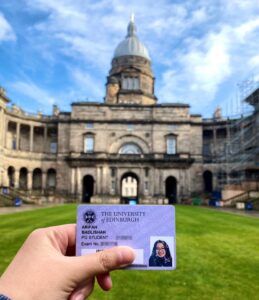 Postgraduate students are generally known to not be too heavily involved with the student community during normal times. However, it was a huge struggle for many of us to feel any belonging at all during a pandemic when most classes and events were online. Actively working on projects and campaigns for the ISG helped me learn more about University, its values, history, and achievements.
After all, one of the main responsibilities of my job is to attract potential students to pursue online master's degrees at the University of Edinburgh. A proverb from my home country Malaysia goes, "you can't love something you don't know". Working with the ISG has definitely helped me nurture a love for UoE.
2. Applying what I learn in class to real-life projects
During my weekly academic lectures, I was learning about things like pay-per-click advertising, search engine optimization, and content marketing, and for my one-day-a-week internship, I would actually apply some of these concepts to my work.
A few of the things I've worked on include: a paid Google Search campaign promoting full Commonwealth scholarships, an organic International Women's Day campaign featuring inspiring stories from female students and staff, and a series of #StudyOnlineTips for online learners. One exciting project that pushed me outside of my comfort zone was creating a video advert in Canva for a paid LinkedIn campaign! Hopefully these experiences will provide value in terms of employability and self-development.
3. Finding networking opportunities
Since we're in the middle of a pandemic, it can be quite a struggle to network with new people. I haven't even met some of my course mates until today, and meeting people through brief online career events isn't always effective.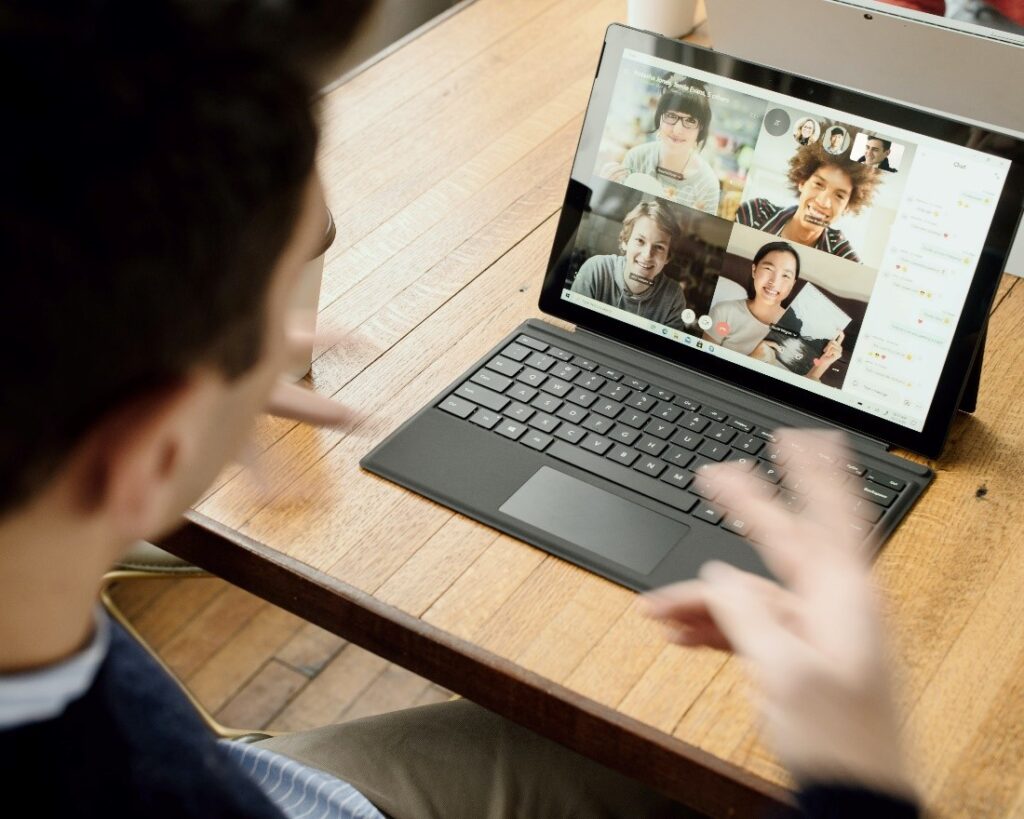 I've been working from home throughout the duration of my internship. And while it still lacks much of the social aspect of the office – team lunches, water cooler conversations, meetings that happen by chance – it still provides me with an avenue to connect and work with University staff regularly, especially within the ISG. I don't think I'll have a chance to step foot in the office before my contract ends, so I'm grateful for the virtual networking opportunities this job provides. The staff at the ISG are super nice and friendly!
4. Developing time management skills
There are only so many hours in a day, so it can be a challenge trying to balance both my studies and work. I believe studies and work should not be compromised for the sake of the other. Therefore, I've had to practice good time management habits such as scheduling, planning, knowing my priorities, being on time, and having a healthy work-life balance.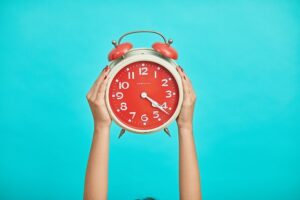 Plenty of times, I've found myself being in "the zone" when writing a 3,000-word essay for days on end, but suddenly having to shift my mindset during my one working day of the week. I think it's definitely forced me to become a more disciplined person!
5. Flexibility
I have to highlight how amazing and flexible my manager Lauren is. She's always happy to change my working day if I have an appointment or deadline. To this date I have never been in the office, although I have met up with her in person twice in Princes Street Gardens.
I believe working from home makes my job even more flexible, since during pre-COVID times I would have to share a desk which would only be available on my specific working day. I can also start work slightly later, or take a 2-hour lunch break instead of one as long as I complete my hours. And best of all, no need to commute or get dressed in work attire!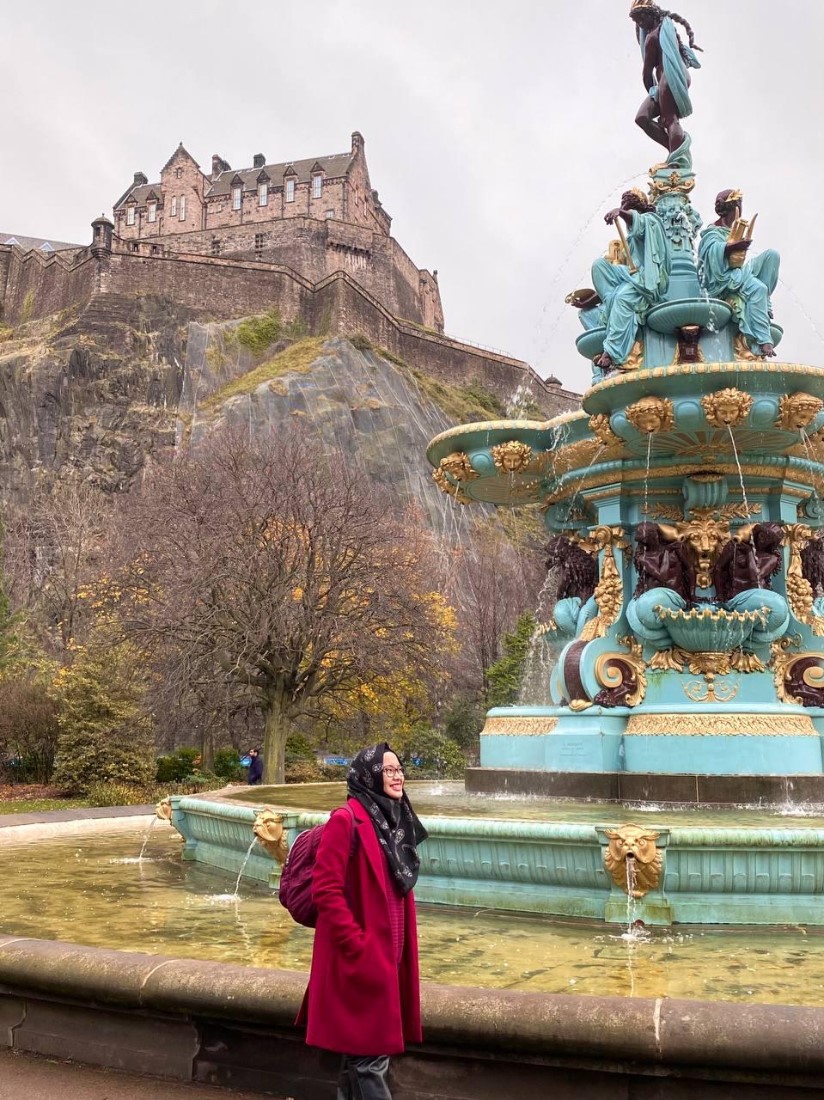 I hope you enjoyed reading about the perks of working part-time while studying! I'm a lot freer now that classes are over and I just have to focus on writing my dissertation. A member of my team recently left, so starting this week I will be working 2.5 days a week instead of one. "Internship 2.0", my manager calls it! Personally, I can't wait to get my hands on a wider range of projects.
Do follow our Online Learning social media channels if you haven't already (Instagram | Twitter | LinkedIn). Now, on to my next Microsoft Teams meeting!
(Photo by Malvestida Magazine on Unsplash)