Reading Time:
4
minutes
Amanda is the Academic Blogging Intern for Learning, Teaching & Web.  At the office  Working from home she focuses on  helping to create training material and strengthen the university's academic blogging outreach and support.
---
Regardless of whether a student, member of staff, part of Edinburgh or not, the incredible part of this whole thing is that globally we are all experiencing and adjusting to this pandemic.
I think it goes without saying that these past few weeks have been a whirlwind and huge challenge for everyone. Only two weeks ago I was celebrating the elation of being elected as a Sabbatical Officer in the Student Elections. The feeling of security and excitement for the future was quickly replaced with a lot of uncertainty and doubt about not only what my future would look like but more importantly what the future would look like for the collective global community.
Within the past two weeks I have found out that my classes have all moved online, that my graduation ceremony has been cancelled, that I cannot leave my house unless it is an absolute necessity, and that I have no idea when I will next see my family. However, that is just how I'm affected within my own little bubble. There is still a need to process and acknowledge that we are currently living in a global pandemic, one that is unprecedented and where 20% of the current global population is on lockdown and an incredible number of vulnerable people around the world are suffering.
I thankfully am safe and healthy, and while my family is currently near the epicenter of the pandemic in the United States, they are safe and healthy as well. I'm incredibly grateful to have the opportunity to continue my studies online and to continue working for ISG at home as well. On top of this all, my flatmates are currently still in the flat with me. So while social isolating can be well, isolating, I get to spend every day surrounded by my best friends.  While there is a lot to be incredibly appreciative of, life is not what is used to be and that is hard and sometimes incredibly frustrating to get used to.
However, I think in times like this it is incredibly important to take the mentality that business is  not occurring as usual.  In order to protect the NHS, those we love, and those who are at risk, we need to take a different approach to how we carry out our day-to-day activities.
I am not someone who can usually work from home with ease. I need the quiet, productive environment of the library and a huge cup of coffee from my favorite café to be able to really get anything done. None of this is possible anymore and therefore continuing my old working habits and patterns aren't possible either. It has been incredibly difficult to find the motivation to continue with university work, from refreshing BBC every few minutes, constantly checking up on friends and family through Facebook, and spending a lot of time thinking how these next few months will probably have a huge effect on the next couple of years, it has been really difficult to focus on much else.  However, I have a very large pile of work in front of me and the finish line to get my degree is so close. So, day by day I have been trying to inch closer to that finish.
I have developed a new daily routine and way to get my work done and hopefully sharing some of the things I have learned can help some other people as well. Regardless of whether a student, member of staff, part of Edinburgh or not, the incredible part of this whole thing is that globally we are all experiencing and adjusting to this pandemic. It almost feels like while we are (necessarily) physically apart, we are apart of a community now more than ever.
---
Create your new favorite space within your home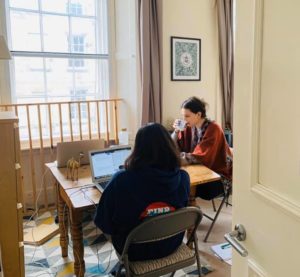 I don't have a desk within my room, so thankfully my flat mate has a large table that she has kindly let me share with her.  We have been able to create our own little café and library and it actually feels like I have the chance to leave my room and immerse myself into a new setting that can help foster my productivity. This, paired with the opportunity to drink endless cups of coffee and tea, have really helped me focus.
Make time to (virtually) see those you love
It's really hard being so far away from my family in times like this, so I have made new ways of being able to see and spend time with them. Each day in the afternoon a bunch of my family members and I join a Zoom call and all follow the same workout class from our room. In the evenings I FaceTime my mom and we watch the same show together. Having a whole day inside to just read or do work is incredibly daunting and overwhelming for me so it really helps to break up the day by integrating some time to relax and see my family.
Filter your news
The amount of time I have spent reading the news is probably unhealthy. While it is incredibly important to remain educated on the reality of the impacts COVID-19 is having on the global community, it can really put you in a bad mental headspace to constantly look at the chaos and sadness that is being caused by the pandemic. It is really important to remember that in dark times, there remains an incredible amount of good that gets developed in response. One of the organizations I am apart of at university has made the great decision to use our platforms to share news and information about positive community initiatives. This makes looking at local news something that brings a bit of relief instead of dread.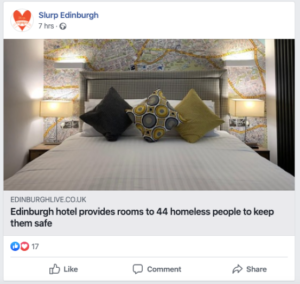 ---
Overall, these past few weeks have been a lot of deal with at times, but I have found that the most important thing I have been able to reflect upon and realize is how privileged and grateful I am to have been able to so-far adjust to the crazy new circumstances we live in.
(Photo by Grovemade on Unsplash)
(Photo by Grovemade on Unsplash)