Reading Time:
5
minutes
So I spent a whole week yelling in panic at the clouds because…is the prospect of writing about the incredible time I had working with the university as an intern an intimidating challenge? Yep, but also one that is fun (!)* since it gives me a lovely reflective bit of space to look back on at some of the cool experiences I had and something that lets me collect my thoughts together to file away neatly in a cabinet in my head. I think it pretty much goes without saying that this was by far the most rewarding internship I've had and I've done a handful before this.
Spending the lovely summer (damp? cold? this city does not seem to have any concept of what summer is) months in Edinburgh working as a Media Subtitling Editor for the university was an unexpected amount of fun. I was a member of an exciting pilot project managed by the university's IT department for a period of roughly two and a half months (April – June) and my job was to subtitle and edit the captions of sundry media content on MediaHopper along with a team of nine other students. I have an absurd amount of love for subtitles and srt.txt files. In my experience, subtitles are ESSENTIAL for when you're crunching a packet of crisps that set off small earthquake tremors with each bite. I've always been curious about how they are created (the subtitles i.e. not the earthquake tremors) and I was truly delighted to get to learn how the process actually works.
There's a ton of reasons why I enjoyed the work I did, especially as a Masters student writing her dissertation towards the end of the semester. Dissertation work is often intensive and isolating; a type of work that is slow, that takes time and does not seem to cede any tangible progress despite the amount of research and effort involved. Having a schedule of work apart from and outside of the dissertation was an immense relief because of the sense of structure it gave my days. It furnished me with a concrete reason to be disciplined, to organise myself, plan my calendar and quite simply, go out and talk to people instead of being huddled in a dark corner of the library without knowing what day (or even month) it was. It helped that the office I worked in at Argyle House had a fantastic, bright and colourful environment; a fun (!) and engaging work-space that encouraged you to balance out the tedium of your tasks with colouring books or board games.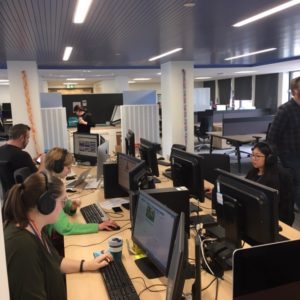 It also helped that my Project Manager, Karen, was a great and caring supervisor who understood our needs as students and was flexible with our proposed arrangements. She was always ready to compromise with last-minute changes to work schedules if, for example, anyone overslept and missed their alarms because they'd stayed up till 4:00AM writing a dissertation chapter. (This wasn't me! It was someone else. 'Twas definitely someone else.) All in all, this really (!) helped me get focused and that was great for my mental health because I got to be organised and just get out of my room more and hear the chatter of friendly human voices. It was nice to just meet my colleagues and have a chat now and then, even if it was about the weather or any hilarious anecdotes about software crashes in the midst of subtitling.
An unexpected hidden bonus was the discovery of delightful eating places in and around the university.
I  discovered (regrettably too late)  the pleasures of Preacher's Patisserie in the last week of my work, although Karen had been feeding us their delicious scones (!) and buying us their coffee every time we had a team meeting. It's a tiny cafe run by people as warm as the bread they bake and I have never been disappointed by their breakfast rolls or their lattes. I also have a sneaking suspicion that Preacher's is responsible for the breakfast and lunch meals for all the staff at Argyle House because of the steady stream of university folk that migrate to and from the patisserie at all times of the day.  
Another unforeseen bonus was the discovery of the Edinburgh Chocolate Box right outside the university's library in George Square; a gem I would have missed out on if not for the fact that it fell right in the middle of my route to work. It is absolutely the cutest place run by an actual chocolate witch called Belinda and does she make the most divine cups of hot chocolate seasoned with dried flowers, homemade chocolate and love? Yes. Yes, she does. If you pass by and you are craving a drinkable hug, you simply must try out her one-of-a-kind chocolate brews. 
Work Culture
So aye, the work was most certainly an excellent activity for isolated gremlins (like me) crawling through that lethal stage of dissertation research. More than that, it personally gave me a boost of self-confidence and a solid sense of productivity because it was the first time I got to experience the work culture of an office in the UK, which was tremendously interesting to me as an international student from another country. I think I absolutely loved every second of it. Perhaps most importantly, I felt that even though I was a student, my opinions or inputs were really valued by the team I was working with (!) and that is something I have tremendous reverence for i.e conferring a student the same respect as a colleague. Past experience has taught me how much it reflects on the work culture of a place if your superiors treat you like their equals. Whenever I've encountered such a work culture, I feel like I've grown and learnt more than I would have if I'd been in a place that did not accord my work any value or respect my inputs. Discovering this in the offices of Argyle House was a vital experience I would recommend every student to have before emerging from their academic cocoons to tackle the challenges of work after graduation. Doing so will lend you a sense of how good, well-balanced and encouraging work environments should actually be like and that is so so important.
There is, however, one downside to all this. And that is that a summer internship with the University of Edinburgh will give you incredibly high expectations from future work profiles. I can confirm I have contracted High Expectations Syndrome (HSE) because of my how my standards for future employers have been unfairly raised by the delightful (!)* time that I spent here with a great team.
But I'm not too upset about that. I'll manage. In fact, I'm on my way right now to buy a hot chocolate from Belinda's box. I need a drinkable hug.
*Represents: Extreme Happiness