Night of Intermediality
Tuesday, 28 November, 6-10 pm
The MSc Intermediality: Literature, Film and the Arts in Dialogue is celebrating its first Night of Intermediality. Join us for an exciting showcase of students' practice-based projects and creative work, including videos, music, photography and film scripts. All welcome!
---
Previous Events:
'Intermedial Ecocriticism', by Professor Niklas Salmose (Linnaeus University)
Date: Wednesday 4th October, 5pm.
All too often overlooked in the reports on recent alarms about climate change is more thoughtful attention to how these alarms get dispersed through scientific papers, news reports, fictional stories, films, graphic novels, and videogames. Arguing that different media carry the potential to engage audiences in vitally different ways, this talk presents a powerful case for giving experts in media and intermediality a seat at the table of Environmental Humanities. Bringing an intermedial approach to the study of a wide range of ecomedia, the presentation adds a much-needed perspective to the larger discourse around representation and reception within the environmental humanities: an explicit interest in the roles of media and mediation. It presents a comprehensive theory and method that allows us to systematically compare different media products representing climate change and other environmental crises without losing sight of their specific affordances and potential ecological agency.
Niklas Salmose is Professor of English at Linnaeus University, Sweden, and a full member of the Linnaeus University Center of Intermedial and Multimodal Studies. He is the co-coordinator for the new graduate school MIDWorld, engaging international researchers and doctoral students in an investigation of how intermediality/multimodality figures in the rapid digitization of society. Salmose has published extensively on nostalgia, modernism, F. Scott Fitzgerald, intermediality and in the past five years on environmental humanities. Publications include several chapters in the Routledge textbook Intermedial Studies: An Introduction to Meaning Across Media), Contemporary Nostalgia (2019), Transmediations. Communication across Media Borders (2019), Cultural Comets (2022), F. Scott Fitzgerald: A Composite Biography (2023), chapters on intermedial ecocriticism and sonification of modernist fiction in the Palgrave Handbook of Intermediality (2023), and most recently the co-authored monograph Intermedial Ecocriticism: The Climate Crisis through Art and Media (2023).
Workshop 'Intermediality in the City', led by Dr François Giraud 
Date: Wednesday 17th May
Summary: 
During this workshop, we will observe intermedial connections within a specific urban environment and will use different mediums (including photo, video, sketching, and writing) to record our impressions and thoughts.  In doing so, we will observe and experience the city as an intermedial space, and reflect on the differences and commonalities between mediums from a practice-based perspective.
Timetable 
10-11 am – We will meet in front of the Scottish National Gallery of Modern Art (Modern Two) at 10 am and work on site until 11 am.
11 am-1 pm – Students will continue their exploration of the city on their own.
1-2 pm – Lunch Break
2 pm-3 pm – Debrief session on campus (50 George Square Project Room 1.06)
***
Intercultural Transfers and Translations Across Media
Third Workshop of the University of Edinburgh-Meiji University Research Partnership in Intermedia Studies
Friday 10th March 2023, 10.15 am – 3.30 pm
University of Edinburgh, Lister Learning and Teaching Centre (LLTC), Room 4.3
10:30am: Introduction, by Dr Fabien ARRIBERT-NARCE (University of Edinburgh)
10:35–12:00 Panel 1: Aesthetic Transfers and Translations between Image and Text
Rumiko OYAMA (Meiji University, Tokyo), 'Translatability in Literary Texts: The Verbal and Visual Translation of "Japaneseness" in Kyoko Nakajima's The Little House'
Xingtong ZHOU (University of Edinburgh), '(Anti)-Representational Politics: Photography in Yoko Tawada's The Bath'
Katie PLEMING (University of Edinburgh), 'Marguerite Duras's Les Mains négatives and Photographic Theory'
13:10–14:10 Panel 2: Intercultural Transfers and Mutations Across Media
Alex WATSON (Meiji University, Tokyo), 'The World in Miniature: Walter Benjamin and Phillip de Loutherbourg's Eidophusikon (1781)'
Alexandra SMITH (University of Edinburgh), 'Adaptation as Mutation: Michael Mayer's Cinematographic Version of Chekhov's The Seagull (2018)'
14:30–15:30 Panel 3: Shakespearean Adaptations
Masahiro KOBAYASHI (Meiji University, Tokyo), 'Painting Shakespeare: John Millais' Ophelia (1851-2) and Eugène Delacroix's The Death of Ophelia (1834)'
Inma SANCHEZ-GARCIA (University of Edinburgh), 'Queer Cinematic Shakespeare: Queer Futurity and the Contemporary Romeo and Juliet Short Film'
***
Riveder le stelle: Changing Perspectives in Early Modern Visual Culture
Inaugural Lecture of Professor Davide Messina
Wednesday 8th March 2023, 5.15 pm
Lecture Theatre G.03, 50 George Square
The debate on the apparent movement of the stars was crucial to early-modern astronomy, and it marked a new sense of reality in motion. The cosmological and the cognitive side of the debate were entangled. What was its reflection in the visual arts of the period? By addressing this question, which has surprisingly eluded scholarly attention, this lecture aims to show how early-modern images started to move and became self-aware.
To register your interest in attending the lecture please click the following link Inaugural Lecture: Davide Messina Tickets, Wed 8 Mar 2023 at 17:15 | Eventbrite
Professor Davide Messina obtained his PhD in Philosophy from the University of Bologna. He pursued his post-doctoral research in Italian Studies at Columbia University, New York, where he also became a Visiting Research Fellow at the Center for Comparative Literature and Society. He came to Edinburgh in 2007, as a Lecturer in Italian Studies. He was Director of the MSc in Comparative and General Literature from 2008 to 2011 and Head of Italian Studies from 2014 to 2020. He was appointed to the Chair of Italian and Comparative Studies in September 2019.
Professor Messina's research is strongly interdisciplinary. It spans a broad range of topics and authors from the early-modern period to contemporary studies, engaging literary history and theory with cultural studies and the arts.
***
Workshop 'Interdisciplinary Perspectives on Roland Barthes and the Arts'
Friday 3rd March 2023, 17.15 – 19.00
University of Edinburgh, 40 George Square, Room LG.11 (Lower Ground)

-Prof. Barnaby Ralph (Seikei University, Tokyo), 'Reading the Arts Rhetorically: Bacon, Barthes and the Transformation of the Oratorical Metaphor'
-Prof. Fuhito Endo (Seikei University, Tokyo), 'Psychoanalysis of an Imaginary Closet: Leonardo da Vinci and Roland Barthes'
Discussants:
-Dr Fabien Arribert-Narce (University of Edinburgh); Ann Dai, Wen-Chieh Hsu, Altoria Lin, Jiaheng Lu and Liz Yun (MSc Intermediality students, Univ. of Edinburgh)
***
Intermedial Journey in Search of the Bounty Mutineers
with French writer and artist Sébastien Laurier
When: Tuesday 31st January 2023, 17:15 – 18:00
Where: University of Edinburgh, 40 George Square, Room LG.11 (Lower Ground)
Sébastien Laurier is a writer, actor, theatre director and graphic novel scriptwriter. His work focuses on personal and poetical quests and enquiries which eventually become artistic objects, books, plays and exhibitions. These concrete utopias are an ode to travel, encounters but also intimate explorations (www.sebastienlaurier.com).
He will tell us about his experience of traveling to the Pitcairn Islands (South Pacific) in search of the traces left by, and ghosts of the Bounty mutineers in the eighteenth century, which led to the publication of his 2017 book La Bounty à Pitcairn. Mais que sont les révoltés devenus ? (Editions Zeraq). Sébastien Laurier is currently in the process of adapting this text into a series of graphic novels published by Editions Glénat in France and he will share with us his reflexions on the joys and challenges of intermedial adaptation.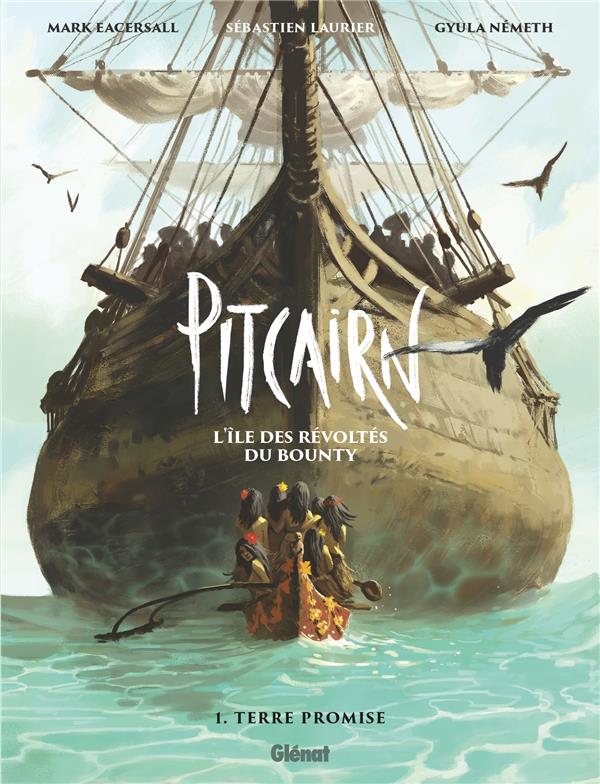 PITCAIRN, graphic novels (see the trailer)
LA BOUNTY A PITCAIRN, book (see a presentation)
MAIS QUE SONT LES REVOLTES DU BOUNTY DEVENUS?, theatre (see the trailer)
Event organised as part of the 'Intermediality' Research Strand at the University of Edinburgh, in partnership with the Institut Français d'Ecosse:
Contact: F.Arribert-Narce@ed.ac.uk
***
Architects of Modernism: The Case of Proust
Professor Patrick O'Donovan (University College Cork)
When: Wednesday, 9th November 2022, 5:15 pm
Where: Project Room (1.06), 50 George Square
*Open to all, no need to register, but registration via Eventbrite appreciated to consider catering numbers.
 Architecture is a model for modernist fiction, notably so in the work of Marcel Proust and of Virginia Woolf. Architecture is first of all a prototype for each writer's work: architectural models are invoked as sources of far-reaching literary experiments. But architecture also forms a good deal of the substance of each writer's work: each is concerned with the writer's own space and what it represents, and then in turn with the forces that shaped the environments in which they wrote and on which they drew in elaborating their fictional worlds, spaces that testify to rapid urban growth, the rise of the railways and of tourism, innovative and sometimes disruptive forms of modern urban design, increased social stratification, elite sociability, the character of the city as a work of art. These strands will form the focus of the paper, in which, by way of a modest centenary tribute, I will also address some transformations of longer-term traditions in the relation between architecture and literature at Proust's hands. 
Patrick O'Donovan is Professor of French in University College Cork. He studied in Ireland, France and the UK, where he worked for a number of years, up the coast in Dundee and latterly in Cambridge. He is a former editor of the journal French Studies. He has published widely on literature and ideas since 1789, latterly on the poetry of Vigny, on the tradition of the personal novel in France, and on Certeau. His paper today draws on a current project dedicated to Proust's 'house of fiction', on which he has also recently published.
***
Dr Hideyuki Doi (University of Tokyo)
"Pasolini and Mizoguchi"
This lecture is part of a rich series of events, Pasolini and the Classics, organised by our colleague Emanuela Patti for Pier Paolo Pasolini's 100th anniversary. See the full programme here).
When: Tuesday, 20thSeptember 2022, 4.30-6.00pm
Where: 50 George Square, 329
A surprising aspect of the relationship between Pasolini and Japan is the immediacy with which Japanese youth in the 1960s acknowledged the controversial poet and director and, perhaps more unusually, the reciprocity of the exchange. For example, Pasolini mentioned several times the name of Kenji Mizoguchi, often together with that of Kon Ichikawa: since the mid-50s the Japanese director Mizoguchi is in fact particularly dear to the European public. Furthermore, the direct references between the setting ofOedipus Rexand Japanese historical films are evident: to name one example, one could think of how the "barbaric" face of Franco Citti evokes the world of samurai depicted by director Akira Kurosawa, as well as the use of lights. As Pasolini himself pointed out however, Japanese criticism has hardly ever focused on certain affinities. So this time our presentation aims to underline the shared ambivalent mythic eye inherent in both Pasolini and Japanese writers and filmmakers.
Hideyuki Doi obtained a Ph.D. in Italian Literature at the University of Bologna and is currently teaching Modern and Contemporary Italian Literature at the Faculty of Letters of the University of Tokyo. In recent years his research has developed around the various expressions of the Italian and Japanese avant-gardes of the early 20th century. Among his works: Interlinee: studi comparati e oltre(Cesati, 2021);Guide to Modern and Contemporary Italian History (co-curator, Minerva, 2017, in Japanese); Esperienze friulane di Pasolini: cinque studi (Cesati, 2011).
Dr Inma Sánchez-García (University of Edinburgh)
'Pasolini and Shakespeare: All the World is (not just) a Stage'
This lecture is part of a rich series of events, Pasolini and the Classics, organised by our colleague Emanuela Patti for Pier Paolo Pasolini's 100th anniversary. See the full programme here).
When: Tuesday, 21st June 2022. 5.00-6.15pm BST
Where: Zoom. Please register here.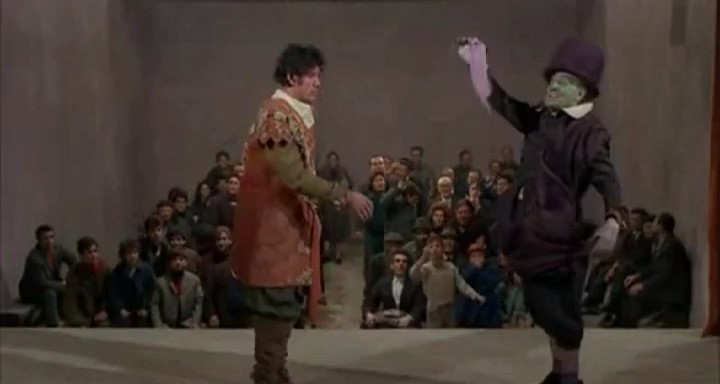 In 1968, Pasolini referred to Shakespeare as an example of "politically complacent" theatre. A year before this statement, he directed a short adaptation of Shakespeare's Othello that turned the tragic story of the Moor of Venice into a comedy – Che cosa sono le nuvole? This paper examines Pasolini's adaptation of Othello as a film that addresses the so-called complacent dimension of Shakespeare's drama by disrupting the codes of cinema and theatre, drawing attention to the subversive spaces of the in-between around questions of class, race, and gender. In doing so, this talk will consider the film as an adaptation of Shakespeare's play within the context of Shakespeare's more elusive presence across Pasolini's artistic output, from his poetry in La religione del mio tempo to his incomplete novel Petrolio.
Inma Sánchez-García is Teaching Fellow in Intermediality Studies at the University of Edinburgh, UK. Her research focuses on the intersection between literature and film, with particular attention to the afterlives of Shakespeare on screen. Her book, Shakespeare in European Cinema: Borders, Thresholds, Connections is forthcoming with Palgrave Macmillan. She has published several articles in leading peer-reviewed journals and is co-founder and co-leader of the Feminist and Queer Research workgroup at the European Network for Cinema and Media Studies (NECS).
Dr Sean Mark (Panthéon-Sorbonne University, Paris)
'Pasolini and Pound: A poetics of crisis'
This lecture is part of a rich series of events, Pasolini and the Classics, organised by our colleague Emanuela Patti for Pier Paolo Pasolini's 100th anniversary. See the full programme here).
When: Thursday, 19th May 2022. 5.00-6.15pm BST
Where: Project Room 1.06, 50 George Square (University of Edinburgh), and over Zoom by registering at the following link.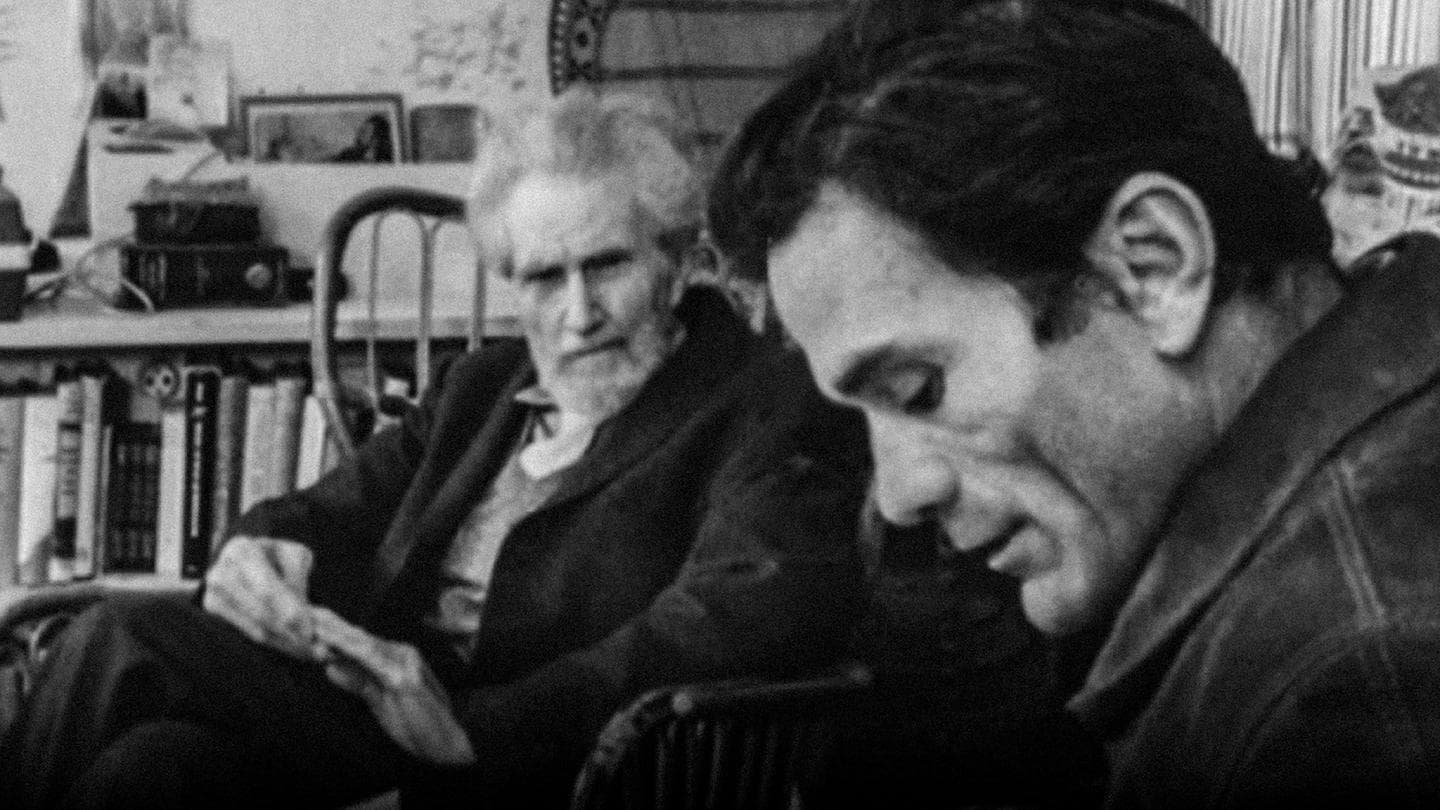 There was a time, in the mid-1950s, when Ezra Pound and Pier Paolo Pasolini could not have stood further apart, belonging to two worlds that appeared irreconcilable—a time when Pasolini described Pound as a 'racist, a fascist' and chastised a friend for translating a poet so tarnished by his affiliations with Italian Fascism. And yet a decade later, in October 1967, Pasolini travelled to Venice to interview Pound for broadcast on national television in an event conceived as a clash of opposites. Aside from their political differences—one was a lifelong Marxist, the other a one-time propagandist for the Fascist regime—the 45-year-old Pasolini was at the height of his creative powers, while Pound, at 82, was silent and stuck. This would prove to be Pound's final interview, and before the cameras he broke the silence that characterised his last decade to discuss his work and legacy. Even more unexpectedly, the American poet would go on to acquire a prominent presence in Pasolini's work. Interrogating the reasons behind Pasolini's reconsideration of Pound, this lecture will take the 1967 interview as a prism through which to trace a dialogue, both implicit and explicit, between these poets, across decades, media, and cultures.
Sean Mark is Teaching and Research fellow at Panthéon-Sorbonne University in Paris. After graduating from the University of Milan and University College London, he completed a PhD in comparative literature at the universities of Tübingen, Bergamo and Brown on a fellowship from the European Commission, and in 2018–19 was British Academy postdoctoral fellow at the British School at Rome. He has published in The Edinburgh Companion to Ezra Pound and the Arts, Modernism and Food Studies, and has essays forthcoming in The Ezra Pound Studies Biennial, Sillages Critiques and Modernism/modernity. For Chelsea Editions Press, he has edited and translated two books by contemporary Italian poets (Adam Vaccaro's Seeds and Antonio Sagredo's Poems), and his translations have appeared in the Italian Poetry Review and In Verse. His first monograph, Pound and Pasolini: Poetics of Crisis, is forthcoming with Palgrave Macmillan.
Ben Bollig (University of Oxford)
'Book Talk: Moving Verses and The Poetry-Film Nexus'
When: Tuesday, 29 March 2022 | 18:00 – 19:30 BST Where: Online (Zoom)
Ben Bollig (University of Oxford) will discuss two recent books in conversation with Fiona Mackintosh (University of Edinburgh), Marion Schmid (University of Edinburgh) and David M.J. Wood (Universidad Nacional Autónoma de México) The talk with revolve around his recent monograph Moving Verses. Poetry on Screen in Argentine Cinema (Liverpool UP, 2021) and the co-edited volume (with David M.J. Wood) The Poetry-Film Nexus in Latin America. Exploring Intermediality on Page and Screen (Legenda, 2022). About the speakers Ben Bollig is Professor of Spanish-American Literature at the University of Oxford. Ben will be joined by:
Co-editor of the Poetry-Film Nexus, David M.J. Wood (Investigador titular, Instituto de Investigaciones Estéticas, Universidad Nacional Autónoma de México)
Fiona Mackintosh (Senior Lecturer in Latin American Literature, University of Edinburgh)
Marion Schmid (Professor of French Literature and Film, University of Edinburgh)
The talk will be introduced by Jessica Gordon-Burroughs (Lecturer in Latin American Studies and Visual Culture, University of Edinburgh). It is sponsored by Spanish, Portuguese, Latin American Studies (SPLAS), the Centre for Contemporary Latin American Studies (CCLAS, University of Edinburgh) and the Intermediality MSc and Research Strand (University of Edinburgh).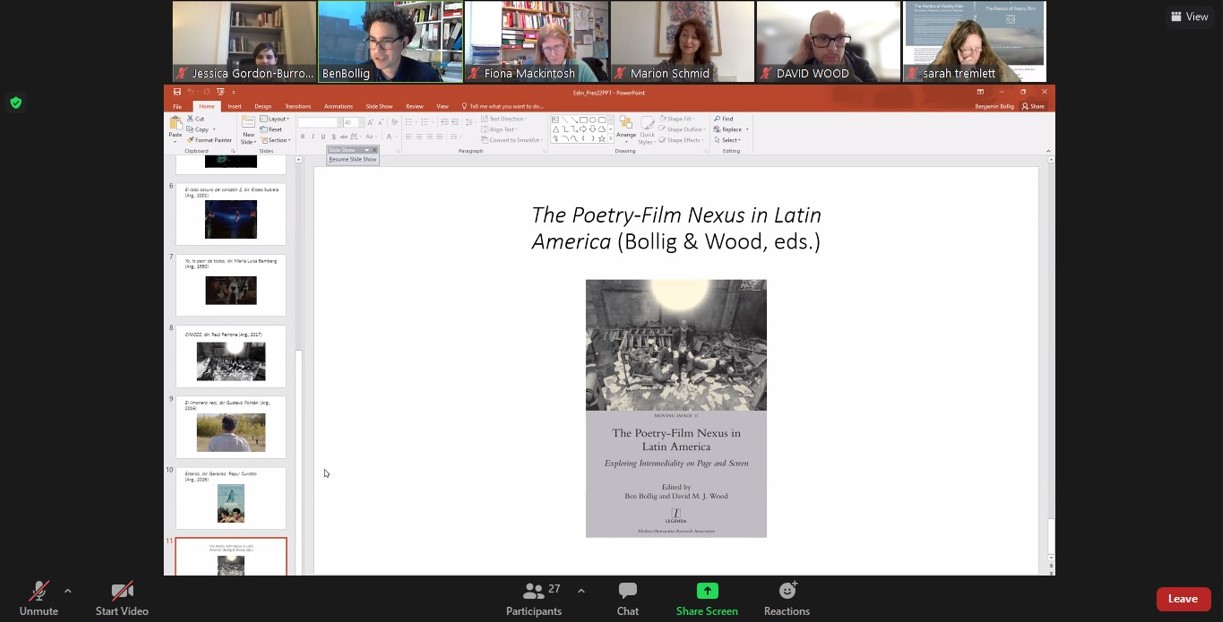 Pascale Aebischer (University of Exeter)
'The Haunted Stalls: Liveness and the Absent Audience in Pandemic Shakespeare'
When: Monday, 28 March 2022 | 17:30 BST Where: Online (Zoom). The Covid-19 pandemic has accelerated the trend towards digital dissemination of stage productions of Shakespeare and made-for-digital live productions which started to transform how audiences in much of the Western world accessed Shakespeare even before North American and European theatres went dark in March 2020. One of the challenges posed by productions staged and broadcast during the pandemic was how to reimagine the role of the audience in relation to the performers when actors are performing to an empty auditorium and how to negotiate the relationship between what is present and what is absent, between the alive and the dead.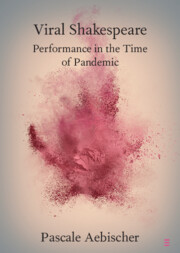 This paper will focus on three productions staged during lockdown: Dimiter Gotscheff's Hamletmaschine, performed by live actors alongside footage of the late Gotscheff for a performance broadcast from the Deutsches Theater Berlin in April 2020; Johan Simons' production of Hamlet at the Schauspielhaus Bochum recorded for the Berliner Festspiele Theatertreffen of May 2020, and Zoe Seaton's Zoom production of Macbeth, performed live for the Belfast International Arts Festival in October 2020. It will investigate how these productions activated the space of the empty auditorium in order to make present the absence of their audiences, turning the empty theatre into a metaphor for the precariousness of aliveness and of theatrical performance in the midst of an environment marked by absence, contagion and death.
Pascale Aebischer is Professor of Shakespeare and Early Modern Performance Studies. She specialises in the history of the performance of early modern drama (including Shakespeare), with an emphasis on 1580s-1700 and 1980s-present. She has a particular interest in bodies and performance technologies (from candlelight through social media to 'live' theatre broadcast and digital performance). These interests are reflected in her teaching, which focuses on early modern – Restoration theatrical cultures and performance practices, Shakespeare, and present-day performance on stages and screens. From 2021 to 2023, Pascale Aebischer is leading the coordination of the AHRC's Covid-19 research portfolio as Principal Investigator of The Pandemic and Beyond: the Arts and Humanities Contribution to Covid Research and Recovery.
Inaugural Workshop of the Edinburgh-Meiji Research Partnership
'Intermedial Encounters Between Image, Music and Text With and Beyond Roland Barthes'
When: Wednesday, 16 March 2022 | 9:00 – 12:00 GMT Where: Hybrid. Online and In-person | Medical School, Doorway 1 | Sydney Smith Lecture Room (2nd Floor, Room 2.520) | EH8 9AG. The University of Edinburgh, Edinburgh.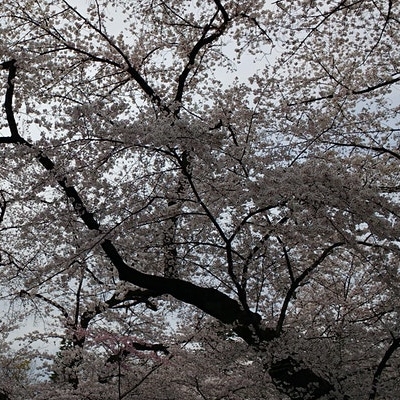 "Image, Music, Text" is the name of the famous English-language essay anthology written by Roland Barthes and selected and translated by Stephen Heath in 1977. In these pieces, Barthes asserts the importance of moving from author to reader and work to text via a series of reflections on and semiological investigations of film stills, musical and theatrical performances, photographs and written texts. Taking example from Barthes's intermedial practice and critical essays contributing to the theoretical framework of intermediality, this workshop will explore a diverse range of relationships between images, music and texts within and beyond the scope of Barthesian analyses.
Schedule
9.00 – 9.05: Welcome and Introduction, Fabien Arribert-Narce (University of Edinburgh)
9.05 – 9.35: Alex Watson (Meiji University)
'Intermedial Post-Romanticism: W. G. Sebald's Ruins of Empire in Austerlitz (2001)'
9.35 – 10.05: Alexandra Smith (University of Edinburgh)
'The Role of Music in Lev Tolstoy's novella Childhood'
10.05 – 10.20: Coffee break
10.20 – 10.50: Rumiko Oyama (Meiji University)
'On the Relations between Image and Writing: How writing can affect visual semiosis in multimodal texts'
10.50 – 11.20: Matthis Hervieux (University of Edinburgh)
'Intermedial Aspects of Roland Barthes's Encounter with Bunraku in L'Empire des signes'
11.25 – 11.55: Xingtong Zhou (University of Edinburgh)
'The Affective Pleasure in Photobiography: Gazes and Mental Images in Roland Barthes and Eileen Chang'
11.55 – 12.00: Concluding remarks, Marion Schmid (University of Edinburgh)
DELC Research Seminar Series: Intermediality
Speakers – Dr Emanuela Patti (Italian, DELC, University of Edinburgh) and Dr Inma Sánchez-García (Intermediality Studies, DELC, University of Edinburgh)
Title – Intermediality
Series Theme – Decolonising Minds and Methods
Welcome: Professor Federica G. Pedriali (Director of Research, DELC, University of Edinburgh)
Respondents: Associate Professor Gian Maria Annovi (University of Southern California) and Professor Julie Sanders (Newcastle University)
Roundtable: Yue Zheng, Surina Bao, Sirui Xu, Kristen Barrett, Rome Godwin and Yamini Char (graduate students, MSc in Intermediality Studies, DELC, University of Edinburgh)
Event Moderator: Federica G Pedriali (Italian, DELC, University of Edinburgh)
  How can intermediality help us reconsider the borders of specific media forms such as film and literature? How can intermedia processes, such as fusion and expansion of media, become ideological tools and enact discourses of decolonisation? While traditional methods and approaches have focused on the 'purity' of form, intermediality foregrounds questions of hybridity by facilitating cross-media and cross-disciplinary exchanges. In this double talk, we will address these questions examining how two Shakespearean tragedies – Othello and Romeo and Juliet – have been appropriated and transposed across media, languages, and cultures by two modern film directors: Pier Paolo Pasolini and Jiří Weiss.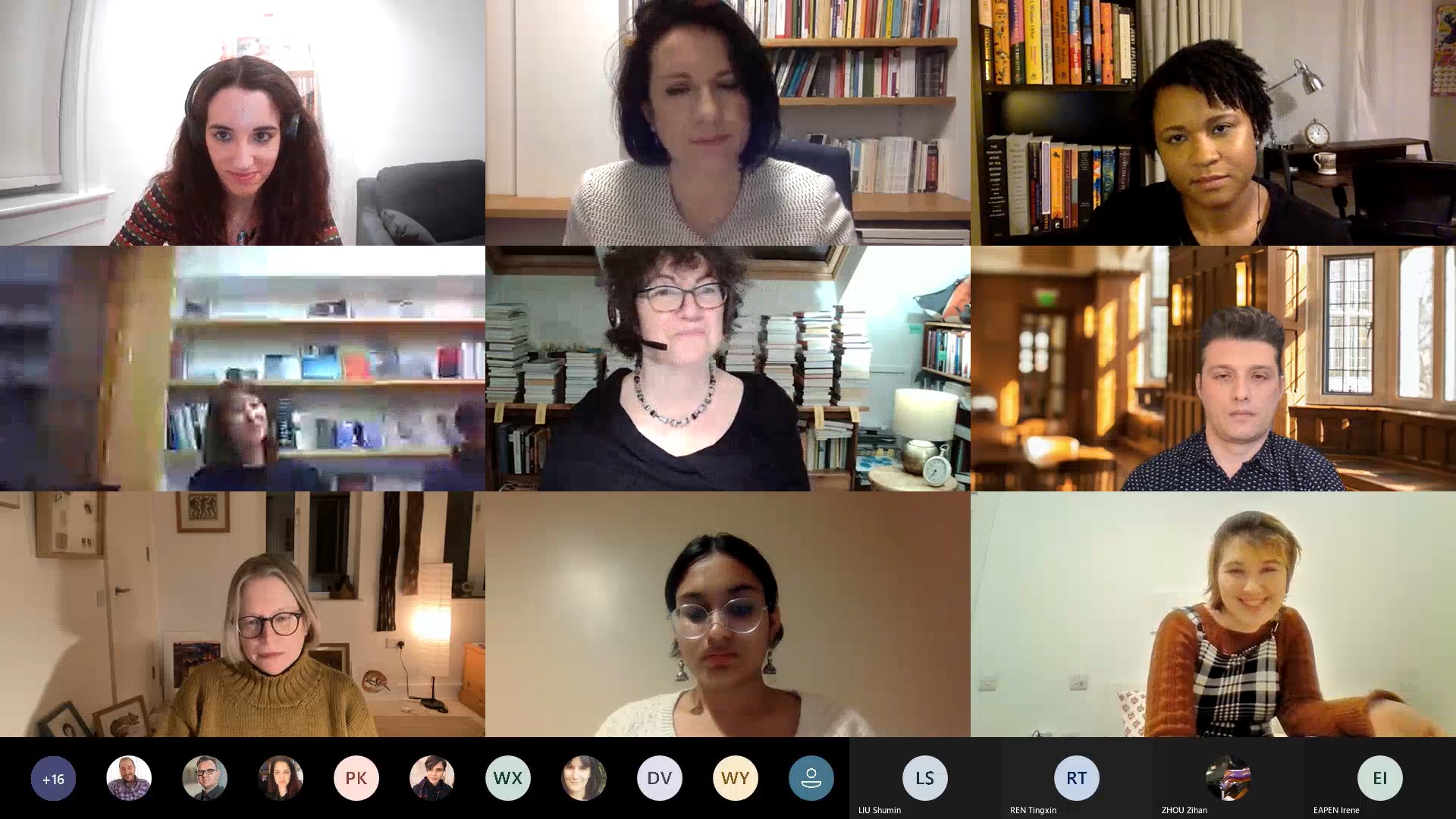 Emanuela Patti will look at "Che cosa sono le nuvole?" (1968), a short film adaptation of Shakespeare's Othello to discuss Pasolini's use of intermediality as a decolonisation strategy. In turn, Inma Sánchez-García will explore Jiří Weiss' "Romeo, Juliet, and Darkness" (1960), a Czechoslovakian adaptation of Romeo and Juliet that was internationally acclaimed upon its release but is now largely forgotten, arguing that the international dimension of Shakespeare on screen still needs sustained attention. By focusing on two non-Anglophone film adaptations of Shakespeare's plays, this talk will address not only the vitality of intermediality as a method of research, but also how intermedia strategies can be employed as deconstructing tools for political and ideological purposes.
Inaugural MSc Intermediality Guest Lecture: Gulliver's Travels in the World of Advertising, by Dr Ruth Menzies, Senior Lecturer in English at Aix-Marseille Université (France).
When: Friday 5th November, from 17:10 to 18:00 Where: Appleton Tower, Lecture Theatre 2. EH8 9LE. The University of Edinburgh. Edinburgh, UK. (see map below)
GULLIVER'S TRAVELS IN THE WORLD OF ADVERTISING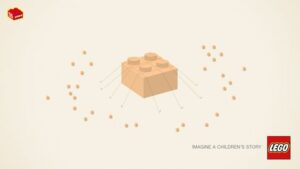 In one of literary history's more ironic twists, Lemuel Gulliver, a notably unrealistic character whose function in Gulliver's Travels is that of satiric puppet rather than three-dimensional individual, has entered the collective consciousness and attained mythical status. His longevity extends well beyond the confines of Jonathan Swift's text, his fame exceeding that of his creator. Writers have regularly appropriated Swift's mendacious surgeon, whether alluding briefly to him in passing or extensively reworking his travels. More prosaically, over the past decades the name Gulliver has come to adorn travel agencies, business centres, used-car companies and The Economist's blog about business travel. This paper studies modes of representation of Lemuel Gulliver in advertising campaigns, focussing on the ways in which advertisers select and edit iconic moments from Swift's text to promote products whose nature and purpose are generally far removed from his universe and ideas. Not unlike Gulliver's Travels, these advertisements frequently contain multiple layers of often ironic meaning, whose perception and analysis inevitably vary according to the viewer's knowledge both of the source text and of its modern avatars.