All That We Are Is What We Hold in Our Outstretched Hands: Tuan Andrew Nguyen's Meditation on Memory
by Julia Larsen
While Nguyen seems to say it is impossible to accurately recall the past, he also seems to say that there is still value and truth in the stories we are able to tell about the past, availing himself of the intermedial dimension of installation art through the combined use of narrative media.
When you enter Tuan Andrew Nguyen's exhibition at the Centre for Contemporary Arts in Glasgow, you enter the realm of the remembered. The exhibition, titled All That We Are Is What We Hold In Our Outstretched Hands, takes you on a journey through memories that are not your own – and some that truly belong to no one. Nguyen explores the way memories occupy a space between fact and fiction, and often become a third thing entirely: something imagined yet true.
This exhibition showcases a particular slice of history for two colonized nations: the Senegalese-Vietnamese community that emerged when tirailleurs sénégalais, Senegalese soldiers conscripted to fight for the French in the First Indochina War, married and had children with Vietnamese women while stationed in Vietnam. Some of these soldiers brought their wives and children back to Senegal when the war ended; others brought only their children and left the women behind. The story of this community is one of complex geopolitical movements born from the violence of colonialism, but also of deeply personal choices individuals needed to make within the context of colonial oppression. Nguyen's work makes the geopolitical personal.
All That We Are consists of three parts, each in a separate space: the first room holds two films (Our Empty Uniforms Marched To The Echoes Of An Invisible and Mother, Métis, Memory), the second a four-channel video installation (The Specter of Ancestors Becoming), and the third contains a gallery of family photographs.
Tools of memory, from archival footage to family photographs, permeate all the pieces in this exhibition. The first film installation, Our Empty Uniforms Marched To The Echoes Of An Invisible, juxtaposes two sets of archival footage, remembering the First Indochina War from the opposing perspectives of the Senegalese soldiers and the Vietnamese soldiers. This footage highlights at once their differences and their similarities, creating a unified narrative across two sides of a war. The second film, Mother, Métis, Memory, is made up of a series of interviews with the Senegalese-Vietnamese community recalling their heritage and family stories. The photo gallery is perhaps the most visceral proof of memory. Formal engagement photos and military portraits hang next to candid shots of parties and family portraits. The photographs are displayed without plaques, giving a simultaneous feeling of intimacy and anonymity. The lack of labeling makes the gallery reminiscent of family photos hung on the walls of a home; however, these people are not known to the viewer, transforming what would be familiar portraits into anonymous images.
The photographs are displayed without plaques, giving a simultaneous feeling of intimacy and anonymity. The lack of labeling makes the gallery reminiscent of family photos hung on the walls of a home
The Specter of Ancestors Becoming, the four-screen installation at the center of this exhibition, utilizes narrative as a tool of memory. Here, memories are portrayed as fiction, at once truth and myth. The installation consists of three different narratives, each written and told by a different person and illuminating a different facet of the Senegalese-Vietnamese community. These narratives are portrayed as memories, although they are fictional. The first story shows a husband and wife deciding whether to stay in Vietnam or migrate to Senegal now that the war has ended; in the second, positioned thirty years after the first, a son confronts his father after discovering the real identity his biological mother, a Vietnamese woman  left behind by his father upon his return to Senegal; and in the final story, a girl and her grandmother, now firmly established in Senegal generations later, recall a mixture of true and fictitious memories of the First Indochina War. One of the screens shows the speaker reading the "memory" they have written, while the action of the memory is played by actors on the screen directly across. The two screens on the sides show a mixture of individuals from the contemporary Senegalese-Vietnamese community, often configured as a family, interacting with each other in the present or holding photographs of people not present, presumably the Vietnamese women left behind by their Senegalese husbands.
These narratives are portrayed as memories, although they are fictional.
The specter of absence looms large in both the stories and the images of the piece. Abandoned mothers and wives are present on screen either as portrayed by an actor or in a photograph, but never as themselves. Their legacy is present in their descendants, but their physical selves are absent from the work. For the women who did migrate to Senegal, the specter of Vietnam remains. To migrate to Senegal is to forsake Vietnam, making a specter of your homeland; to remain in Vietnam is to forsake your potential future in Senegal, and become a specter yourself.
With the way the screens are arranged, it is impossible to see the whole installation at once. As a viewer, you must choose which portion of the narrative to pay attention to. To look to the past, you must turn your back on the present, and vice versa. The experience of stringing together different narrative puzzle pieces to create meaning mirrors the way we navigate threads of memory and create new narratives through remembering, misremembering, and imagining events we did not personally experience. Just as it is impossible for a Vietnamese mother to teach her children everything about her home country when they have spent their whole lives in Senegal, it is impossible for descendants to know everything about their ancestors when they have not lived through the same experience. For these migrant women, their homeland exists only in memory; for their children, it exists only through story. Vietnam becomes something remembered and imagined, dwelling more in the realm of the fictional than the real – much like our ancestors become when they pass on.
With the way the screens are arranged, it is impossible to see the whole installation at once. As a viewer, you must choose which portion of the narrative to pay attention to. To look to the past, you must turn your back on the present, and vice versa.
All That We Are Is What We Hold in Our Outstretched Hands meditates on the way we remember, misremember, and imagine the people and places who came before us, but also on the power of story and constructed narrative to keep memory alive through the combined use of photography, film and performance. In some way or another, history is mediated through tools of memory in each piece of this exhibit, presenting stories of the past rather than an accurate history. However, that does not make these stories any less true. While Nguyen seems to say it is impossible to accurately recall the past, he also seems to say that there is still value and truth in the stories we are able to tell about the past, availing himself of the intermedial dimension of installation art through the combined use of narrative media. This is, in part, because of the inevitability of becoming stories ourselves. One day, all that will remain of us is our face in a photograph and our words in someone else's memory.
---
ABOUT THE AUTHOR
Julia Larsen is a graduate student of Intermediality Studies at the University of Edinburgh, an English teacher by trade, and a lifelong lover of learning. You can often find her crocheting while watching a scary movie, or taking her dog on a walk through the local cemetery.
---
¡Hola Madrid! Presenting at My First Academic Conference
by Xinyi Chen
Madrid became real to me when I was sweating in my waterproof jacket in the airport shuttle, thinking of my presentation for the upcoming SEDERI conference that would take place over the next three days — from the 5th to the 7th of October 2022 — at the cultural center 'La Corrala'; an international conference for early career researchers co-organised by the Spanish and Portuguese Society for English Renaissance Studies (SEDERI) and the Autonomous University of Madrid (UAM).
A few months before travelling to Spain, I was taking the course 'Global Shakespeare Across Media: Performance, Cinema, Digital Cultures', part of the MSc Intermediality and offered across MSc programmes at the University of Edinburgh. I wrote an abstract based on my final essay for this course and I submitted it to the SEDERI organizing committee, simply through the link Inma, my tutor, attached in her email when she shared the call for papers with us. With my proposal getting accepted, I started to expect my first conference!
It's overwhelming to think of what's waiting for me: socializing with other researchers, speaking publicly in front of experts in the field, getting questions that I may be unable to answer, etc — it's too intimidating to look forward to. To get distracted from the anxiety before setting off to Madrid, I preoccupied myself with the possibility of getting rejected for my visa application, which would have been a perfect excuse for not attending. Thus, the trip to Madrid was spiritually never a certain event for me, until the last day in Edinburgh when I received a lovely email from Inma, wishing me all the best for the conference and encouraging me to approach and say hi to some of her dear colleagues in Shakespeare studies, such as Dr Reme Perni, who was also attending the conference and who, coincidentally, ended up chairing my panel! While Inma's email reminded me of the imminence of the conference, I found myself in a very familiar situation of procrastination, coming back home from my part-time job at 9 pm; my traveling backpack still lying empty on the carpet, waiting to be packed, and there was only one slide in my presentation for the paper, with an exquisitely styled background and an unevenly sized title. Confidently, I flew to Madrid (irony intended!). Soon after I checked in at the venue, I found myself holding the conference package with the programme in my hands.
I joined the coffee break (where I could casually talk to different people with free refreshments available) which I later found out to be my favourite part of the conference. Having enjoyed all the coffee breaks, here are some reflections:
First and foremost, the chocolate palmier is the best, even better with almond milk.
Second, a successful eye contact means a conversation ready to take place.
Third, it's natural to start the conversation with the presentation dates and paper topics after introducing ourselves to each other.
Fourth, we were actually not very good at recognizing names or faces; we tended to recognize each other by paper topic.
Fifth, it's important to be a good listener.
Lastly, if I find it awkward being silent during a conversation, it'd become like 10% less awkward if I grabbed things to eat instead.
The ideas of others were interesting enough to let me pass the first two days in a carefree excitement (as I was going to be the last speaker to present on the third day). I even got a chance to watch a football game in person during the first night. It was of course another kind of excitement to cheer for Real Madrid in Santiago Bernabéu Stadium.
Nevertheless, I still had to spend some time every day sitting in a Starbucks to prepare my own talk for the conference. What really motivated me to prepare was that I found the conference to be an intermedial space that would accommodate my ideas better than my paper ever did. Writing on contemporary film adaptations, I no longer had to refer to a scene by awkwardly describing it; rather, I could illustrate my analysis with screenshots and clips. When I was inserting pictures, videos, and quotations with Microsoft PowerPoint, I was pleased that the slideshow — despite being a presentation cliché — is such a great invention that's going to give life to my ideas! Loaded with passion, I saw a flag of Scotland in the sky on my way to the Starbucks! Fingers crossed!!
I have to confess that I skipped the morning sessions on the third day; I wandered in the museum instead at the venue. I was crept out by these giants, badly frightened of their gazes from above. When I was about to run away, I met an intellectual bro who was similarly skipping the morning sessions and killing time in the museum. We talked about Catholicism, carnivals, Shakespeare, and Mikhail Bakhtin, though our knowledge only allowed for an interesting brainstorm. Since then, I've started to enjoy the creepiness of those carnival giants (as a way to survive them)!
It feels great to attract attention as a speaker in the conference session, especially when I didn't feel myself in any way to be judged or graded. I felt rather supported and encouraged as an emergent researcher. Though I found it hard to answer the questions in the Q&A session, they were actually very good questions that have continued to provoke thoughts after the conference itself closed. While I had been so focused on my paper to construct a strong argument, those question brought new dimensions and even let me see the potential of new research projects. I see the questions as a way of support which I super appreciate (Thank you, Carlos, Yueqi, Reme, and Anna!). Also, in the first two days I was sometimes asked a question that I hadn't been asked for a long time, 'Are you nervous?' Although I wasn't, as long as I didn't think of my own presentation, it was sweet that one could still talk about feelings at a conference.
Yayyyy also for those who had to leave early and couldn't appear in this photo! The conference was exhausting. My mind hibernated as soon as the conference finished. I really wanted to fly back to Edinburgh immediately, but I had to stay in Madrid for another two days as I had scheduled my flight on the 9th and the conference finished on the 7th Oct. I was tempted (by tiredness) to stay in the hostel for the next two days, but I decided to get around when I thought of my single-entry visa — I definitely would like to make the most use of it to visit the city! Here is a photo to prove that I did go sightseeing in Madrid:
By the way, Picasso's Weeping Woman in the Museo Reina Sofia made my mind alive again!
---
ABOUT THE AUTHOR
Xinyi Chen has recently graduated with an MSc Comparative Literature at the University of Edinburgh (2022). She also holds a B.A. in English Language and Literature from Minzu University of China. Xinyi takes an interest in Intermediality, loves Shakespeare and lives by curiosity.
---
My 3 Days in Cannes
by Kay Barrett
In mid-May, I fulfilled one of my dreams: attending the Cannes Film Festival. As an American outside of the film industry, a ticket to Cannes seemed unattainable, like a bucket list item that would never come to fruition. Imagine my surprise when I researched Cannes internships on a whim and found the 3 Days in Cannes accreditation. 
For the uninitiated (aka me, six months ago), the 3 Days in Cannes accreditation is a festival pass for film lovers between the ages of 18 and 28. To apply, you only have to submit a personal statement about your cinephilia, and I knew plenty of successful applicants who were not even studying film or media. Needless to say, I leapt at the opportunity to escape to the French Riviera for a cinephile's dream excursion.
During my time in Cannes, I watched seven films (three were world premieres!). For the red carpet premieres, I paraded up the Palais de Festivals' steps in my black tie attire, just a stone's throw away from some of my favorite stars. In fact, walking the red carpet in and of itself constitutes a cinematic experience as you witness the montage of air-brushed celebrities posing before eager press members. 
As for the viewings themselves, I was thoroughly unprepared for Cannes's peculiar audience culture. For premieres, the audience stands as the cast and crew enters the screening, and we applause intermittently throughout the film's opening credits. No matter the film's quality, we're also expected to give a standing ovation during the closing credits. This ritual framed each screening as a celebration and also highlighted the cultural investment of everyone involved. While I grew accustomed to streaming films online in my room during the pandemic, this experience reminded me of the joy of watching a premiere with a full, invested audience. 
Just for fun, I've listed of the films from best to worst: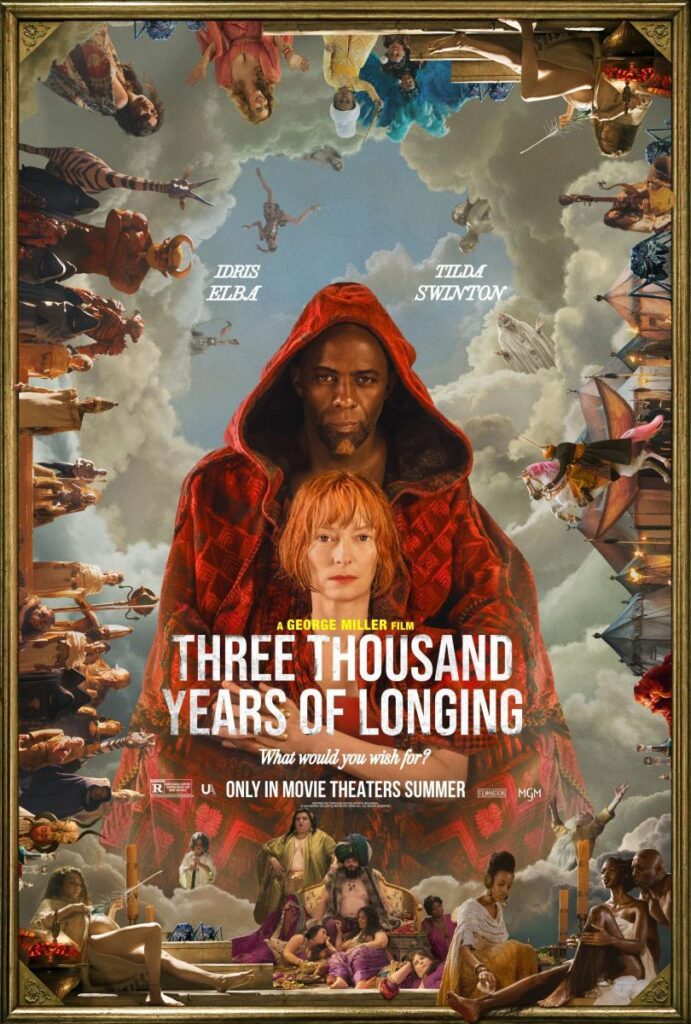 Three Thousand Years of Longing

, a romantic fantasy film about a literature professor and a djinn (dir. George Miller, starring Tilda Swinton & Idris Elba)

Hunt

, a Korean spy thriller of

The Departed

proportions (dir. Lee Jung-jae, starring Lee Ju

ng-jae & Jung Woo-sung)

Top Gun: Maverick,

the sequel to the iconic 80s film

(dir. Joseph Kosinski, starring Tom Cruise & Jennifer Connelly)

Coupez!

,

a zombie comedy (dir. Michel Hazanavicius, starring Romain Duris & Berenice Bejo)

EO

,

a cerebral indie flick about a wayward donkey (dir. Jerzy Skolimowski, starring…donkeys)

This is Spinal Tap

, a 1984 mockumentary about an irreverent rock band

(dir. Rob Reiner, starring Christopher Guest & Michael McKean)

Plan 75

, a Japanese dystopian film set in the not-so-distant future about a government plan which encourages seniors to euthanize themselves (dir. Chie Hayakawa, starring Hayato Isomura & Chieko Baisho)
If you cross-check my rankings with critic reviews and IMDb scores, you will probably notice that I vary from popular opinion. This is the beauty of Cannes though. I viewed these films with no preconceived notions, no critics' perspectives tainting my own interpretations. We talk a lot about 'purity' in intermediality, and I believe attending Cannes was the most pure experience of cinema that I could ever hope for. I will always cherish my brief stint in the south of France, and I hope others too will pursue this wondrous opportunity.
---
ABOUT THE AUTHOR
Kristen "Kay" Barrett is a graduate student in Intermediality Studies at the University of Edinburgh. She holds an MSt in English Literature from the University of Oxford and a BA in English from the University of Virginia. When not reading a book, she can be found watching a movie (and vice versa). You can find more of her media musings on Substack.
---
The Intermediality of the Cyanotype
By Alex Barnett
Cyanotypes, or sunprints, are inexpensive, user-friendly pieces of analog contact photography that do not require film cameras, darkrooms or buckets of fixer to produce.
They tend to be most associated with photograms—images derived from the placement of small organic or inorganic objects (flowers, hands, yarn, etc.) atop a UV-sensitized surface, allowing the sun to uncover their undetectable transparencies. The cyanotypes I prefer to make choose extant photographs as their subject. I turn digital or digitized analog photographs into negatives with Photoshop, an Inkjet printer, and transparency film. I then place one or more negatives atop thick watercolor paper I've already painted with Cyanotype A & B, or Potassium ferricyanide and Ferric ammonium citrate, which allow the print to turn Prussian blue. The sun burns the image into the coated paper—a subsequent water bath (inside and away from sunlight) transforms the exposure from unreadable bronzy mush into monochromatic blue & white in a matter of seconds.
It is difficult to deviate from blue, but certain chemical reactions allow the print to shift between earthy, sandy, and inky primary shades of blue or brown—in one of the cyanotypes pictured here, I bleached the print after I washed it, and then bathed it again in breakfast tea. The bleach allowed tea tannins to interact with the developed chemicals on a molecular level to turn the image an inky almost-black & blue. The tea also stained the paper, now an odd and streaky beige.
Photograms, like other early photographic methods, might have been deemed "sun paintings," while the more contemporary photos used for my favorite kind of cyanotypes would be "light writings." These cyanotypes, therefore, are somewhere in between—sun paintings of light writings. Unless one has access to a UV lamp, every cyanotype of the same source image will differ because the sun acts as a highly volatile and variable light source. Minute changes in angle of sunlight, cloud cover, air pollution, application of chemicals, and duration of exposure affect the resulting image, usually in unpredictable ways. This is why I find cyanotypes intermedially fascinating. Infinitely reproducible digital photographs through this process become subject to analog chemical reactions and transform into unique material images. Like analog photographs, these unique artworks fade and blur when continuously exposed to (sun)light, but unlike analog photographs, they will regenerate to the period before UV-damage if stored in sunless conditions, like a basement. If I cyanotyped an image of another person, maybe my grandmother, I've created a near-immortal image of her—immortal as long as I preserve whatever paper or cloth or wood displays her image.
My cyanotypes, so far, have featured old digital photos from various iterations of my iPhone, photos of places like the Temple of Apollo in Delphi, or a field of mulch in my hometown. In one, the frame of the negative is obvious; in the other, invisible. The image that extends and disappears into the chemical brushstrokes possesses a certain obtuse drama (the mulch, in this case) because the negative is larger than the diameter of the painted frame, so the photographic referent breaks apart into bristles. I prefer the messier alternative, in which the rectangular dimensions of the negative stamp the image into the disordered frame of empty blue streaks. I read the image as an artifact of traditional photographic framing having been repurposed by the sunprinting process. The photographic frame becomes haphazard and irrational, the chemical frame motivated and reasonable, a way to restructure my ten-year-old memory of an ancient place captured by an obsolete smartphone printed onto flimsy paper coated by unkillable chemicals that I can only look at if I keep out of sight.
---
ABOUT THE AUTHOR
Alex Barnett is a graduate student in Intermediality Studies at the University of Edinburgh. He holds a B.A. in Radio/TV/Film and Creative Writing from Northwestern University. His research and creative interests include phototextuality, slow cinema, and interactive media.