Academic staff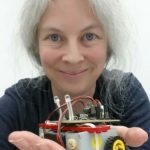 Barbara Webb studied Psychology at the University of Sydney and did her PhD in AI at the University of Edinburgh. She held lectureships in Nottingham and Stirling before joining  the School of Informatics in May 2003. She was promoted to Professor of Biorobotics in 2010.
Her main research interest is in perceptual systems for the control of behaviour, in particular building computational and robotic models of insect behaviour. She also has an interest in theoretical issues of methodology; in particular the problems of measurement, modelling and simulation.
Research staff
Roman Goulard
PhD students
James Garforth is interested in real time vision and navigation for robotics. He has previously worked on live scene reconstruction from the video data of a low-cost quadcopter and is currently investigating ways to improve robotic navigation in less structured environments such as forests. James is interested in the visual navigation capabilities of flying insects, such as the honey bee.
BSc (Hons) Computer Science and Artificial Intelligence, University of Edinburgh, 2007–2011
MSc (R) Robotics and Autonomous Systems, University of Edinburgh, 2014–2015
---
Jan Stankiewicz is doing a doctoral training program with the Edinburgh Centre for Robotics and hopes to complete a PhD with the Insect Robotics group. He is currently researching insect navigation but aims to model the prey interception of a dragonfly when his PhD work begins. Between graduating from Sheffield in 2008 and starting at Edinburgh University in 2015 Jan worked as a systems engineer. He is interested in the biologically-inspired and multidisciplinary nature of the work performed by the insect robotics group.
MEng, Mechatronics, University of Sheffield
MSc (R) Robotics and Autonomous Systems, University of Edinburgh, 2015–2016
---
Ioannis (John) Pisokas
is fascinated by the organisation of brains and the situated behavioural repertoire they produce. His current focus is on modelling the Central Complex of the insect central neural system.
MSc in Artificial Intelligence, University of Edinburgh
BEng Electronics Engineering, Technological Institute of Piraeus, Greece.
---
Evripidis Gkanias (Evri) is interested in neural representations and information theory. He currently tries to understand and model the underline mechanism of the mushroom bodies in the insect brain. The main scientific questions he tries to address are: how do the mushroom bodies embody a reinforcement learning mechanism; how do they create associations among different modalities; and how are they used from other parts of the brain for memory acquisition and retrieval.
His research interests include probabilistic machine learning (and reinforcement learning), neural computation, bioinspired computer vision and multimodal integration.
MSc Artificial Intelligence, School of Informatics, University of Edinburgh, 2015 — 2016
BSc Computer Science, School of Informatics, Aristotle University of Thessaloniki, 2008 — 2013
---
Le Zhu is interested in memory and learning mechanisms in insect brains. His current PhD project is trying to answer how the mushroom bodies in the insect brain encode visual motion as temporal memory in navigation tasks.
---
Robert Mitchell
---
Emily Rolley-Parnell is currently in their first year of the CDT Course with the Edinburgh Center for Robotics, studying bio-inspired robotic manipulation. The biological inspiration for this project is harvester ants, and how they manipulate, pick up, and drag unknown objects; like food. From this, the aim is to apply this to robotic manipulation, and to improve the ability of robots to manipulate unknown objects with reduced computational power.
BEng (Hons) Robotics, University of Plymouth,  2015 – 2019
---
MSc students
UG students
Alex Roy
William
Stephen Ye
Visitors
Collaborators
Alumni
Former Research staff
Jo Young
Michael Mangan
Antoin Wystrach
Konstantinos Lagogiannis
Benjamin Risse
Daniela Pacella
Former PhD students
(some) Former MSc students
Tom Appleyard (2015) – Building AntBot: a mobile-phone powered autonomous robot based on the insect brain.
Jordan Sewell (2015) – Tracking ants in their natural habitat using only hand-held video data.
Laurent Decamp (2015) – Tracking desert ants using visual cues
Corey Engelman (2014)
Shane Girish (2014)
Daniel Diaz-Bejerano (2014)
Matthias Lindor (2014)
Alexandros Asthenidis (2010) – Cricket-Cyborg: an insect-controlled robot
Ivan Cordon Medrano (2010) – Exploring Neural Models of Path Integration
Vladimir Ivan (2010) – Sonar-based Simultaneous Localisation and Mapping for Academic Robotic Platform
(some) Former UG students
Aleksander Khodshabashev (2014) – Ant Trackball and Robot.