Supporting women and children affected by domestic abuse throughout COVID-19
Supporting women and children affected by domestic abuse throughout COVID-19
The Improving Justice in Child Contact project partners are working to ensure the children and women affected by domestic abuse are supported throughout the coronavirus pandemic. We know that for many women and children these services are more essential than ever and we are adapting and adjusting our support to ensure it continues to be available to all who need it.
Susie Dalton, Children and Young People's Policy Officer at Scottish Women's Aid, blogs about the disproportionate impact of COVID-19 on children and women.
A global pandemic, by its very nature, affects all of us. From the food we have in our cupboards, to the places we are permitted to go, to the health and wellbeing of us and our loved ones, life looks very different to how it did a month ago.
While all of us are affected, we know that often the impact of societal, economic, and health-related upheaval can fall heavily on the shoulders of those who are already marginalised and vulnerable. We can see already that women and children will disproportionately bear the burden of the coronavirus pandemic. As well as making up a significant proportion of the key frontline workers in this crisis – including healthcare, social care, cleaning, teaching and retail – women are more likely than men to be in part-time and precarious employment at a time of global economic insecurity (EIGE, 2017). Children are facing change and uncertainty around many of their rights, including their right to education, and their right to play. Women and children, and therefore women's and children's views and needs, are also more likely to be missing from the (now virtual) meetings where responses are discussed, decisions are made, and resources are distributed (Engender, 2020).
The current crisis raises particular concerns for children and women affected by domestic abuse, many of whom will be living with their abuser. We know from the children and young people using our services that school and nursery can often feel like the safest places to be when they and their mothers are experiencing domestic abuse. Even when children and women aren't living with their abuser, being at home all day makes surveillance and attempts at control easier for perpetrators. And if contact orders are in place, children and their mothers must continue to comply with them, even when things like reduced public transport makes this difficult, or even dangerous in terms of increased chance of infection.
In Power Up/Power Down young people rewrote a story of child contact for children affected by domestic abuse so that it ended the way they wanted the story to end. In their version, children put schools into the story as a source of direct help for the children, listening and providing support, as well as connecting children to other sources of help, such as their own support or advocacy workers.The closure of these spaces, as well as other community spaces where children and young people get to enjoy their freedom, will have particular impact on the safety and wellbeing of those experiencing domestic abuse.
We're working hard, alongside our network of 36 local Women's Aid services in Scotland, the Scottish Government, other children's charities, and local authorities to ensure that we mitigate the impact of coronavirus on all children and young people in Scotland, particularly those who are experiencing domestic abuse.
Support is available, for the children and women experiencing domestic abuse, for those concerned about someone else, and also for professionals who may have questions about how they can best keep those affected by domestic abuse safe at this time.
In Scotland:
We know that across Europe other organisations are working to ensure the support continues to be available. Information about support services across Europe can be accessed through the Women Against Violence Europe Find Help page. Women Against Violence Europe are also collating COVID-19 resources for services supporting those affected by domestic violence.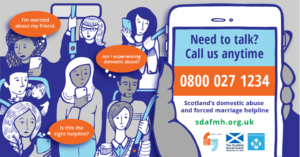 References
EIGE (2017) Gender, skills and precarious work in the EU https://eige.europa.eu/resources/ti_pubpdf_mh0217250enn_pdfweb_20170503163908.pdf
Engender (2020) Sex and power https://www.engender.org.uk/content/publications/Engenders-Sex-and-Power-2020.pdf
You can also read Scottish Women's Aid's full statement on COVID-19.