Digital Marketing Internship: Passing the midpoint and reflections on making a difference
Digital Marketing Internship: Passing the midpoint and reflections on making a difference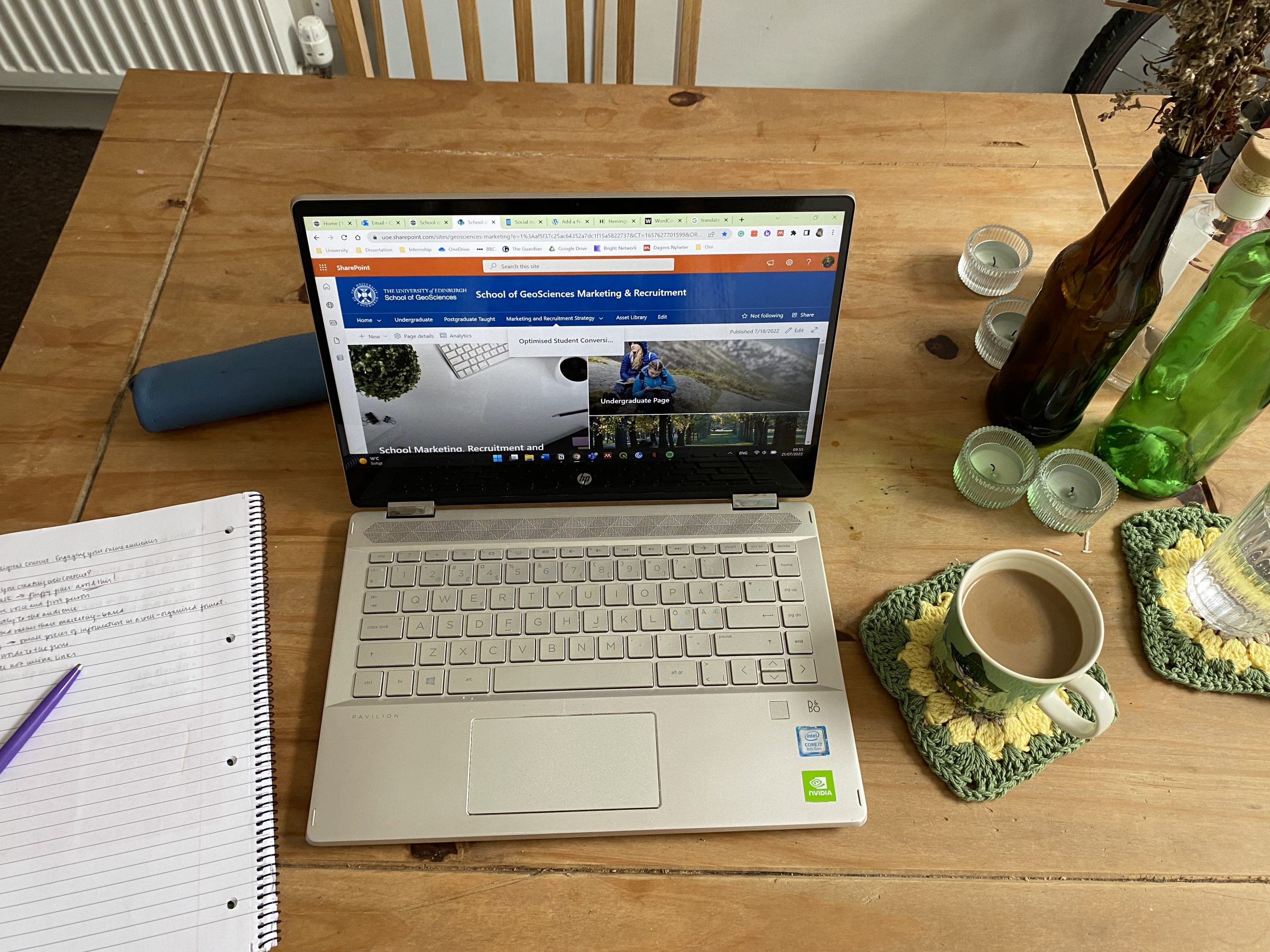 Reading Time:
3
minutes
By: Clara, BSc Geography student and Digital Marketing Intern 2022
When writing my last blog post, I had a busier few weeks. This time, my work has been more desk-based. I have been working on a few organisational tasks and smaller to-do-list-things. I spent most of last week trying to figure out the best way to set up an asset library in Sharepoint. The week before that, I set up a new shared content calendar for the team. This week, I have been working on a few smaller projects that I aim to post throughout the coming weeks.
As the weeks have passed, I have become more used to my role as Digital Marketing Intern. The job has become more of an everyday thing, less of something new and unusual. It was therefore with a bit of a shock that I looked up last week and realised that I was more than halfway through my internship. Crossing that mark feels strange. I am now finding myself counting the weeks I have left working, rather than the weeks I have worked. For this reason, I want to give myself some time to reflect on the internship so far. What has it given me, what I have I been able to give through this opportunity? What do I hope to do with my remaining time in the marketing department?
Alongside the internship, I have been working to complete the Edinburgh Award. This is an opportunity presented to the University's interns. To get the award, interns have to complete a few tasks of self-improvement and reflection, in relation to the internship. This is to help us understand how we can make a positive impact and grow, as we work. Because of this, and I suppose because of the way I am, I have been keen to make as much of a positive impact as I can. To create good, no, great content, and if not, then at least do something really useful to help the team. I have been keen to take on big tasks and challenges as they have seemed more 'important', more like big and useful tasks. 
However, just before the mid-point of my internship, I had a conversation with my manager that made me rethink. It was the end of an "Enhanced Visit", a sort-of open day event of a much smaller scale, dedicated to only a few degrees. Prospective students had signed up for a few lectures and lunch with the academic staff, and I helped out with organisation, speaking to students, and moving people around the campus. At the end of the day, as we were packing up, I was talking to my manager, Ysabelle. She thanked me for my help, ("Amazing job today, Clara!") to which I responded "Oh, I've just checked people in, it wasn't very hard". She answered something like "Having you here makes my workload easier, which has been a huge help today, and over the past weeks."
When I came back to the Edinburgh Award midpoint event a few days later, this response was something that stuck with me. I had not considered my help during the Enhanced Visits as anything really special at all. I had just helped out here and there, packed and unpacked, and spoken to a few people. It was nothing special, a simple enough task. However, it is easy to forget that just because the action is small, it does not mean that the impact is small. In fact, little things can make a huge difference, and this is a prime example of just that. I did not need to take on the most complicated, biggest tasks, I just needed to help out.
Throughout my internship, I have had it in the back of my head that I need to produce something big. I have split everything into groups: insignificant, but necessary tasks, and the stuff that matters. But my conversation with Ysabelle made me realise that this is not true. Even the small things; the organising of the Sharepoint, the posting of a short tweet and the printing of signs, are important tasks. Because by doing them, I am able to help my team and ease their workload significantly. 
It is because of this that I go into the final few weeks of my internship remembering that my work matters. As long as I work to my best ability and contribute with a good attitude and friendliness, I have made a positive impact on someone. And that is the most important part!
Share