My experience with university support
My experience with university support
Reading Time:
6
minutes
By Erin, BSc Geography
At the University of Edinburgh, the wide range of support available to all students is second to none. Whether it is just advice and guidance, mental health support or struggling with any form of disability – the university has many services in place to optimise your experience. It is very important to take care of yourself to ensure you maximise your time throughout this exciting time being a student, and getting any form of support is always a great first step!! One simple thing that helps me stay on top of my personal and academic stresses is ensuring I get some fresh air everyday, which edi is great for!!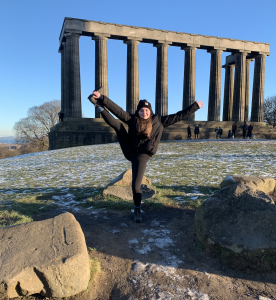 Photo 📷: Calton Hill at the beginning of Semester two this year – despite the cold, I still made it out and clearly had some fun!!
I am very open and not ashamed of being dyslexic, and was only diagnosed with dyslexia a few months before starting my undergraduate BSc degree at Edinburgh. I came straight out of high school and contacted the disability services through the university due to having issues with reading/spelling/writing for as long as I can remember. Throughout school, I tried very hard and put in a lot of effort to make up for the fact I felt tasks took longer and required more explanation/clarification. Edinburgh university's disability services are very easy to contact through email (disability.service@ed.ac.uk) and offer lots of different types of help/support – the staff are always ready to listen and guide you in the right direction!!
After expressing my concerns/struggles and what I was experiencing, an appointment was arranged to undergo screening and testing for different learning and visual  impairments. This alone is a very big step for those struggling with any sort of impairment or health conditions, but trust me getting the necessary help early on is so important and beneficial to your overall experience at uni – and this is the case for all issues (no matter how small and insignificant you think they may be!!).
After the test confirming my dyslexia, I was able to make arrangements with the university for particular things that would be beneficial to my studies, making them easier/manageable. This is known as a schedule of adjustments, and is completely personal to you – everyone struggles in different ways and no two struggles are the same. Adjustments like clarification and written instructions for tasks, extensive feedback, proof-readers, course work extensions or even extra time in exams are all viable options – but this depends on the person and is discussed at length throughout the process. Overall, if you have any form of learning difficulty or disability (or like me think there may be something that hasn't been picked up previously throughout your education), you should get in contact – to ensure your university experience is fair and doesn't cause more stress than necessary.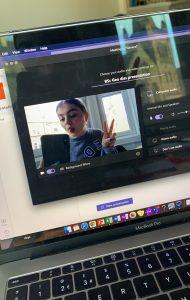 Photo 📷: Preparing for my dissertation proposal presentation, such a scary concept but shows that we really are capable of anything we put our minds too. Try not let your inner self convince you that you cannot do something – your hard work and effort pays off and doesn't go unnoticed!!
Yet there are lots of other kinds of support throughout the university, and one which most Geoscience students will be familiar with is the various student support coordinators throughout the many departments. Alex Soloman is the Geography-based student coordinator (ssc-geography@ed.ac.uk), and she is a great first point of contact for any advice/guidance – whether it be personal or academic related. Working along side Alex, is Emma Latto and Nicola Muir, who cover the other degree programs and courses throughout the School of Geoscience. The student support coordinators are so incredibly kind, can offer a variety of different help options and point you in the right direction.
Another reliable friendly face to speak to is your Personal Tutor. Assigned to you in first year, your PT is there to support you in an academic sense, but it is important to share your current situations/problems with them – particularly if it affects to begin to affects your studies. Normally, you have two meetings with your PT each semester, one at the beginning and the other in the middle/closer to the end to check up on progress and ensure smooth sailing. However, as previously mentioned, you should reach out as soon as you feel you need a little bit more support. It is important to remember it is ok to reach out for any sort of help, as there are people who's role it is to offer this support to students – you should never feel like you have to face something yourself.
Another useful service is EUSA's Advice Place. Edinburgh University Students Association offers plenty of confidential support and advice on a wide range of matters including accommodation and welfare, and are a great point of contact for any queries related to university life (advice@eusa.ed.ac.uk or 0131 650 9225). There are many mental health mentors available throughout the university, a service offered and run by the disabilities services. This year was the first year I had used this service and could not recommend it enough!! I had weekly appointments with a mentor and spoke about everything that was happening in my life at that point in time – good or bad – and the relief felt afterwards is amazing!! I can understand however if people don't feel entirely comfortable doing this – but if this sounds like something you might benefit from, don't hesitate to get in touch with the services or find more information online!! (www.ed.ac.uk/student-disability-service).
Finally, there are some more general things you can do as an individual to look after yourself and ensure smooth-sailing studies – I am going to share some of the things that worked for me throughout my first three years at edi!!
Ensure you get some fresh air each day – this could be walking to campus or going a walk/run, the fresh air really helps me to relax after a long day.
Getting up out of bed each day – this sounds so simple and simple but it is so easy to fall into the bad habit of staying in bed and studying etc (lockdown hasn't helped). But creating and using different spaces for different activities helps elevate the stresses associated with these particular places (bed should be for rest not stress!!)
Writing to do lists – breaking things down into smaller/manageable tasks means less stress and disorganisation. I try to plan each day, and create some form of structure to allow time for myself while completing everything I have to do for that particular day. But don't go overboard, keep it simple and it will be more worthwhile!!
Staying on top of course material – sounds simple but can be quite overwhelming. This is so important in the long run and makes it easier when it comes to the end of the semester exams/course work.
Discovering how you study best – different people study in different and unique ways, and what works for one person may not work for another. I personally find that if I physically write something down, I am more likely to remember it, so I gravitate towards hand-written notes after I initially type the material. Colour coordination and mind maps are some of my personal favourites, but summaries and  past paper questions always help too!!
Read when you can – Being dyslexic, staying on top of the required reading for different courses is the one thing I struggle most with at university, but it is undoubtedly one of the most important and beneficial tasks. Reading papers helps put the material you have learned from lectures and tutorials into context, and provides examples that can be utilised in exams or course work. The recommended reading list for different courses are normally extensive, but it is worthwhile reading some of the papers or others related that you find interesting – you'll find it more enjoyable and wont take as long if your actually genuinely interested in the matter!!
Not being afraid to ask for help when you need it – again it is very important to remember it is ok to be struggling and need some help. There is people to offer guidance and advice, and you should never feel like you can't come forward or your problems aren't worthy, I can assure you they matter!!
Follow us on Instagram or Twitter for more updates from our Geosciences students!
Share