Driven by the desire to improve the lives of farmed pigs, artists and academics Andrea Roe, Cath Keay and Abi L. Glen made a successful application to the Challenge Investment Fund. This exciting project is enabling them to collaborate and foster unique partnerships with pig farmers and the brewing industry. The team are developing a circular economy that utilises waste products from breweries to create an innovative and sustainable source of food and enrichment for intensively reared pigs. They intend to highlight the ethical need for play materials that alleviate problem behaviours among farmed pigs. A further aim is to reveal pigs as individuals with a great capacity for play and increase their visibility within the public realm.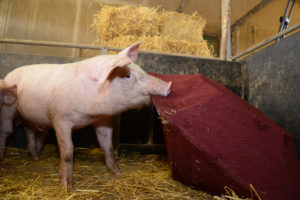 Andrea Roe is a lecturer in sculpture at Edinburgh College of Art and co-organises the Making Animal Studies course with veterinary scientist Andrew Gardiner, at the Royal (Dick) School of Veterinary Studies.
Her artwork examines the nature of human and animal biology, behaviour, communication and interaction within specific ecological contexts. She actively seeks opportunities to pursue her interests in animal sentience, definitions of wildness, and the practice of domestication, and has undertaken participatory fieldwork across veterinary disciplines to feed her research which addresses questions on the integrity of the animal and how this is altered by human interaction and intervention.
In 2016-17 a Leverhulme Trust artist in residency at Scotland's Rural College presented the opportunity to work with animal behaviour and welfare scientists, which led to an ongoing inquiry into the animal mind, looking at how we might bridge the communication gap between humans and animals and better understand the perspective of another species.
Cath Keay graduated from GSA, ECA and completed a practice-based PhD at Newcastle University. Her thesis examined collaborative and unauthored strategies in sculpture and artists' writing. Her work often explores hands-off methodologies such as natural forces, or chance actions can determine the final form of work. She has collaborated with beekeepers and biologists to create artwork altered by the actions of social animals or 'pest' organisms. As Helen Chadwick Fellow at the British School at Rome she encouraged ants to adapt political slogans for a series of work about Italy's legacy of 'Colonie Estive', experimental architecture build as children's holiday camps in the 1930s. Her Middlesbrough Modern Beehives re-presented modular Brutalist buildings from around Teesside as functioning beehives.  
Her 2015-18 Leverhulme Fellowship focussed on utopian Expressionist architecture, particularly buildings that 'grow' themselves. Following the methodology of the 1919 'Glass Chain' (Gläserne Kette) she collaborated with international artists, architects and film makers to create shared visions using digital methods.
Abi L. Glen received her doctorate from the University of Cambridge in 2018. Her thesis focused on the ways non-human animals were used in the Middle Ages, from the material to the metaphorical, with particular reference to marginalized groups. This led to an emerging interest in the ways pigs were (and are) used to promote antisemitism, anti-Islamism, and homophobia.
A long stint working for a local gin distillery while finishing the PhD also crystallised an interest in the use of animals in alcohol branding, as well as the sustainability practices and waste management of breweries and distilleries.
Before her doctorate, Abi received an MA and MPhil from the University of Glasgow, where she was a Carnegie Trust Vacation Scholar working on medieval bestiaries. Aside from her work with pigs and other creatures, Abi is currently a Creative Economy Engagement Fellow at the Fitzwilliam Museum, using digital humanities research, 3-D models, and emerging ed-tech to improve access to museum collections. Her project looks at how food heritage and food systems can open up discussions about community and wellbeing, as a means to encourage interaction with rarefied museum objects.
Photo credit: Norrie Russell