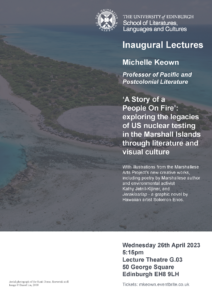 The School of Literatures, Languages & Cultures warmly welcome you to the Inaugural Lecture of Professor Michelle Keown, to be held on Wednesday 26th April, 5:15pm at G.03 Lecture Theatre, 50 George Square.
The lecture will last approximately an hour and will be followed by an informal drinks reception.
'A Story of a People On Fire': exploring the legacies of US nuclear testing in the Marshall Islands through literature and visual culture
This lecture explores a range of creative writing and visual narratives produced during an interdisciplinary research project, led by Professor Keown, that explored the cultural, environmental and human health legacies of US nuclear testing in the Marshall Islands during the Cold War. Between 1946 and 1958, the US undertook 67 nuclear bomb tests in the Marshall Islands, which were at the time incorporated into the US Strategic Trust of the Pacific Islands, allowing the US to exploit the Marshall Islands as a military colony. The nuclear tests, which were undertaken in the northern atolls of Bikini and Enewetak, resulted in the forced displacement of Bikini Islanders, and decades of exile for the people of Enewetak, as well as high levels of residual radiation that make certain islands (including the whole of Bikini atoll) uninhabitable for an estimated 25,000 years.
Professor Keown's 'Marshallese Arts Project' resulted in a range of new creative works, including newly commissioned poetry by Marshallese author and environmental activist Kathy Jetnil-Kijiner, and a graphic novel by Hawaiian artist Solomon Enos, that explore the continuing impacts of US nuclear violence in the Marshall Islands through word and image. This lecture will explore the legacies of the nuclear testing with illustrative slides taken from the graphic novel (entitled Jerakiaarlap), as well as still images from Kathy-Jetnil Kijiner's videopoem 'Anointed', which focuses on the Runit Dome, a huge pit of nuclear waste located in Enewetak atoll.
To register your interest in attending the lecture please click the following link: Inaugural Lecture: Michelle Keown Tickets, Wed 26 Apr 2023 at 17:15 | Eventbrite