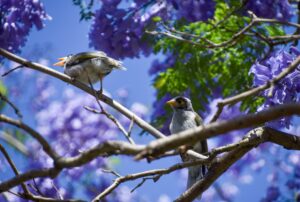 The BA Global Convening Programme aims to provide significant opportunities for researchers in the UK and internationally across the humanities and social sciences globally to network, open new fields of inquiry, harness research to address these challenges aiming to catalyse change in industry, practice, policy and society, and support collaborative exploration across disciplines and borders.
Dr Michelle Bastian (ECA) and Dr Andrew Hom (SPSS) are part of a consortium that have won a three year award titled The Times of a Just Transition. This programme is led by Professor Keri Facer (Bristol) and Nomi Claire Lazar (Ottawa) and brings together scholars from six continents and 14 disciplines to transform our understanding of the role of time and timing in producing justice and injustice in sustainability transitions. Working in highly diverse local sustainability struggles relating to land, cities, identities and the imagination – we explore how temporal frames and narratives are being (mis)used to define climate problems and solutions, how timing mechanisms prioritise, coordinate and exclude different actors and ways of life, how different rhythms of life are being aligned or alienated, and how uses of time as a form of invisible power are structuring the possibilities for justice for communities in the Global South and marginalised North. Increased awareness and understanding of these timing mechanisms will expand our political and civic capacities to detect sources of misalignment and miscommunication, lay new foundations for dialogue across difference, and open-up the possibility of a pluriversal politics.
Michelle's project builds on her current focus on phenology and involves partnerships with scholars in Brazil, South Africa and Australia and is called Shifting Ecological Timing in the Global South: Addressing research inequalities through south-south alliances. A particular focus will be on centring the Jacaranda, a spectacular flowering tree widespread across the southern hemisphere, as a key indicator species, following the use of the lilac some decades ago in the northern hemisphere. In both cases, the plants are reliable indicators of fluctuations in seasonal temperatures enabling predications of changes to wider agricultural and ecosystem plant timings, but are also common, easily identified and joyously commented on by the public, historically and across social and traditional media today.