Inspiring young people to become civil engineers (and help the planet reach net zero!)
Inspiring young people to become civil engineers (and help the planet reach net zero!)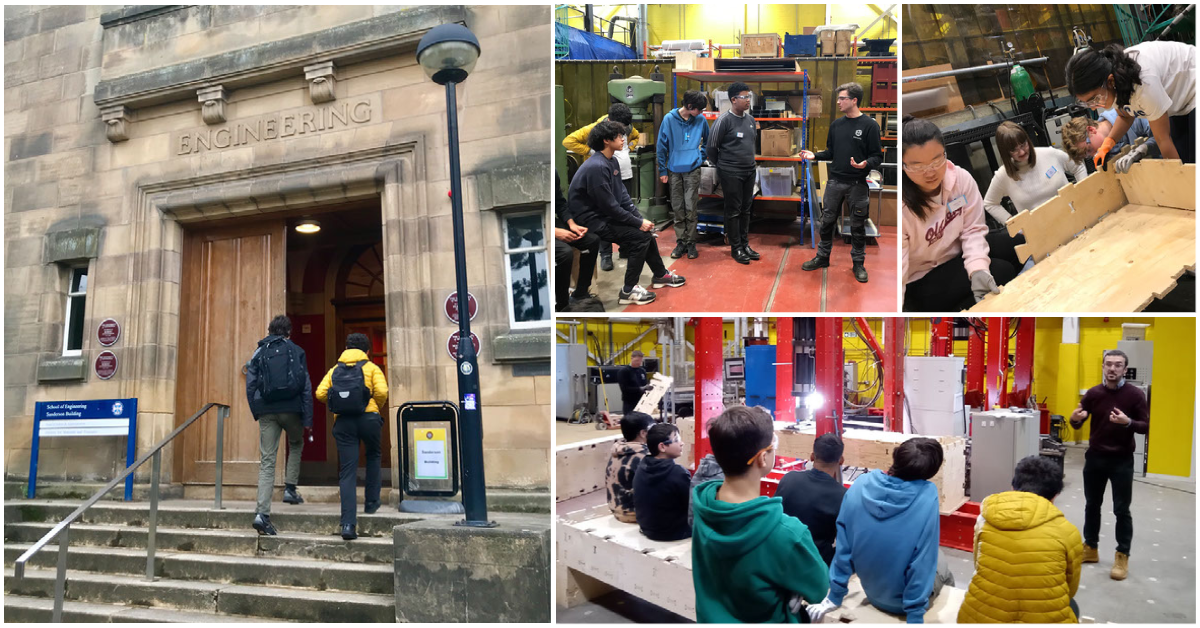 Reading Time:
4
minutes
By Dr Daniel Fosas de Pando, Chancellor's Fellow in Net Zero Buildings
How can we help young people to work out if studying Science, Technology, Engineering and Mathematics (STEM) is for them?
And just as importantly, how can we help them see that pursuing a STEM career like civil engineering could allow them to play a central role in protecting the future of our planet?
For pupils in secondary school, the question of what to study can be particularly thorny because most would have had only very limited exposure to STEM by the time they are expected to choose a 'career path'. They may not be familiar with subjects relating to STEM, what they can offer, how they can look in practice, or the ways in which they make a difference to them personally, our society and our planet.
It would be a shame if someone missed out on something that could make them happy. It would be disastrous if we missed out on new talent just because no one extended a timely invitation to consider options in this exciting and thriving sector.
Routes into STEM
Thankfully, the Engineering Development Trust (EDT) organises 'Routes into STEM' events to inform and inspire young people about these options. These events allow young people to deep-dive into STEM careers by focusing on specific themes. The themes provide an excuse for students to talk to as many people as possible about how they got into STEM, while getting some hands-on experience of the topic.
A team from Civil Engineering at the University of Edinburgh recently collaborated with EDT and engineering firm Arup on the theme 'Civil engineering and net zero'. As part of this, we hosted 26 pupils aged 12 to 14 from seven schools in Edinburgh and Midlothian for a day on our campus.
Insight sessions
We began a fully packed day with an overview from Dr Daniel Fosas of what net zero is, how it fits with sustainability, and what civil engineers can do about it – from reducing emissions in existing buildings to structural designs that make clever uses of geometry to reduce their weight.
Dr Frédéric Bosché followed with 'Carbon in structures', where the pupils looked at the properties of different building materials and estimated their carbon footprints while also getting a glimpse into what digital technologies can do to aid engineering design.
Dr Marcelo Dias continued with 'Matters of the matter', exploring how engineers go about deciding which materials to select for different purposes, according to their properties and how that decision making process has shaped our world. The pupils then had a go at exploring different families of materials and deciding what their best areas of applications could be.
'Advanced design of structures' closed the morning session, designed by Dr Stefanos Papanicolopulos and delivered by PhD students Jasotharan Sriharan, Sithija Abeysinghe and Darshana Rathnayaka. Here, the pupils were challenged to create a finite element model to evaluate the structural performance of a low-carbon beam made of timber.
They learned how engineers use such finite element models to understand and measure the effects of real-world conditions on a part or structure, using mathematical modelling. These simulations, carried out using specialist software, allow engineers to further develop structural designs by highlighting, for example, parts of a structure that need further strengthening or areas where it could do with less material without compromising desirable performance.
It was impressive seeing all finite element models completed and discussions on why the beam deformed the way it did and what could be done to improve performance!
Building beams
The day then changed pace towards building and testing the very same low-carbon beam that was modelled in the morning, which is one of the structural elements of the WikiHouse project. The WikiHouse is a modular building system that makes it easy to design, manufacture and assemble high-performance homes and small buildings.
Dr Thomas Reynolds, alongside technicians of the Structures Lab and Gabriele Granello and Mel Esquerre from WikiHouse, created the activity to build the beams and then test their performance under one of our hydraulic presses. Pupils worked in small groups, building the beam by themselves under staff supervision.
Next, Jamie White, a technician in the Structures Lab, shared his route into STEM via the Graduate Apprenticeships programme, answering the many questions pupils had on the scheme, what it felt like, and how enjoyable the experience was for him.
Going out with a bang
The moment they all had been waiting for arrived soon after. Beams started to be tested, one by one, in the hydraulic press. It was exciting to witness how the beams were slowly loaded with increasing forces. The pupils could watch how the beam was being affected by the increasing load on a big screen, which made it more obvious how it was deforming and to what extent via a technology known as Digital Image Correlation.
Tension built up in the room as the first cracks started to break the silence. Eventually, the beam started to bend visibly under heavy load, reaching the climax when a final bang in a key part brought each test to the end. We are proud to say that one of the beams assembled by the pupils outperformed the demonstration one put together by the staff!
Undergrad wisdom
Just before we closed the event, the pupils had the opportunity for impromptu chats with current undergraduates at the computer lab. Our undergraduate students shared their journeys into the civil engineering programme, and answered questions including 'what are the best seats at lecture theatres?'
Rather unsurprisingly, undergrads said it was generally tempting to sit at the back… but sitting in the front row is a must in courses like those related to fire not to miss the action at the front!
Showcasing STEM
We hope the event was informative to showcase personal stories into STEM and give a flavour of that through the net zero theme for civil engineering. Judging by the feedback received on the following days, that appeared to be the case!
Thinking of running events like this? Please get in touch with EDT Scotland. Curious about how to engage with the School of Engineering at the University of Edinburgh? Do not hesitate to contact the Director of Discipline for Civil Engineering, Professor Luke Bisby. We would love to hear from you!
Acknowledgements
The event was possible thanks to the collaboration of Charlotte Watson and Robert Anderson (EDT) with Professor Dilum Fernando (University of Edinburgh), and ARUP.
Further to those acknowledge above, we are thankful for the support of: Diane Reid (Research Institute Support); Eck Kirkland (Buildings); Kevin Tierney, Angus Spray, Iain Gold, Keith Norrie, Mark Partington, Jamie White and Ralph Cook (Structures Lab); Professor Luke Bisby, Professor Lindsay Beevers and the material shared by Dr Athanasios Angeloudis, Nikolas Ringas and Dr Rory Hadden (Civil Engineering).
Share