By Yixuan Wang, PhD student and former ECRED intern
'Let's team up!'
'Very nice to meet you, we can collaborate in the future!'
'Teamwork is one of the essential skills employees/funders look for.'
Yes, we all know collaboration is important and we desire to build collaborative relations with others, but the question is: how?
Collaboration is a skill that needs practice. In a university setting, collaboration is an enduring topic emphasised in almost every classroom. Course organisers endeavour to create various opportunities for students and class participants to work together. Nonetheless, compared to undergraduates and masters' students, a 'minority' student group seems to be isolated in the corners of libraries, and buried by books and papers. Correct: PhD students.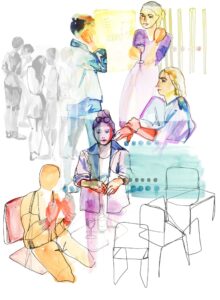 In comparison to other university students who often work together with their classmates towards tasks and deadlines, doctoral students tend to work on quite specific and individualised projects. This is especially the case in the arts, humanities and social sciences, where the questions, tasks, challenges, and criteria that they face are different from one person to the next. All these factors have already created conditions for isolation, and then, bang! COVID-19 pandemic, double kill.
'Collaboration?'
'Meet and talk to people first…'
PhD and ECR Pizza and Collaboration Event
With the removal of pandemic restrictions, in person activities have started up again in universities. On the 18th of July at the University of Edinburgh in 30℃ heat – a record-breaking temperature – a group of people gathered for an in-person cross-college Pizza and Collaboration Event at the Bayes Centre. This event was organised for PhD students and ECRs based in the College of Arts, Humanities and Social Sciences at the University of Edinburgh. It was organised by the Edinburgh Centre for Research on the Experience of Dementia (ECRED) and The Binks Hub. It can be briefly divided into two parts: 'speed-dating part' and 'pizza part'.
Don't get me wrong. The phrase 'speed-dating' was contributed by a participant, and it was not speed-dating for romantic relationships, rather, it is a research version of speed-dating. In the 'speed-dating part', armed with cold water and other beverages, participants were divided into seven groups of three to four people per group. Attendees were invited to introduce themselves and their research interests to one another, and then link the common interests that emerged from conversations to develop a research project proposal, including research questions and methodologies centring around societal issues. These issues were created collectively by the group and included 'ageing', 'health inequalities' and 'climate change'. Before the 'pizza part', we had two rounds of this activity. Each person was carefully assigned to another group, where no other group members were from the previous group, to ensure we could get to know more people: the research version of the 'speed-dating' model was successfully established.
For the second part, the 'pizza part', I believe there is no need to elaborate! As you can imagine, there was laugher, relaxation, more beverages, and of course, a lot of pizza.
Pizza Flavoured Reflection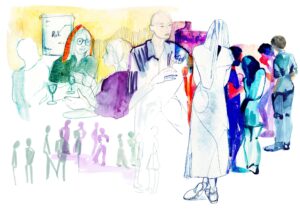 Two pieces of reflection emerged from this event.
First, as already mentioned, many PhD students have experienced isolation due to either the nature of their research projects or the pandemic. By having this research version of speed-dating, which functioned like concentrated collaborative research projects, we were able to not only meet other PhD students and ECRs, but also practice the skill of collaboration. Another benefit this mode of collaboration brought to us is that, instead of sticking to familiar friends, we were 'forced' to get to know and collaborate with new people in a short time. I believe this could be an essential technique to help explore and identify more collaborative opportunities in the future.
Secondly, this combination of half-formal (speed-dating part) and informal activity (pizza part) really helped us enhance the bond with these new friends. After having the experience of trying to develop a project together in the first part, it was more natural for us to stand together, enjoy pizza, and have more personal conversations in the second pizza part. You might argue that this event and the collaboration can easily happen online with the assistance of video meeting platforms and breakout rooms. Indeed, we can see that this kind of collaboration has been achieved and become popular online, especially during the last two years, but the relationship between strangers felt easier to build in person. Instead of staying in their own rooms, the participants shared something together: the space, the air, the drinks, and the pizzas. All of those usually unnoticeable small elements helped create a space where conversations about a natural pool of topics emerged, and were the the glue of the relationship, which are the foundation of a potential collaboration.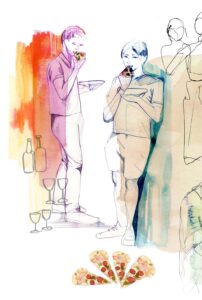 In conclusion, as aforementioned, collaboration is a skill. It is not enough to only be an armchair strategist. Practice makes perfect. So, practice it, practice it often, and – the best option – practice it with pizzas.
Illustrations by Holly Sharpe.