Reading Time:
3
minutes
Welcome back. As I'm writing this post, the book is being printed and it feels a little like an early Christmas, I'm so excited. Aside from announcing the publication of the new colouring book, this post will also offer some reflections on the project, a thank you section and practical info on how to get a copy.
With the rain this past week, it feels like autumn has affirmed it's arrival, and as we head into darker and greyer times with the urge to burrow down with sweaters, blankets, and tea, the arrival of the We Have Great Stuff – Colouring Book, Vol. 2 could not be timelier. It also coincides nicely with midterms and mid-semester slumps where a mindful creative activity offers the perfect study or work break.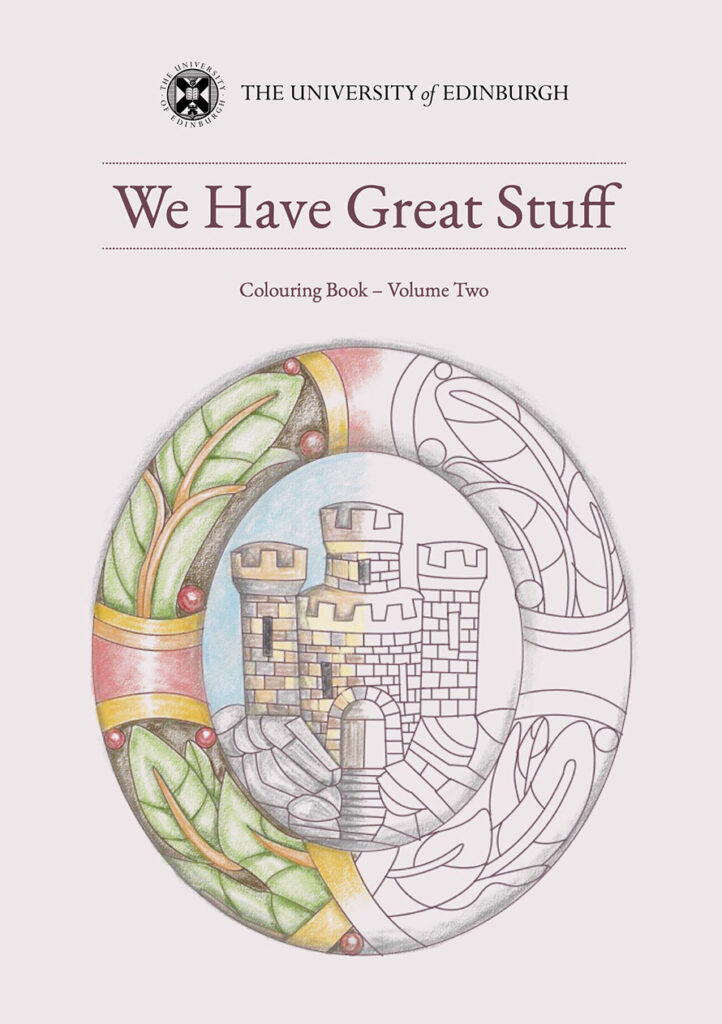 Personally, I can't wait to feel the pages between my fingers and admiring the outcome of a project I've worked on for more than a year. What a satisfaction to see and feel the fruits of one's labour! This anticipation is for me heightened, I think, by the fact that hitherto the project has been entirely digital, and as a literature student and a booklover, I find there's something so pleasing and enjoyable in holding a book; feeling the weight and the materiality of it. I am also looking forward to planning colour palettes inspired by each drawing and my mood, and of course colouring them. I'm positive it will be a great stress-reliever for me while I work on my dissertation.
The theme, as you may know, is 'Treasure Map,' so in addition to being a creative break, this volume also encourages you to explore the architecture and details around you. All the drawings are based on either architectural details found at different University of Edinburgh campuses and buildings or on images of artefacts held in the Centre for Research Collections. With this concept, we hope to spark awareness and curiosity about our university and the city of Edinburgh as a whole. The link to a map containing the illustrations can be found below in the 'Practicalities' section.
As always, if you obtain a copy and colour some of the drawings or go to one of places illustrated, please don't hesitate to share the outcome on social media using the hashtags #WeHaveGreatStuff and #WeAreEdinburgh.
I hope you enjoy the book as much as I have enjoyed making it.
With love and kindness,
Marta
Thank you
I would like to take this opportunity to thank the people who made this project possible: a huge thank you to Stewart Cromar for coming up with the concept of a colouring book, editing the first volume and thinking of me when planning this second volume, without him I wouldn't have had this amazing experience. Thank you to the team at Interactive Content Service, Stewart Cromar, Jackie Aim, and Stuart Brett, for your support, guidance, contributions to the project and for making working on the project so enjoyable. Special thanks to Jackie Aim for making the incredible cover illustration and the accompanying map. Thank you to the Student Experience Grants for providing the finances to make this volume possible. Finally, thank you to the participants of our workshops, your contributions have made this project extra special.
Practicalities
A limited number of copies is available for pick-up completely free from the following locations, so don't hesitate to collect yours.
Main Library (ground floor EdHelp desk and 6th floor CRC reception)
Wellbeing Lounge at Bristo Square (coming soon)
Argyle House (please email interactive-content@ed.ac.uk in advance)
Halls of residence (O'Shea and Pollock Halls)
It is also available for downloading at the following website:  Colouring Books: Download the books
On Flickr: Colouring book – volume two
Don't forget to also check out this map, where all the drawing are put in, if you want to see the inspirational sources: Edinburgh Treasure map (OpenStreetMap)
Share