Reading Time:
6
minutes
By now, you've probably heard that the third edition of the "We Have Great Stuff" Colouring Book is out now, entitled "We Have Great Women in STEM." This 10-week project was a labor of love, from researching UoE's women in STEM, hosting art workshops, accepting submissions, to finally compiling the book.
Face the Facts
One of the most challenging aspects of creating a colouring book like this was identifying who we wanted to include. Women in STEM tend to not be well recorded or represented in informational databases, and we did encounter some issues finding the women we wanted to illustrate. Luckily, the university's website provided many great profiles, and we were able to take some great suggestions from colleagues. As I researched, I found more and more women I wanted to include– ending up with over 30 women (and one sheep) in our online database!
Putting Faces to Names
Because the project is so visual, it was imperative that I could hunt down open licensed images of these women so that participants could use the images without worrying about copyright. Luckily, some of the women were historical figures, and their images were so old that they entered the public domain.
For the more modern women, it was trickier as their images were not in the public domain yet. And on top of that, some of the women had no photos taken of them at all!
I spent around three weeks searching, emailing, and scouring for images of these women, and found some gems! Namely, Jessie MacGregor's incredible portrait with her dog, and Vivien Kellem's incredible midcentury black and white portraits.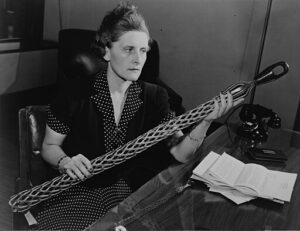 I also had a lot of success reaching out to current women in STEM at the University and simply asking for their permission to be in the book, and for them to provide a photo that they held the rights to. Reaching out to University departments also proved quite successful as they usually had photos of notable alumni from previous publications.
Eventually, I was able to source enough photos to compile them into an online database, and publish them ready to be made into illustrations.
Time to put in the Work(shops)
To source illustrations, I hosted a series of three workshops during the month of July: a digital illustration workshop, traditional illustration workshop, and an online digital workshop. These were open to all members of the UoE community and held in a variety of locations to allow those in all working situations to join.
Workshop 1: Digital Illustration Workshop
The first workshop was held in early July, and we had 8 lovely members of the UoE community come out to help us with the colouring book project. These were mostly ISG interns, who courageously tried their hand at using Sketchpad to create digital artwork- which was no easy feat!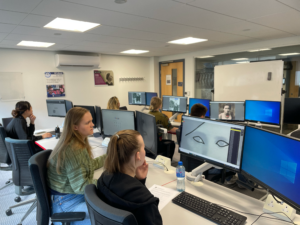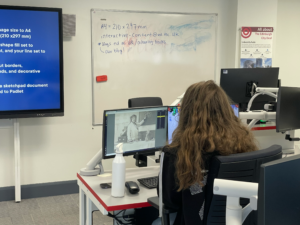 I was so impressed by the group's creativity and enthusiasm and we got some great submissions. It was also a great way to figure out how to best organise these workshops and effectively teach sketchpad.
Workshop 2: Traditional Illustration Workshop
This workshop was hosted at ECA's Evolution House– handy timing because the infamous Argyle House flood had just taken over the office. Jackie and I arrived armed with pencils, erasers and pens and welcomed 8 more enthusiastic individuals to the workshop. We had a mix of undergraduate students, masters students, professors and employees- and we all got together and bonded over cake, drawing, and women in STEM.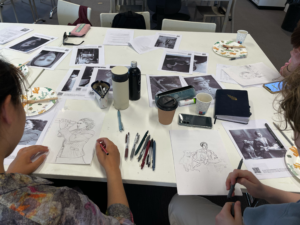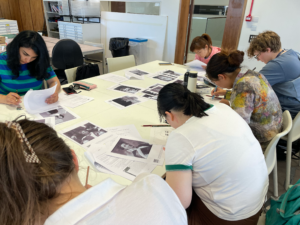 Workshop 3: Online Digital Illustration Workshop
Another accidentally well-timed workshop– the last one we offered at the end of July was online. We had 5 participants come from across many of UoE's departments, and since I had already been through the slides for the first workshop, this one ran super smoothly.
We got some great submissions here and had some really dedicated participants who worked on their illustrations after the workshop ended and came up with some incredible work.
Compiling the Book
Now that I had so many wonderful submissions from the workshops, I headed to trusty InDesign to start formatting the final book.
I first converted all the photographic submissions into vectors using Adobe Illustrator's image trace function, or cleaned up any digital submissions that were already vectorised, but just had some missing pieces.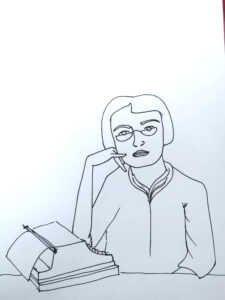 Before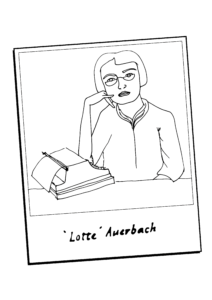 After
I also took a look at the women that we hadn't gotten any submissions for and made illustrations myself for them.
Following loosely the formatting from previous copies, I set up my file as an A5 booklet, and decided on the fonts "Factoria" and "Video" for body and headings, respectively. I wanted the type to be kind of quirky and create shapes that would be fun to colour in, which is why I went down the sci-fi route and sourced technologically inspired fonts.
From there, I just popped all the final images into their pages and decided which would sit best together on the page. Then, I had two main things to fill in– the cover and the index.
You Can Judge this Book's Cover!
I had two initial concepts for the book cover– one featuring a magnifying glass, and one featuring a female scientist. In the end, my team and I decided that the microscope one was more eye-catching and drew the eye to the center of the page well. I had such a fun time making all the tiny little STEM icons, and took lots of inspiration from the Star Wars edition of "Little White Lies," incorporating halftones as a way to add contrast without taking away any colouring-in functionality.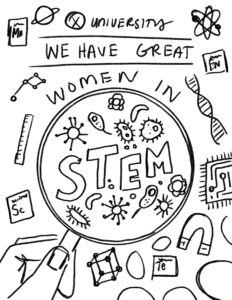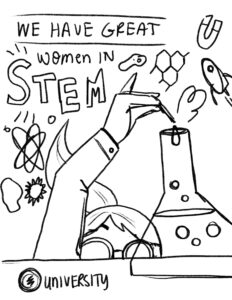 I made the cover in illustrator, and created the back and front on the same document so that the images would seamlessly flow into each other when the book was opened.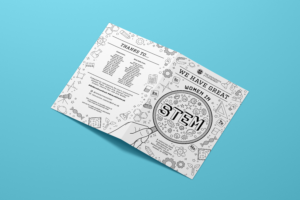 The Index – Celebrating Achievements
My last hurdle on this project was creating the index. This would go at the back of the book and would store all the information about the illustration's source images, illustrators, reference photo attribution, and a short piece of biographical info about each women. Due to the subject matter of the book, it was important to my team and I to not just show the likeness of these women in STEM, but celebrate their achievements. Adding this info in the index was a good way to do this without taking away from the illustrations.
And Voilà!
Just like that, 10 weeks flew by and the book was all finished! I printed a proof copy, made some adjustments, and awarded prizes to the winners of this year's call for entries contest. These individuals expressed enthusiasm, were extremely committed to the project, and made some incredible work.
August Enger: Jessie MacLaren MacGregor
Dagmar Danielsen: Xia Peisu
Catherine Munn: Brenda Moon & Jane Hillston
Jenna Owen: Chrystal Macmillan, Charlotte Auerbach, Agnes Yewande Savage, & Cristina Cruikshank Miller
I wish I could give everyone prizes, and want to give a huge thank you to all who helped make this book possible!
Now What?
For me, it's back to school for one more year finishing my illustration degree. For the book, it's off to the print shop and then it will be distributed to members of the Edinburgh community.
Thanks to everyone who helped make this book possible. I hope you enjoy colouring in the book as much as I did making it.
Take care,
-Ally
Share