One Great Circle
Summary
Artist in Residence, Fraser Fifield, shares a few thoughts ahead of the Oct 6th concert in St Cecilia's Hall, with special guests Chris Stout and Catriona McKay.
I warmly invite you to attend St Cecilia's Hall on Friday 6th October where I'll present my latest collection music titled, 'One Great Circle', created in my current role, Traditional Artist in Residence for LLC, University of Edinburgh.
Joining me to perform are the fantastically talented duo of Chris Stout (fiddle) and Catriona McKay (harp).  I've known Chris and Catriona since meeting at music college, many moons ago – it's a real pleasure to be re-uniting to perform new music together.
The title, One Great Circle, and themes throughout this new music, are taken from selected recordings I've found on Tobar an Dualchais website, by the renowned North-East storyteller, Stanley Robertson. Robertson's supernatural tales are vividly recounted and prompted a variety of musical responses forming this collection.
It's been quite an undertaking, but I'm pretty much there with the music composition/arrangement now… We rehearse in September!
Our shared musical identity is in Scottish traditional music, but that doesn't quite explain the whole picture… Chris is a Shetland fiddle exponent, notably, combining that style with an extended technique derived in part, (I suppose) from earlier years of classical music study. Catriona, meanwhile, has done much to explode concepts of clarsach (a traditional Scottish harp) playing, combining musical virtuosity with technical innovation to startling effect.
I learned recently that St Cecilia's is Scotland's oldest purpose-built concert hall. I couldn't think of a better hall to premiere this new music, and thanks to this Artist in Residence post,  you can attend free of charge.
Reserve your place: One Great Circle Tickets, Fri 6 Oct 2023 at 19:00 | Eventbrite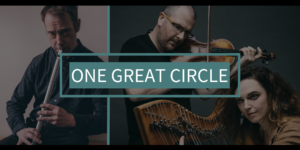 Share