Trad Artist in Residence: Mike Vass
Trad Artist in Residence: Mike Vass

Multi-instrumentalist, composer and producer Mike Vass joins us as School of Scottish Studies Traditional Artist in Residence 2019-2022.
Mike will be exploring the archives and creating new work, facilitating collaborative projects with students across the university and supporting Celtic & Scottish Studies with our live events and the new MSc Traditional Arts Performance.
Mike has already contributed to seminars for courses Traditional Music and Traditional Song: Scots with Dr Lori Watson and will be appearing in more classes soon.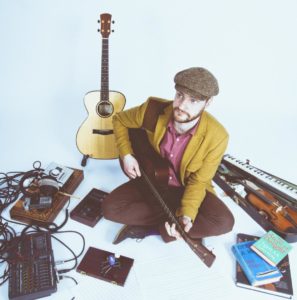 Watch Mike's Videos
'Settled in Clay' from In the Wake of Neil Gunn live performance:
Malinky perform Scots song 'The Term Time' live at Trad Fest 2015:
Official music video fro 'Eyes Fixed' by Mike Vass featuring Mairi Campbell (video by Gavin C Robinson):
From Mike's biography
Mike Vass is one of the most creative forces on the Scottish music scene. As a musician, composer, producer and arranger Vass has amassed a body of work that encompasses early appearances as a livewire young fiddler, collaborations with many of the leading voices among today's Scots and Gaelic tradition bearers, delivering multi-media performances, overseeing critically acclaimed recordings, and scoring for prestigious ensembles.
Born in Nairn, Vass emerged as vital young talent in a Highlands-based fiddle and keyboard duo with his twin sister, Ali. In 2008 Vass joined Malinky, the internationally respected champions of traditional Scots song. He played fiddle and tenor guitar on their Flower and Iron album, toured regularly with the band until 2010 and following their five – year hiatus he returned to record Far Better Days and play further concerts with them in 2015.
Vass has maintained a busy schedule as an accompanist and session musician, working with some of Scotland's finest voices including Scots singers Fiona Hunter, Siobhan Miller, Gillian Frame, and Robyn Stapleton, and recording with Paul McKenna, Mairearad Green and Runrig. He played a major part in the success of Gaelic singer Kathleen MacInnes' Scots/Irish collaboration with Brian Finnegan, of Flook, and former Altan accordionist Dermot Byrne at Celtic Connections 2016, where their performance received a five-star review in The Herald newspaper. Also at Celtic Connections 2016 Vass acted as musical director for The Gathering Stream, an exploration of the Moray Firth's musical heritage featuring some of Scotland's most respected singers and musicians, including Shona Donaldson, Anna Massie, Jack Smedley, Hamish Napier, and Angus Binnie
Recent commissions have included Away Being, a suite written for Edinburgh Youth Gaitherin's Big Band and inspired by the photography of John Maher and Ian Paterson in a project led by Jan Bee Brown and the Thrive Archive, and the soundtrack to Earthmovies' Windfall Island which was nominated for best score in Screentest, the UK's national student film festival.
Record production work has included Malinky singer Fiona Hunter's self-titled debut solo album, former Back of the Moon fiddler-singer Gillian Frame's Pendulum album and North Uist Sea Poems, cellist-composer Catherine Eunson and poet Pauline Prior Pitt's Hebridean tone poem.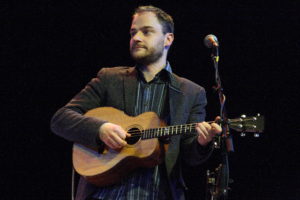 Hear Mike talking about his residency HERE.
Share