During February and March 2021, students from across the University of Edinburgh took part in the EFI Student Leaders Programme and created a set of challenges for the Future of Health. You can read about the conversations and the challenges on the University Events webpages.
The Edinburgh Futures Conversations: Future of Health (hosted by EFI and the Global Health Academy), highlighted the importance of collaboration across all sectors and the appreciation for the circularity of all health. For us, the strongest message from the event was that students and young people should be listened to and included.  We are powerful current and future global leaders.

As students of the University of Edinburgh, we are taught to think critically and challenge what is presented to us. Only with diverse voices challenging the 'normal', can we truly realise our ambitions across the full extent of the agenda of the Future of Health.
We have curated this exhibition of six images by artists who have recently graduated from the Edinburgh College of Art at the University of Edinburgh that we believe speak to and illustrate each of the six vital Future of Health challenges. We hope you will enjoy exploring and making connections between the images and challenge statements. More details about the artists are available at the bottom of this page. We are very grateful to all of the ECA students for allowing us to contemplate their Graduate Show 2021 work and encourage you to do so here.
Keep in touch with our work on the EFI website and by joining the EFI mailing list. Please share your thoughts about this exhibition and your responses to the challenge statements on Twitter and use the hashtag #EFIfutureofhealth.
1. Can we curate, present and use data in more globally equitable and accessible ways?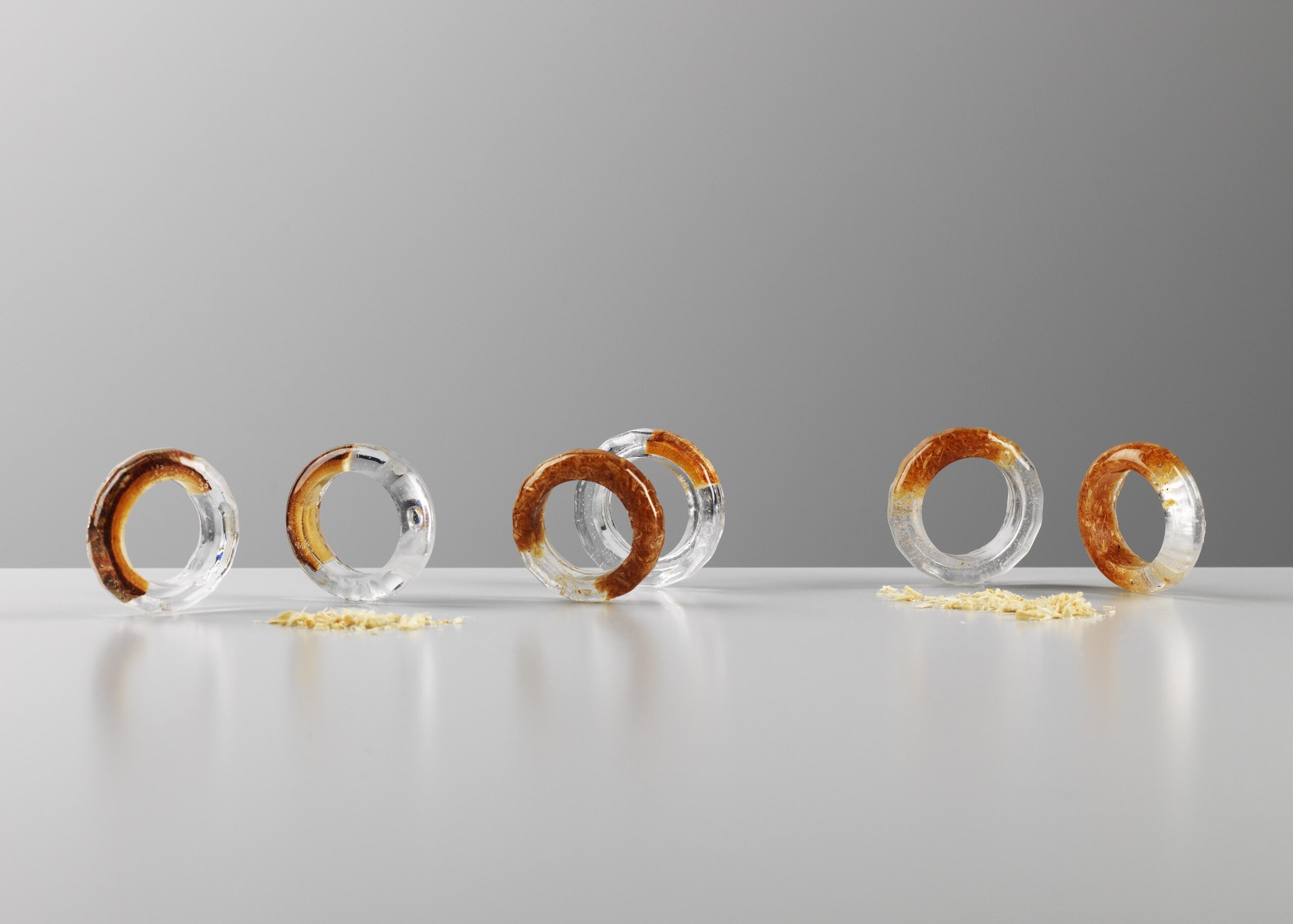 Kunning Ding
Object1: LOST WOOD, 2021
About the challenge: At a local level – people and communities must be able to use data about their own health to improve their own situation; and by having a clearer picture globally, we're better able to improve individual, local and global health. We need better tools to increase accurate, real time data sharing.
Connecting the artwork: The curators found these rings to symbolise equity, different materials coming together for a purpose and beauty in utility. How can we work together to make data more accessible and to use it in fair and honest ways that help rather than hurt populations and individuals?
2. Can we create different kinds of networks of impact for health?
Ben Caro and Kat Cutler-MacKenzie
Still from O.o.o.h!, c-type print, 84cm x 60cm, 2021
About the challenge: Engaging equitably through local leaders, technologies and other real world connections to break down barriers between academic and community voices.
Connecting the artwork: The curators thought that this image of eggs, a symbol of life, being supported within a cradling and connecting structure which is again cradled in human arms, offers a new way of thinking about how building supportive and equitable networks can help us to have necessary conversations and empower real change. How does cherishing all voices enable critical conversations?
3. Can we learn to lead in partnership and with communities?

Minyoung Choi
Creating an intergenerational space (Morningside Play Café – cross section)
About the challenge: Improving global health requires dialogue and collaboration within and beyond education. We must invest in these skills to communicate for impact. Do our structures incentivise this kind of leadership?
Connecting the artwork: The curators were interested in how this architectural drawing is also a representation of how structures can impact the way people feel and interact with one another. What kind of structures (both physical and otherwise) can we build to encourage collaboration and dialogue in our communities?
4. Can we establish "health in all curricula"?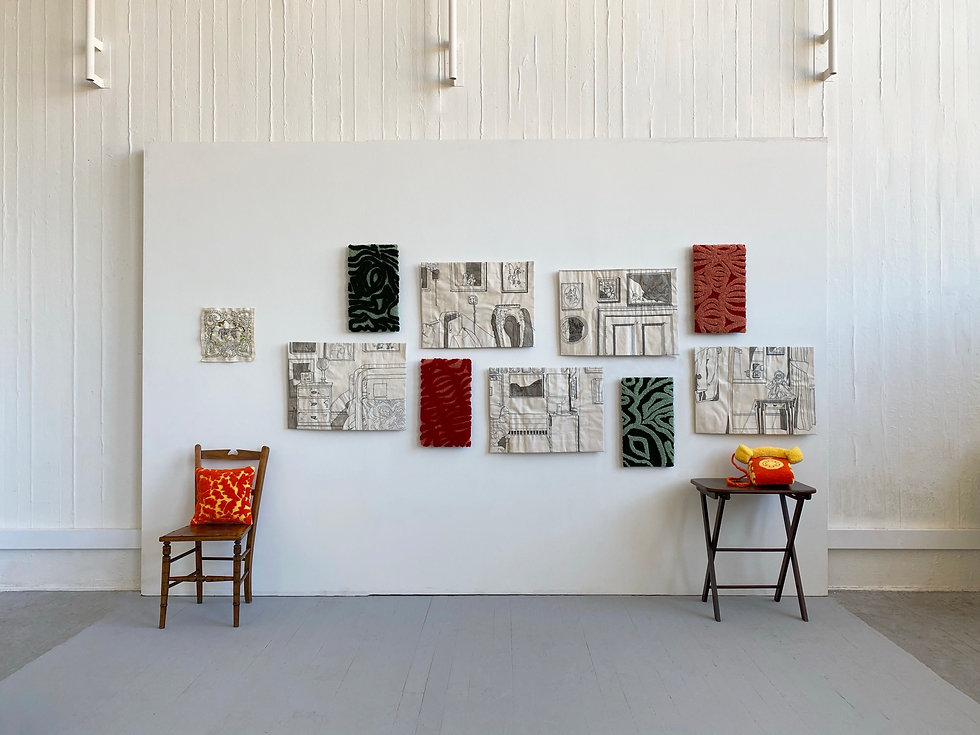 Ella Davies
Looking After the Invisible, 2021
About the challenge: Health knowledge and information should be embedded across all curricula and policy. At every level we must design for wellness and interrogate the physical and mental health implications of all our programmes.
Connecting the artwork: The curators found an important link in this work that explores and draws attention to ageing and transitions, and this challenge statement's request for health to be considered at every stage in the University's working processes. How do we remind ourselves to consider health in all we do?
5. Can we model environment leadership?

Mhairi Fenton
Falling in a Forest
About the challenge: Commitment to a carbon neutral education and transparency in our efforts to tackle the climate emergency and where we are falling short.
Connecting the artwork: The curators were moved by this poignant image that illustrates the urgency of the call to environmental action in this challenge. The trees push against the glass, both straining and contained, the glass seems to weep with the burden of its own immobility. Time is short, how do we make changes now to prevent climate disaster?
6. Can we lead equitable education including resource sharing and building capacities in Lower-Middle Income Countries?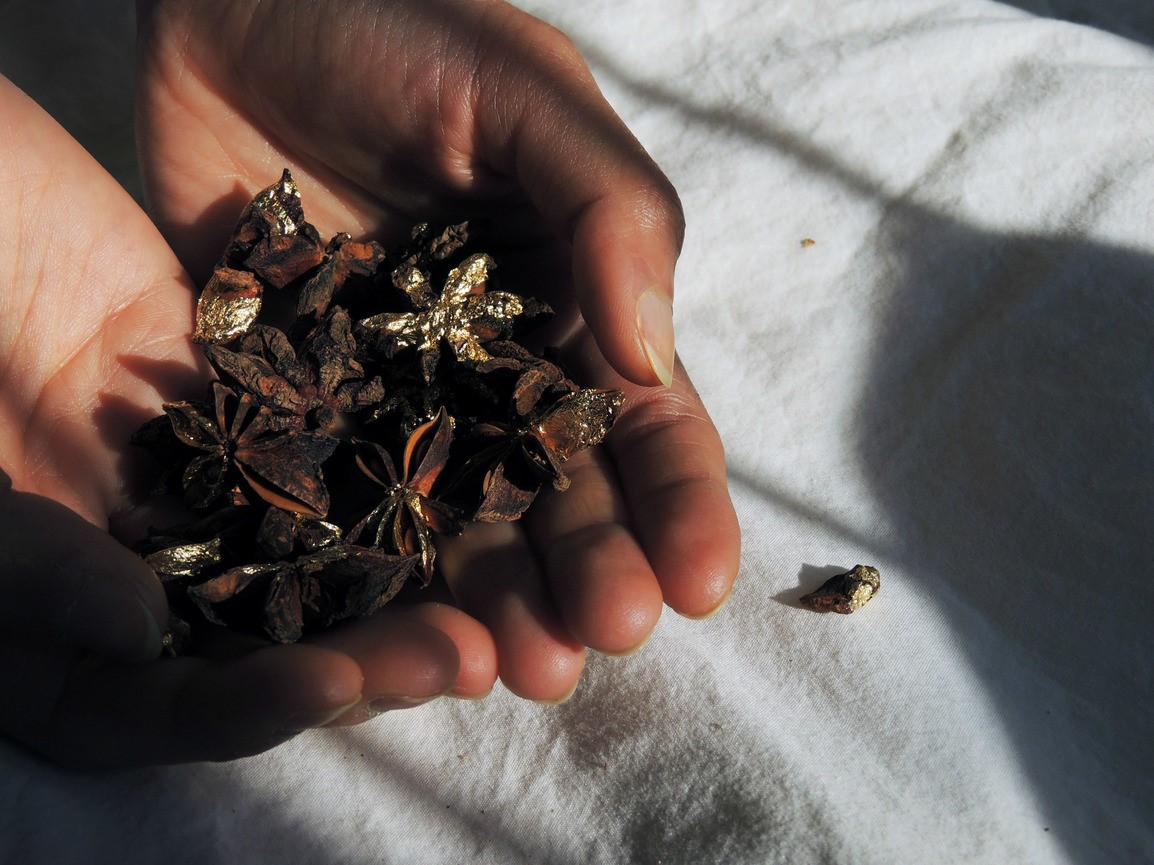 Vira Putri
"You Only Need a Hand's Worth", digital photograph, 2021
About the challenge: We can't plan for a healthy future if our peers and our children are not educated.  Education across all levels – primary, secondary and tertiary – determines our health current and future health outcomes.
Connecting the artwork: The curatorial team discovered in this image a representation of the sharing of bountiful resource in a deeply humane and tangible way – while a feast for the eyes, it also evokes all our other senses. This image portrays a hopeful metaphor of how such basic, interdisciplinary stimulants connect us all. The cupping of the hands suggests a call towards collective action and the importance of generosity across global communities. Can we share our resources and ensure that all children in all countries have access to what they need, including education?
Artist Biographies
Kunning Ding 
Instagram: kunning_jewellery 
My works are inspired by the changes and unchanging things around, and they are sometimes presented in a process. My work usually starts with observation, and finds the relatively constant things in the changing life from day to day. The shape and texture come from my observation and reflection on the surrounding environment and life. I work with precious metals and also with materials within reach, such as waste wood, where I explore the materiality and material relationships.  
Most of my works focus on the material itself, trying to express the conversion and conservation between different forms of wood. When one thing gradually disappears until it dies, there must be another thing growing. I hope to use a material to express this sense of balance between growth and death, rebirth and old age.  
I am always touched by the conservation and transformation of this material and also in our life. I hope to bring some thoughts about change and unchanging to the audience and hopefully that we can find our own balance.  
Ben Caro
Kat Cutler-MacKenzie
Ben Caro (b. London, 1998) and Kat Cutler-MacKenzie (b. Belfast, 1997) share a collaborative artistic practice that draws upon techniques from experimental archaeology and pedagogic methods of communication, such as the 35mm slide lecture. As the duo are also both trained art historians — with a combined background in archaeology, cinema, performance art, and feminist theory — their artworks can be understood as a form of practice-based research. This is manifest in their historiographic installations, which engage found images, objects, and perfumes in conversation with artefacts that have been cast and constructed by the artists.
Minyoung Choi
This project takes inspiration from a recurring argument in the submitted objections against the demolition of Headstart Nursery School in Morningside: a defence for the historical significance of the building and its social role in the community. In order to honour the memories of the locals who had spent their childhood in this nursery, the new development will retain its function as a children's space. In order to further amplify its function as a social hub, I have decided to add the function of a café, encouraging children and parents to be in the same space and thus fostering intergenerational socialisation. 
Ella Davies
Instagram: @ellalauren3
Ella graduated from the University of Edinburgh with a BA (Hons) in Painting in 2021. Her graduate work surrounded the complexities and emotions in connection with ageing and the transitional stages in life. Concepts were drawn from experience in the care industry, and her practice surrounds areas she feels are overlooked, or not often discussed. The processes involved are mostly slow and rhythmic, and allow the exploration of her interest in materiality. Most recent works have included working with wool, canvas and thread, though drawing and painting has a place both within the work and in the development of it.
Mhairi Fenton
Instagram: @m.fenton_art
Instagram: @mhairi.fenton
Within my practice I consider science and art not as two distinct disciplines, but rather as different methods of understanding the world and expressing research. By autonomously exploring scientists' knowledge I creates aesthetic or raw sensory experiences through my practice. By presenting my environmental fine art photography within a gallery, I create a space for climatological data to become accessible. Audiences are given insight into the facts behind anthropogenic climate change aiming to increasing attention and debate amongst the public. My current practice aligns with the eco-art movement with ecological themes highlighting deforestation.
Vira Putri
Instagram: @thevi.art      
I am an Indonesian multi-disciplinary artist currently based in Edinburgh with a background in painting, which drives my focus on materiality. Having been brought up in several countries such as Brunei, France, Indonesia and now Scotland, I am drawn to exploring culture and tradition in my work and how they sit within the wider globalised world today.  
 I recently completed my degree, MA Fine Art, at University of Edinburgh and I am currently the Gallery Assistant at Talbot Rice Gallery, the University's contemporary art gallery.   
The EFI curatorial team consisted of:
Professor Liz Grant, Assistant Principal (Global Health) and Director of the Global Health Academy at the University of Edinburgh
Dr Jen Reid, Global Health Coordinator at Norwegian Red Cross and Global Health Academy Fellow
Dr Patricia Erskine, CAHSS Head of Stakeholder Relations and EFI Culture and Community Engagement
Jennifer Williams, EFI Creative Producer