Before the pandemic struck, I'd had a blog post drafted about colour, creativity, and the information activism that contributing to open knowledge brings. However, as we've all been adapting in recent times, my own work on Women in Red has been met with many challenges.
We've moved to online delivery of Women in Red editathons and, so far, uptake has been fantastic. We ran our first event on Earth Day, 20th April with the theme of Women of Climate Change. Not only did we manage to add a range of women from around the world both historical and contemporary, but without the limits of physical participation our participants were from a markedly more diverse range of backgrounds than seen in our on-campus meets.
During the Climate Change event alone, our editors added 18 biographies to Wikipedia which have accrued over 140,000 page views in total in the first month since publishing. These are all women who, without our participants, may not otherwise have found the recognition they deserve.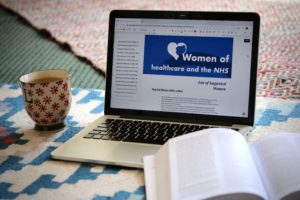 Searching for Nightingales
The move to online delivery of Women in Red meetups has not been without its challenges. Simultaneously one of the most rewarding, but also challenging parts of my job role is researching women for the events. Most recently, I spent my time researching women for our Women of Healthcare and the NHS event. On the week of International Nurses Day and (not coincidently) the bicentenary of Florence Nightingale, it was my task to find the hidden heroines working to advance and protect public health.
The first barrier to my research was that early female pioneers in the healthcare field were typically limited in what roles they were allowed to perform. Certainly, from the patterns I noticed, before 1800, the majority of women in healthcare worked as midwives. Many of these midwives penetrated into the professional healthcare sector by advising doctors in hospitals on the delivery of babies. For example, one woman I discovered, Margaret Bethune, delivered over 1000 babies around Fife and the Lothians. The other major path into healthcare was as a private nurse for 'high society' ladies. Women working in either of these fields are often undocumented as individuals, even if their achievements in their field are notable or remarkable.
Compounding this issue was the lack of a central register of civilian nurses before 1921. Before 1919, when the General Nursing Council was established, records of nurses were kept by individual nurse training schools, and therefore many records may exist which are not available online.
Not only this, but my usual first avenue of information, libraries, are currently closed. Many of us have the advantage of access to University libraries and collections, or if not are able to register with the National Library or various more localised collections. Now more than ever I am noticing the power that access to such physical repositories brings. This is not to allay the significance of the information the internet may place at our fingertips, but rather to acknowledge the potential advantages of making more information open access.
Libraries provide us with localised, varied and specialised knowledge which colleagues, both academic and otherwise, have the power to harness. This utility combined with the digital skills our meetups teach are an important tool in democratising knowledge, a power we should not take lightly.
As a student myself, there are a great number of reference books and biographies specifically about women in healthcare held in the University libraries which I can't get to right now. This has proven two things to me:
That the lack of documentation of women healers and health workers is a long-standing one which a number of authors have sought to combat in print books.
There is a significant amount of information about such women hidden away in libraries and not accessible to the majority of people. Systemic gender bias is a thing – these women exist and have been written about, they're just not on Wikipedia and often the internet in general yet!
One of the most interesting women I've found is Muriel Ritson CBE – she's a Glasgow girl who grew up in Greenock and was prominent in the health insurance sector in Glasgow, eventually becoming Scottish Controller of the Ministry of National Insurance. She also sat Committee on Admission of Women on the Diplomatic and Consular Service. Her most interesting achievement though was that she was Scottish Representative on the Beveridge Committee, representing the Department of Health. Although I've not found any evidence of her specific influence, the Beveridge Report was responsible for the creation of the post-war welfare state, including founding the NHS.
I could spend hours rambling about the women I've discovered through this project, but instead I want to link a few of my personal highlights ages over our last couple of editathons:
Joyce Baird (1929 – 2014), a diabetologist and academic researcher, she created the Metabolic Unit at the Western General Hospital, Edinburgh. The 'Baird Family Hospital' is opening in Aberdeen in 2021, in honour of her and her family's contribution to the field of medicine.

Mary Pirie (20 January 1822 – 8 February 1885) was a Scottish botanist and teacher from Aberdeen, who published multiple works on botany and natural history, and had a column with The Banffshire Reporter.
Margaret Davies CBE (30 September 1914 – 6 October 1982), an English conservationist and archaeologist. She was the first chair of the Welsh Committee of the Countryside Commission, and was also president of the Cardiff Naturalists Club and on the Council of the National Museum of Wales.
If you're interested in how you can get involved, we're planning a Women of Sport event on Monday 1st June – 12:45pm where we will focus on women who have made significant sporting achievements. Once again we will be running the session remotely, and anyone is welcome to join no matter your level of experience.
This session aims to explain the basics of editing Wikipedia and will provide you with a suggested list of women in the above fields we feel deserve recognition. The session should run for about 90 mins and there will be time for questions after. 
If you are interested in taking part, please sign up to the event through this link.
If you want to find out more or get involved in our workshops more information can be found here:

Or to contact us please email: lwood310@exceed.ed.ac.uk or ewan.mcandrew@ed.ac.uk