What living in student accommodation is really like…
What living in student accommodation is really like…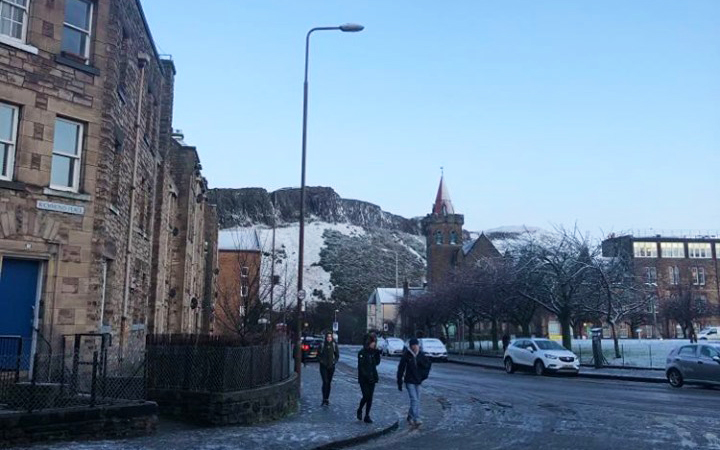 …by Lauren / from Scotland / studying Ecological and Environmental Sciences with Management / 4th year
From unwashed dishes to fights over cupboard space, flat horror stories seem to be everywhere when you begin to contemplate moving into halls. But with every horror story, there is a good time that would only happen in the environment staying in a university flat creates. Aside from the memories, there are so many other benefits that halls provide. A new sense of independence, building relationships with people you never would have otherwise and a stepping stone into that all too scary adult world. If this is the first time you will be moving away from home it can seem like a frightening thing to choose to move away from home comforts, your family and, of course, your pets. It can even seem like a crazy thing. However, I am a big advocate of taking advantage of this first-year rite of passage and strongly believe moving into your own flat has benefits that far outweigh the struggle of tearing yourself away from home.
My accommodation is located on the corner of the meadows and is, all things considered, nothing special. I stay in a flat of four, we have a big enough kitchen for us all to have our own space, internet and bills are included, and we are lucky enough to have a cleaner come once every week. My room is small but functional. A single bed, clothes storage space and a desk in the corner. It has all the amenities I need and provides a calm space I can make my own through decorating the walls and shelves with what I see fit. Altogether, whilst it is unimpressive, it is exactly what I would want from a temporary home to get me through the first year. Now that I've had 6 months of navigating the halls life and I am just 2 short months away from moving out, there is no better time to reflect on what some of the best parts of staying in university accommodation are…
The Best Things About University Accommodation 
Flatmates 
Whether or not you become best friends with the people you spend the year with, there's something special about being thrown into living in such close quarters with complete strangers. People who, possibly, you would never interact with otherwise. I've been very lucky with my flatmates and we all get along well and are respectful of each other's space. We've had fajita nights, cinema parties and always have each other to rely on if we fancy a night at the union.
It can take a bit of adjustment in the beginning but there is something so special about having a debrief in the kitchen at the end of a long day. Also, everyone is at university too (obviously) so you won't find better people to understand the stresses that comes with beginning your degree. And even if you do fall victim to some of those infamous flat horrors, think of the stories you'll have to tell in the future!
2.  Independence 
Moving out of your family home for the first time is a scary thing but there is also something extremely exciting about it. You are now suddenly responsible for what and when you eat, doing your washing, your dishes, taking the bins out and all the boring things that you may have always taken for granted when you were at home. There's also something about doing those boring things that you really grow to love. It's a beautiful thing to juggle doing your food shop and washing your clothes with your university contact hours and when you manage it you can feel like you're finally crossing the precipice to becoming a real adult. It's also an interesting change to suddenly have no one who cares when you come and go and to not constantly have to stress about being back in time for dinner or waking up at a certain time. I know a lot of people love home comforts but you will always land on your feet when you gain so much independence at once. It also makes those home comforts all the sweeter when you do go back for a little home visit.
3. Amenities 
Staying in halls is a good stepping stone to eventually being responsible for your own proper flat as, although you do get that great independence I just raved about, most of the amenities and stresses that come with suddenly being responsible for your own space are included in the overall price of the flat. There are no separate bills for things like the internet, electricity or water and if any appliances are faulty or something stops working it will be replaced. This is great as it alleviates the worry over any added, unexpected costs. A cleaner also comes once a week to give the space a proper once over which also takes away a good bit of stress as it can be hard to fit in doing this yourself whilst trying to keep up with university work and other commitments. You have a whole year to prepare for completely dealing with these things yourself whilst having the benefit of your own space.
4. Location
Another great thing about university accommodation is that (funnily enough) it is right on the doorstep of the university. My halls, in particular, is a ten-minute walk to the main campus and a twenty-five-minute walk to the science campus so I never have to rely on buses or rise super early to ensure I make all my lectures on time. There is also a regular shuttle bus from the science campus that will drop you just 10 minutes away when even that 25 minutes might seem like too much.
A lot of the different halls are also very close so if you have friends staying elsewhere you should always be within walking distance of each other, something of great importance when you will all have conflicting schedules. Staying in the centre of Edinburgh also means you're never far from something to do. Be it a walk up Arthur's Seat, one of the many relaxing museums, or even just a trip to your favourite pub.
Altogether your experience is halls will be dependent on your situation and what you make of it. But even if everything isn't how you expect you will no doubt look back on your time staying in student accommodation fondly. Especially when you become responsible for scrubbing your own toilet. Halls are made to offer you the best chance at a smooth transition into university and their proximity to the 2 campuses will ensure you will really feel a part of things. I've certainly enjoyed my time spent in them and hope you will too.
This blog was originally published on 'The School of Geosciences Student Blog'. To read more blogs from Geosciences students you can visit the site here: https://blogs.ed.ac.uk/geosciences/