Resolve to Evolve…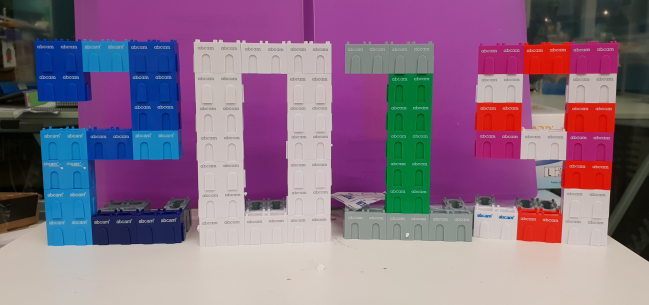 …by Sophie / from the United Kingdom / PhD Tissue Repair / 4th Year
January is a time for cutting back after the decadence of December. No alcohol, no dairy, no spending. No fun.
I'm not doing any of these, but I have made some resolutions for in and out of the lab. Instead of just listing what I want to do this year, which wouldn't make for particularly thrilling reading, I thought I'd say what I think makes a New Year Resolution that you can stick to.
Okay so the calendar is a human construct and New Year's is therefore arbitrary but it's still useful to draw a line for yourself.
Choose something positive, don't punish yourself.
I've always thought the idea of cutting something out as your resolution to be a bit of a rubbish idea, as January is such a dull joyless month in comparison to the previous one and deprivation makes you feel even more low. Resolutions suit me better if they are more "I will try a new thing (because it will make me happy)" rather than "I will stop this other thing (because I'm terrible for doing it)".
Track your progress
As a big fan of to-do lists, I totally subscribe to the idea of having big plans, but breaking them down into smaller jobs that you can do and you can record what you've done. Get that dopamine hit when you tick something off! If you hate lists do a photo series or something? Maybe you want to do a cartwheel this year (I don't know your life), so video yourself every week trying one.
Have a reason for doing them
There are some things on the horizon to plan for and so I'm setting myself more specific goals to tackle them. This year I officially enter the third year of the project in April. Which is terrifying. It also means second-year review and an assessed seminar upcoming, and there is also a great Small Vessel Disease meeting in Paris in July that I'm going to and hopefully giving a proper research talk. For all of these I want to have something interesting to share, so I want to have some solid data to discuss and maybe even a 'finding' that makes people excited. This means thinking carefully about how to manage the next couple of months to get the best data.
Choose something specific and achievable
Making a goal like 'Be more organised' is infinitely harder than making your goal 'Organise my folders/microscope slides/sock drawer', or even better 'Write down all my appointments in my new diary'. Basically, how will you know when you have become Organised Person™? And, oh man, make it realistic. I don't mean make it easy, but If you are not a morning person, don't make your goal 'do a 10K run before breakfast'. You will not stick to it and you will feel crap about yourself.
Accept occasional failures
Science teaches you this but it's so useful to have in the rest of your life. Sometimes you try something and it doesn't work or you make a mistake – but you don't give up, you work out what went wrong, you pick yourself up and try again. Maybe you slip up on your resolution but that doesn't mean you're rubbish or that you should stop trying!
So, feel free to ask me how some of my lab resolutions are going. And if you find I've had a drink, a bit of cheese or bought something wholly unnecessary, I'm probably okay with that but I'll promise to stick to my PhD-based goals!