How to grow happy researchers: From kindness bubbles to bright ideas…
How to grow happy researchers: From kindness bubbles to bright ideas…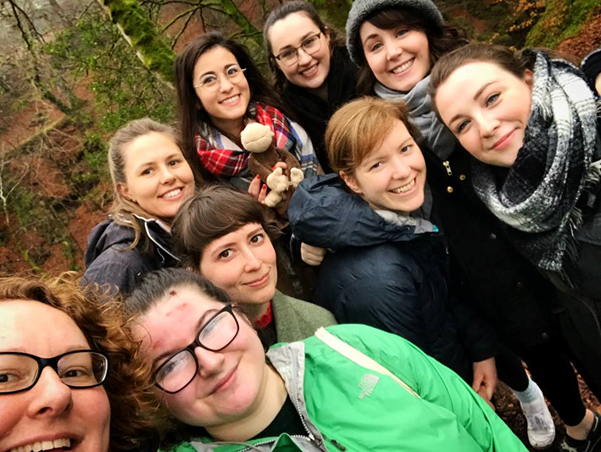 …by Bérengère / from France / PhD Psychiatry / 5th Year
Sometimes I still can't believe how lucky I am to be working with such wonderful people. From my team mates (who once organised a chocolate hunt just for me around my office) to my supervisors (who gave me the sunniest desk of the whole floor because I needed the light), I'm ONLY surrounded by brilliant, kind, fun and supportive people. I love them all, which is quite astonishing given that, as a proper constantly-unsatisfied French girl, I usually don't like anyone. What have they done to me …
Here we are all very much aware that we share something special, and, sadly, quite rare in academia. Maybe it is because kindness breeds kindness (I wouldn't say they made me kind. Maybe just kinder), or maybe it is just because we are still a fairly small team (about 10 people), but we are growing fast, and we all want to make sure this safe and kind space will be preserved. This is sort of our trade-mark now!
So we decided to make this official and this is how we all ended up going on a 2-day long lab retreat in the Scottish Highlands, to write our lab Code of Conduct. Yes, we have standards.
We decided we all needed some team bonding time (this is a lie) away from Edinburgh, and we found the best possible place for that: The Burn, near Glenesk. This stately house is absolutely gorgeous, the staff makes you feel like this is your forever home, and meal times are signaled with a gong. What else could you ever wish for? Honestly, I had not felt that rested and relaxed since I started my PhD. They achieved a miracle.
Between all the food, drinks, games, yoga, walks, and surprise love declaration for our supervisor, we did find some time to sit down in humongous armchairs and get some work done.
Our goal: identify what makes our lab a happy workplace, and how can we make sure new recruits will keep protecting and benefiting from this cosy and safe bubble.
Our conclusion: so much of it sounds like stupidly obvious statements. They should be, but sadly they are not.
Together, dear readers, let's state the 5 obvious principles for a happy workplace:
1. Be kind
Value camaraderie, be generous. Share biscuits, laugh together at cat videos. If another student does children development research, offer to test the toys for them (especially if the toys to test are iPads and Bubble guns). When a team mate is having a bad week, bring biscuits. Celebrate birthdays (top tip: an Alpaca visit where you can join the birthday girl/boy because Alpacas need to be walked in groups). Celebrate academic and personal achievements of everybody (more cake, more drinks).
2. Be inclusive
Cherish the diversity of minds, stories, and personalities in your team. Educate yourself to recognise and accept differences between people. Do not make assumptions or impose your personal norms. You will work better if you know you can be yourself in your workplace, without being judged for your way of working, behaving, and of doing things. So will all your team mates. Offering them the space to freely be themselves in the workplace will help the whole team grow stronger.
3. Ask for help
A happy workplace is a workplace where it is safe to be vulnerable. It is OK if someone doesn't know something. After all, a researcher's job is to constantly learn new things. It is OK if someone is having an awful day/week/month and just breaks down, because the whole team is here for them. We have all been/will all be there at some point. Never be afraid to ask for help, and to offer your help when needed.
4. Share
If you have a skill, share it. In a team there is no competition as to who knows the most, who is the most skilled. When everybody shares their knowledge, the whole team goes further. We are all in this together!
5. It's OK to say no.
Feel free to say "No" when it is just not the right time. Don't trespass on other's goodwill, be reasonable in your request. It's OK for you to say "No" when you have other priorities, and it's OK for others to say "No" too. We all have to right to choose to focus on our own work, family, or even, don't forget it, ourselves.
If these 5 easy principles were that obvious, all workplaces would be happy and safe. Sadly, they are quickly taken for granted, and regularly forgotten, overshadowed by this often ruthless world that is academia.
Why don't we just change that? One step at a time, one team at a time, we can.
Just by making sure these 5 easy, stupidly obvious principles are followed, we can all create and protect safe and happy bubbles to let our ideas grow.
Sincerely,
Bérengère