Blog by Katie, Sociology
Interested in getting involved in sport when you join us in Edinburgh? Katie shares everything you need to know to get involved in netball at the University and more widely in Edinburgh. With local clubs holding trials over the next few weeks, it's the perfect time to give it a try.
We're really lucky to have a fantastic netball scene here in Edinburgh, with loads of clubs across the city playing at a variety of levels. I've played netball in Edinburgh for over ten years and absolutely love it. Being part of a team is a great way to make friends, keep fit and work towards a common goal. Whether you're trying netball for the first time or are a seasoned player, here's the lowdown of everything you need to know if you're new to the city and want to get involved.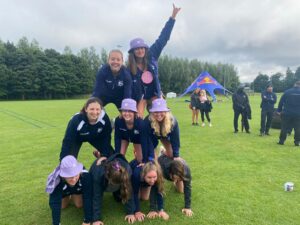 Club netball
One of the most popular ways to play netball is through a local club. There are several netball clubs across the city, training in different locations with teams at different levels. These teams all compete in the City of Edinburgh Netball Association (CENA) league, which is played every week on a Sunday between 4pm and 10pm.
Most clubs hold trials between August and September and train once a week at a sports hall of their choice. The best way to find out about joining a local club is to join the CENA Facebook group and post that you're looking to find a club, email the club you're interested in, or message them on Facebook. You can also use Netball Scotland's club finder tool to explore Edinburgh's clubs.
I've played with local clubs for eight years (shout out to Dunedin Netball Club!) and love it – I really enjoy escaping the university bubble and meeting a mix of people of different ages, stages and backgrounds.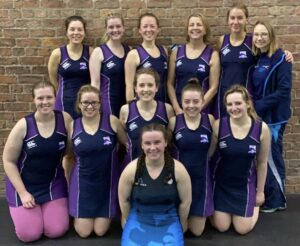 Bounce back to Netball and recreational netball
Many Edinburgh clubs have a recreational team as well as competitive teams, so if you're looking to bounce back to netball or try it out for the first time, it's worth contacting clubs to see if you can have a go.
If you'd prefer something even more casual, Go Mammoth social netball league is a great option, with a pay-as-you-go system where players can go each week as individuals, in a group of two or three friends, or as a full team. If you go by yourself or in a small group they'll match you with a team for the night, and there's no pressure to be there every week so it's a good place to start if you want to have a go without the commitment of a club or team.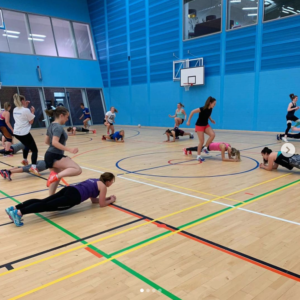 University of Edinburgh Netball
The University of Edinburgh also has a thriving netball club with eight competitive and three recreational teams. They play other universities from across the country in the British Universities and Colleges Sport (BUCS) league, in the Scottish Cup and the CENA league. The club trains each week and has social nights on a Wednesday.
You can find out more about joining the University of Edinburgh Netball Club on its website, with trial information on this page, or you can email netball@ed.ac.uk.
Other sports at the University
You can find out what other sports are available at the University on the Sports Union website: