If you love being active and discovering new landscapes and places, Edinburgh is an amazing city. With beautiful coastlines, national parks, chapels, villages and abbeys, there are so many day trips you can go on. Here are some of my favourites!
North Berwick
This coastal town is very easily accessible from Edinburgh, either by train (30 minutes), by bus (One hour) or by bike, if you are feeling particularly adventurous. The main street is lovely, packed with treasure-filled charity shops, independent artists, and sweet bakeries. The Scottish Sea Bird Center located right by the beach is also a really nice place to learn about the birds and wildlife seen from the coastline.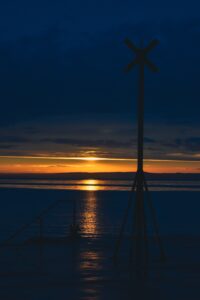 For example, I found out that Bass Rock, the volcanic rock you can see from the beach, is home to one of the largest colonies of gannets, which explains why the bird-filled island looks completely white from afar. North Berwick is also packed with quaint places to sit down for food, like the Drift Cliff Edge Cafe.
From the main town you can go different ways: about an hour's walk along the coast, there is a beautiful 14th century fortress, Tantallon Castle; more inland, there is also North Berwick Law, a volcanic plug, which you can hike up, and you will see a beautiful view of Edinburgh and the seaside. Out on the sea, you can also go for a boat tour around the Island of Craigleith or Isle of May, featuring sea birds, dolphins, and grey seals.
Dalkeith
Dalkeith Country Park is really relaxing to visit from summer through winter. The historic estate features woodlands, farmlands, a Midlothian town, an adventure playground, and a beautiful grand house. The walking routes along the river are really easy to access; they are suitable for cycling, and cater for different abilities and desired lengths. I find this little park really calming and welcoming during exam seasons when I need a little break and a chilled walk outside of the city.
Roslin Glen
Roslin Glen is one of my favorite day trips around Edinburgh, because it is packed with things to see. Strolling into the park you encounter picturesque landscapes: River North Esk, the Rosslyn Castle, and the Rosslyn Chapel (my favourite part of the park). In this beautiful chapel there are unique and mysterious carvings to be examined, which recount tales and stories from the past. This chapel actually inspired part of the Da Vinci Code, where it was subsequently filmed too!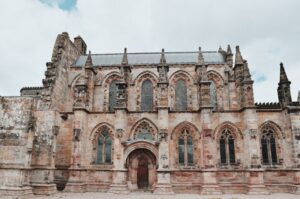 Stirling
Stirling is a very nice city to visit in Scotland, only one hour away from Edinburgh. This fascinating historic city features a beautiful Castle, which you can visit for £1 with the Young Scot Card if you are under 26 (everyone who studies at Edinburgh can get a Young Scot Card, which I'd highly recommend!), and the famous Wallace Monument in memory of Sir William Wallace. There is a lot of history about the Scottish Army at the Battle of Stirling Bridge, and beautiful rooms such as the Great Hall or Hall of Arms, within the walls of the Castle. I've also gone there for some hikes following the River Forth downwards!
Aberlady
Finally, one of my personal favourite day trips from Edinburgh is Aberlady. This Bird Reserve is located on the coast, right by Musselburgh and Prestonpans. There is so much wildlife to see there, with a variety of birds, such as Oyster Catchers, Little Aigrette, Pink Footed Geese, Little Grebe, Hero and Stonechat, alongside Roe Dear and Bunnies. The sand paths along the coast, filled with beautiful shells; and the grass path within the small hills, make it a really great trip for a sunny day out of Edinburgh, especially if you take binoculars!
I hope you enjoyed reading about the different kinds of day trips accessible around Edinburgh!