Starting to Teach Veterinary Anaesthesia Online
Starting to Teach Veterinary Anaesthesia Online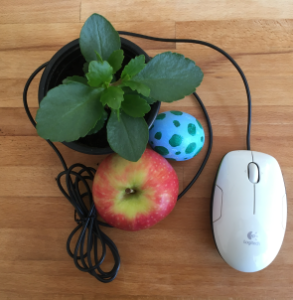 In the past month  or so, I have experienced a sudden change to 100% remote working. Previously I wouldn't have imagined this possible for a veterinary anaesthesia intern, which is a purely clinical job. Part of my job is to teach anaesthesia to final year vet students during their rotations and this is now what I'm now doing remotely for our students who are due to graduate this summer.
This blog is here to document my own learning experience of online teaching during the online course "An Edinburgh Model  for Online Teaching" and it starts with this blog post.
I picked a few props from my living room and took this photograph as a "featured image" for this post. The computer mouse obviously represents the online environment, the egg could be all its potential, the baby plant symbolises growth (of students and teacher), and the apple is a traditional symbol for the teacher (not temptation like in a famous religious text).
Reflecting on the Experiences of Staff Who Already Teach Online
It was interesting to watch a video clip where "online teachers" shared some of their experiences. Various themes came up, including:
the effect of time (including time zone and the time available to respond to students' comments)
efficiency of online teaching
diversity of students
the effect of student location
work-life balance, and
multimedia content.
Time works differently online. The online teacher has the privilege of thinking-time, which is often not the case in face-to-face teaching. The same is true for the online student, which can be an advantage for some students who don't perform as well in large groups, but are happy to engage when they can take the time to think of an answer. However, the online teacher can also be available 24/7, which is not necessarily in their best interests. Students can engage at different times of the day and several teachers commented that arranging a live lecture can be challenging when only 2 or 3 students take part live and the rest watch the lecture recording.
One comment was about whether we should be pursuing online teaching because of its efficiency. A small teaching team can host a MOOC to thousands of students at a time, whereas a single teacher is limited in the number of interactions that they can have face-to-face. This particular teacher was worried that efficiency thinking might be detracting from the pedagogical benefits of online teaching. For example, having students interacting with a variety of staff allows them to be exposed to a variety of points of view, which a single person alone cannot provide. Our anaesthesia students on rotations would normally be interacting with a number of anaesthetists, getting concepts taught to them in slightly different ways and also assimilating more informal attributes, such as varying staff attitudes, which is a natural part of veterinary working life. To think that a single person can provide this breadth of experience is naïve and probably should not be described as efficient from a pedagogical point of view, although staffing costs are obviously more efficient. However, another online teacher described how automation of certain workshops online has freed him from monitoring what he sees as low-value teaching tasks (e.g. monitoring a student-led practical session to ensure all students get the same standard experience) and allows him to spend more time doing high-value teaching tasks, such as interacting with students.
The online student population is often more diverse due to flexible location. Even in the current situation, some of our students at the vet school may have chosen to return home rather than remain in Edinburgh. Home to many of them is on a different continent and time zone. Internet connectivity may vary, which affects the type of content that students will be able to access. This means being flexible on our part. One online teacher described sending USB sticks to students in remote locations, or allowing students to download videos and documents in advance of a live online lectures if their internet speed was poor.
Many teachers find online working easier for work-life balance. Face-to-face teaching can be tiring for some personality types, so teaching online gives more breathing space. This applies to some students too. Transitions between face-to-face and online teaching can be challenging, but might be harder for someone who is used to working mainly online.
Multimedia content, such as videos or podcasts, can make online teaching more engaging. Giving students the option to use different media for assignments can bring out their bests sides, as not everyone is good at writing essays. For our students, videos are a great opportunity to learn about practical skills before they come on clinics. However, this is not a replacement for performing a task in real life whilst being supervised and guided by a teacher.
In conclusion, online teaching can be very versatile and creativity often helps overcome problems. It is more multi-faceted than just conveying information to the learner. Online teaching should be seen as a pedagogical opportunity rather than a necessary evil, despite the challenges that the new online teacher will no doubt encounter – and solve!