LGBT+ History Month and Time Warp, 2018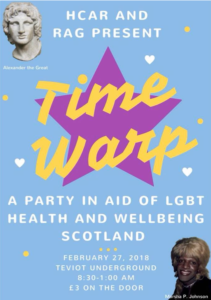 Student Ambassador Ruby reports on a busy February for the School's Societies.
February has been a busy month here at the University – particularly for History, Classics and Archaeology students! Not only have we had the Staff-Student Pub Quiz and the History and Classics Society trips, but it's also been LGBT+ History Month and RAG ("Raising And Giving") Week!
A lot has been going on across campus this LGBT+ History Month; our student's association has been running everything from film screenings, to LGBT+ self-defence classes. The History Society has also managed to get involved and organise some events of our own. We collaborated with PrideSoc (the University's LGBT+ society) to write a pub quiz, we designed historical Valentine's cards, and we led a walking tour of Edinburgh's LGBT+ history. Did you know that the 1974 International Congress on Homosexual Rights took place on our campus?
RAG Week takes place in the last week of February and is an opportunity for societies to host fundraising events for worthwhile causes. This year, History, Classics, Archaeology, and Retrospect (our School's student journal) decided to combine RAG week with LGBT+ History Month and host the event Time Warp. Time Warp was billed as a "party for people of all sexualities, genders and degrees", and all profits went to the Scottish charity LGBT+ Health and Wellbeing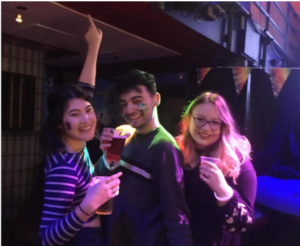 Time Warp was held in Teviot Underground – one of the many bars and live music venues on campus – and was DJ-ed by volunteers from FreshAir, Edinburgh's student radio station. There were glowsticks, glitter aplenty and a slideshow of historic LGBT+ photos (because who said parties can't also be educational?!)
The Time Warp raised over £100 for charity and we had a blast!
Share