Drawing as objects
I have explored the way that the medium can influence the artwork itself. To do this I have used ink on mediums such as creased paper and the textured outer layer of coffee cups.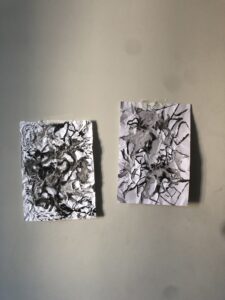 In doing this I have been most intrigued by drawing as an object within itself. Therefore I developed these studies by producing more objects and experimentation with sculpture. For example, I used clay to emulate the geographical appearance created by the creased paper and ink. This has resulted in shapes and objects with a geographical appearance.

Ink stamping and rubbings
I used found objects to explore the different impressions they leave on paper. These included natural material, string and wire.
I was most interested in was the textural  impressions left on the paper by the leaves that resembled that of skin. This motivated an exploration of the way the human form is reflected in forms other than itself. I thereby made impressions of the skin of the palm of my hands to parallel its pattern with the leaf.
Here are some different ways I tried to present this as a sculpture: