For this week's group work, our group was assigned the score topic of oranges and after learning about the 25 methodologies, we got to work.
The idea was to implement the methodology of peeling oranges into slices and letting passers-by eat them, and based on their feedback to explore the art projects that could be developed. However, after a short experiment, we did not get very good feedback from the passers-by, who only gave us us useless feedback, such as: the oranges were sweet, the oranges were tasty. So we abandoned this direction for the time being. After a short period of reflection, we realised that this approach was too one-dimensional in terms of the user experience, because if we wanted to target everyone, we would have to focus more on the experience of our art projects, because passers-by might not be art practitioners and the feedback they gave us in a short period of time might only be from the ordinary sensory touch, which is not the score we need. So my idea is that maybe we need a score that is more of an art or design experience.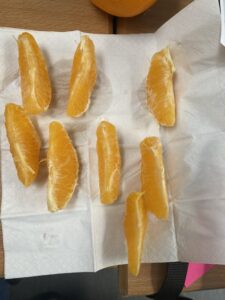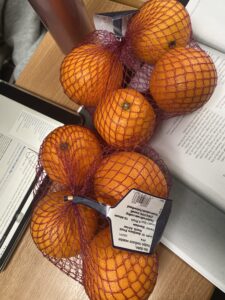 In the second thinking phase, I think I used critical thinking education and constructivist thinking to develop our group's 'oranges'. Firstly, the 25 methodologies inspired me about how to construct different sequences, so I drew some sketches about eating oranges, divided into the original orange, peeled orange, simple orange, peeled orange and orange fibre, and then I started to imagine whether we could eat oranges in other ways or ways, perhaps with our mouths? With our hands? Maybe with the brain? Or maybe with another part of the body or organ? After a lot of thought, I decided that the "listening" method could be developed and practised, but how do we measure the listening method? My initial idea was to record the sounds of the six parts of the orange as an auditory element. The next question was the process of eating the oranges, in what order do we eat them, how do we create this score and what kind of process is unique? After a brief sketch I shared my ideas with the group and with their unanimous approval and agreement we intended to use this as the initial direction for our group.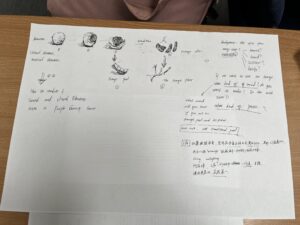 Afterwards we presented our direction to our supervisor, Jake, who gave us some very useful advice: 1. we need to think about what each part of the orange sounds like, not just any traditional sound, but what it sounds like. 2. if it is a recording, we need to think about what we will encounter in the recording process and what the value of it is, and we can also change the We could also replace "orange" with other material or research objects. 3. Our project is a bit thin at the moment and needs to be supported by a large set of values. Finally, Jake urged us to put theory second and practice first.
      And how do you achieve the shift in thinking from listening to oranges to eating them? I thought back to my WEIRD research last week.
      Again, it was an exploration of sound and a vision for the future (how to move from eating food to listening to food), so I shared my ideas with the group and after some discussion we adopted the idea of another group member besides me, which was sound therapy, but we felt that sound therapy was not as innovative, exploratory and serendipitous as it could be and was not well suited to our course of study, so after discussion we intended to use the general context as a futuristic punk style, transforming oranges into data sounds to meet the hunger needs of being a future human.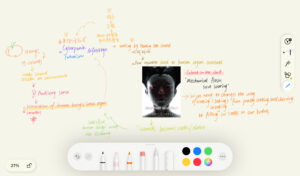 We intended to create a UI interactive interface with 6 audio buttons about oranges, where the viewer could experience the future way of eating oranges, with no score, and it was up to the viewer to 'eat' them in whatever order they wanted.
We chose six types of audio: peeling an orange, peeling an orange, tearing an orange fibre, a human chewing an orange and an animal chewing an orange.
All the original images and audio resources for the project were collected by the team members.
The team member, Jia Ding, used a synthesiser to process them into a perturbator with an electronic and crushing feel.
I drew out six audio icons and logos.

Team member Ziqian Zhang created the UI interaction interface.
Team member Lee Siree Wang edited the concept video with me.
Zeikun Yang, Jianhao Lai and Yinan Liu are responsible for rationalising the concept and logic of the project, as well as copy-editing.
      For the project, I think there is a lot more we can do, in fact, at the moment, the way the sound is made through a simple interactive page button is still a little bit unconventional, because the audience is only combining the audio, it is still a little bit less interactive and experiential, if we want to further improve the project I think we can start from a programming point of view, for example, we can write a program and let the audience to transform the For example, we could write a code that allows the audience to post the audio they want to transform into the system, and then the system could transform it into the user's own unique 'food', which would be more experiential.
      In this project, I think our team members were able to find their own niche, the team members from the design background were able to brainstorm and design output well, the team members from the choreography background were able to handle the audio well, the team members from the literature and media background were able to sort out the project logic and copy-editing well, and we had a very good team atmosphere where we respected each other, completed tasks on time, and were able to work well together across disciplines. I feel that this experience has taught me a lot and will provide me with a lot of experience in my future work and study life.