I have been asked to research, design, run and document an 'Open' workshop that teaches an aspect of my practice to a group of peers. I'm not sure what a 'practice' is, or if I have one! How can I figure this out? I'm also unsure about what 'teaching' this in the 'Open' might involve. If I do have a practice, how might I support others to learn it in an open way?
Before research, design, run and documentan 'Open' workshop, 'what is practice' is the key to our problem solving.
Practice is formed through participation and involvement in society. In the past, practice has been used to understand theorised work, education and social life, and there has been a number of efforts to translate educational theory into practice. Recently, however, there have been new insights into educational practice, and for the field of education, the development of a communicative space is fundamental to the development of educational practice (Grootenboer, 2017).
I think the space for communication is very important for educational practice, this is because translating educational theory into practice requires interaction and feedback, not only the educational philosophy and educational objectives need to be considered, but also the venue for the learning process such as learning, communication and feedback by the educated.
During this first class I was mainly thinking about what to teach people and clarifying this direction. Because of Jake's sharing, I thought about my previous experience of making a red velvet cake for Valentine's Day, which I had made to add a romantic touch to my mum and dad's Valentine's Day, and it was a great success. So I thought I would use this as the theme for my session. I then wrote the following process based on the examples from the class.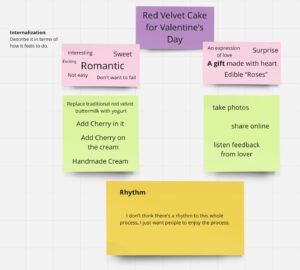 This is a picture I took earlier of the finished red velvet cake.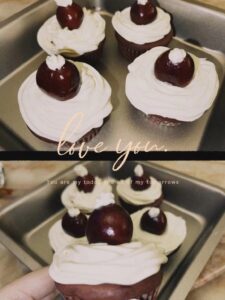 In the sessions that followed, I thought carefully about how I could put this idea into practice. My vision was to invite a friend of mine to film me teaching how to make this cake. I thought that this way, my language in the video would be as natural and relaxed as if I were talking to a friend. Also, after it was made, I could invite my friend to taste it and get direct feedback. After that, I followed the steps on the class Miro and went through the whole process step by step.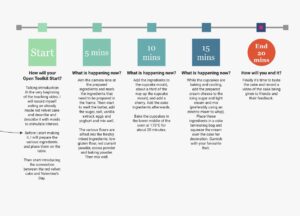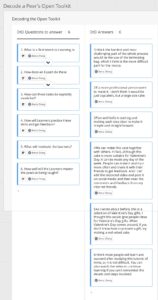 As I was planning and writing the whole workshop process, I was also thinking about what my goals were. I then divided my thinking into three main objectives. The first was the awareness objective, which was to make people aware that they can make a gift for their loved ones on Valentine's Day instead of buying a gift, to provide people with a gift option and to understand the basic steps of making a red velvet cake. Secondly, I hope that you will learn how to make your own red velvet cake through this step-by-step tutorial and video. The final emotional goal is to enjoy the process of making your own cake and to get good feedback and satisfaction when you share it with others.
With this topic in mind I was thinking, why do people always associate red velvet cake with Valentine's Day? I didn't really know the reason, but I just always saw the two things being linked together and it was a natural default that a red velvet cake would be a good Valentine's Day gift. Then I came across a legend about the red velvet cake: invented by a British hotel, a female guest was very interested in the cake after tasting it in the hotel around 1959. So she asked the hotel for the name of the cake and the recipe for it, and the hotel complied with her request. Afterwards, she received a hefty bill for the recipe for the cake. In a fit of rage, the woman published the recipe for the red velvet cake to the whole community, and it has since become world famous. But I have not found a reason why red velvet cake is so closely associated with Valentine's Day. But I guess it is because the special colour of red velvet cake represents sensuality and passion, and if given to a woman by a man, it has a special sentimental meaning. I don't think most people will understand the legend and meaning of the red velvet cake, and if I introduce it to people during the video, it will be part of the workshop that I have planned that will be different.
Grootenboer, Peter, Christine Edwards-Groves, and Sarojni Choy. Practice Theory Perspectives on Pedagogy and Education: Praxis, Diversity and Contestation. Singapore: Springer Singapore Pte. Limited, 2017. Print.