We need your help to make the Research Support Services Conference 2023 a success!
If you are a colleague at the University of Edinburgh, with a passion for research support and the role we play in enabling research, and would like to become involved in organising this year's Research Support Services Conference, read on and submit your application.
Please note: the application form will close on 27th February 2023.
---
Get involved! Call for volunteers
We're delighted that planning for the Research Support Services Conference 2023 is now underway and to support its delivery we are putting together a Conference Organising Group and are on the lookout for volunteers to help plan and organise the conference.  The role of the conference organising group is critical to the success of the event. Being part of the group offers an exciting and rewarding professional development opportunity.
Specifically, we are looking for University colleagues to take up the following roles:
Programme Thematic Leads
We are looking for 3 colleagues to take up the role of programme thematic leads for the following themes:
Developing and improving Research Support Services
Developing your technical knowledge of Research Support
Careers in Research Support
Thematic leads will work closely with the Programme Lead and other members of the group to review and shape the final conference programme.  We anticipate that this role will need to dedicate on average 2 hours per week, with additional time required in the run up to the conference.
Welcome and Logistics Lead
We also need someone to act as welcome and logistics lead.  This role is responsible for the smooth running of the conference on the day, including liaising with the venue to make arrangements for room and equipment set up, organising the welcome and registration process and ensuring that all health and safety requirements are adhered to.
We anticipate that this role will require on average 1-2 hours per week, with additional time required in the run up to the conference.
To find out more and apply for either of these opportunities, please visit the Research Support Services Conference site:
If you have any queries or would like to discuss these opportunities further, please email rss.conference@ed.ac.uk and a member of the group will get back to you.
---
Bringing our Research Support Community together
The Research Support Services Conference provides a space where research support professional services colleagues from all parts of the University can come together to learn, share and network.
Over 160 colleagues who work within Research Support across the University attended the Research Support Services Conference last year, which took place on 31 October.
Opening keynote talks were delivered by Christina Boswell, Vice-Principal Research and Enterprise and Lorna Thomson, Director of Edinburgh Research Office.  Parallel sessions, offering colleagues the choice of which sessions to attend, highlighted the positive work of research support services within the University, and explored how we can create a positive and rewarding environment for all colleagues working in research support. There were multiple networking opportunities to allow the chance to build connections and get to know colleagues from around the University.
"I really liked that there was ample time in between sessions to speak to people because we have had so little of that over the past few years. I also liked that there was choice around which events to attend, which accounts for the diverse nature of research support work." – Attendee at 2022 conference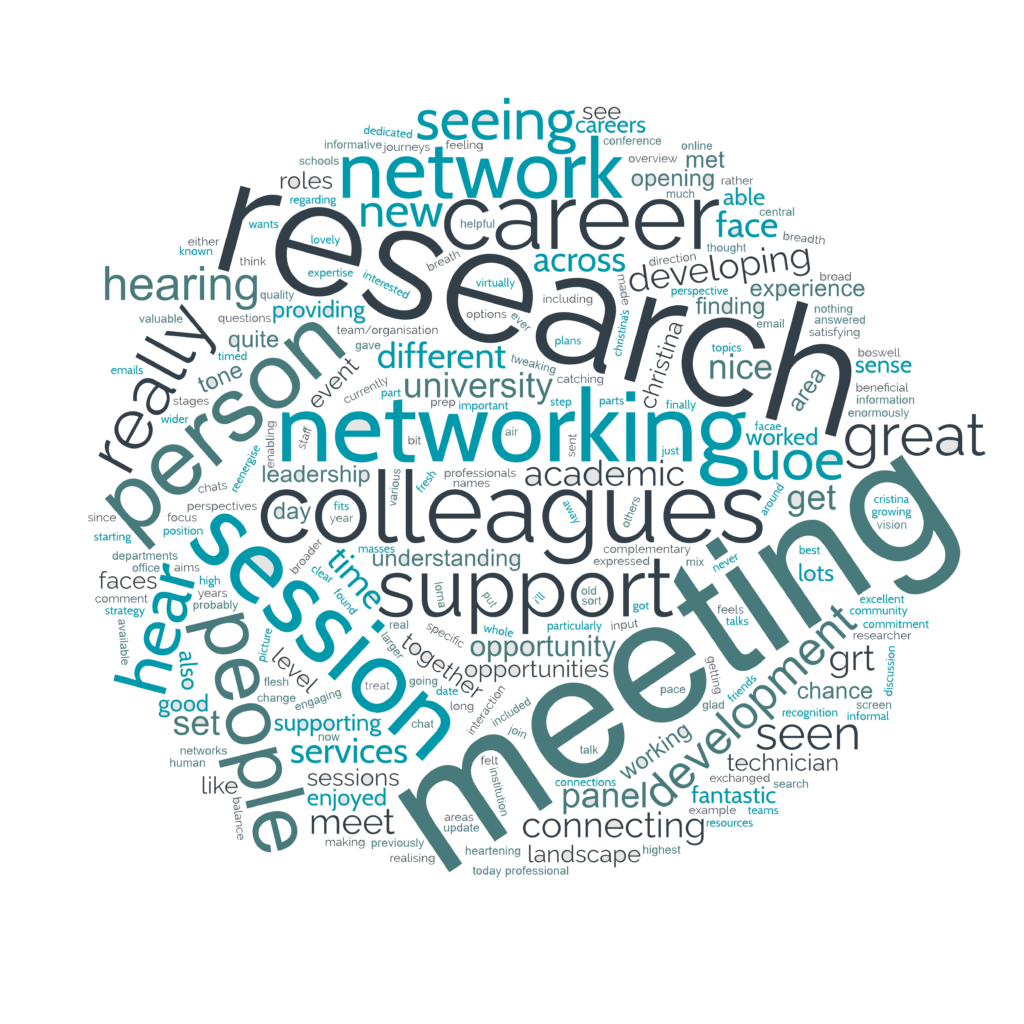 Share