The Public Engagement team within ERO coordinate the University's curated programme at the Edinburgh Science Festival in partnership with colleagues across the university and at the National Museum of Scotland.  In this post Fiona Murray, Public Engagement Coordinator reflects on the 2022 Science Festival and shares details of how to get involved in 2023.
What did we do in 2022?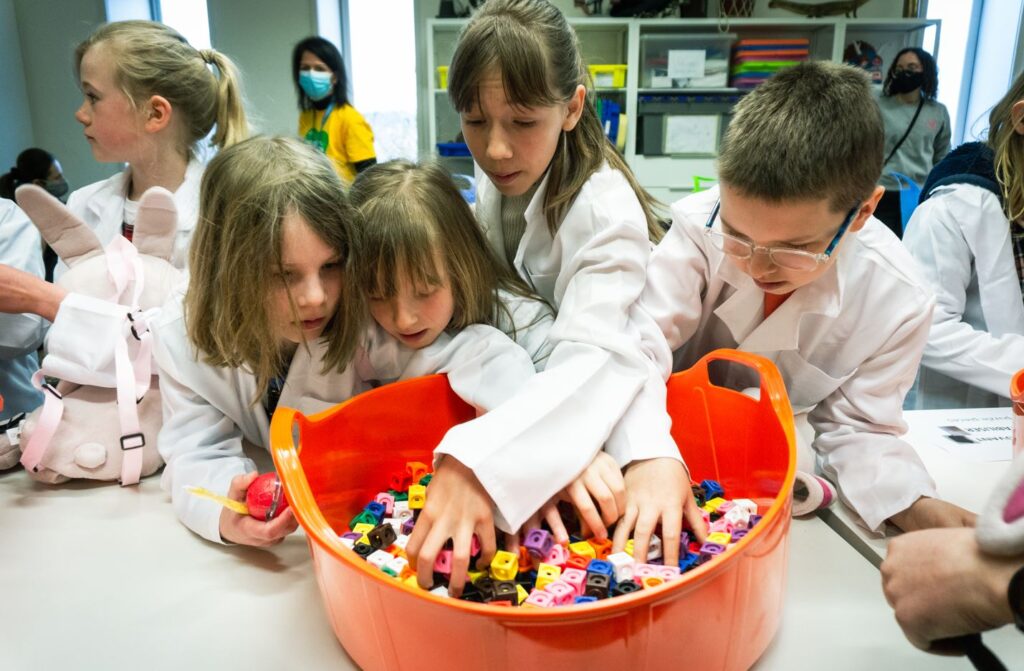 The Science Festival in 2021 took place both outside and online and allowed us to explore new ways of engaging audiences. Self-guided walking tours using ArcGIS Storymaps proved popular with researchers and participants alike so we continued to develop these for 2022. However, online events struggled to attract audiences in 2021, so we decided to stop them and instead focused on supporting researchers in returning to in person engagement. It was fantastic to work with the team at the National Museum of Scotland to run hands on activities through workshops and drop-in science activities.
Special thanks also go to Janet Paterson in the School of Biological Sciences who coordinated the museum programme up until 2019 and shared her time and wisdom to support us in taking on the challenge.
A highlight of the Festival was working with colleagues across the University to host the Tam Dalyell Prize for Engaging the Public with Science at the Playfair Library. This year's winners were Professors Philippa Saunders and Andrew Horne for their work on endometriosis and how they engage with patient groups to set their research agenda.
Their fantastic lecture can be seen on our YouTube channel:
Tam Dalyell Prize Lecture 2022 – Andrew Horne and Philippa Saunders
Plans for 2023 – Get involved!
The Science Festival team are now well underway with their planning for 2023 which will be themed "Let's Experiment!" They are keen for their programme to be as interactive and creative as possible for adults and children alike, and their main call for contributions opened on 28 June 2022.
Here at the University we're working to expand our curated programme to include events for adults. We're delighted to be teaming up with the Bayes Centre to host these events and are looking forward to hearing from colleagues about their ideas. 2023 will mark 60 years of Artificial Intelligence at the University of Edinburgh and we're particularly keen to include events exploring AI. You can apply now to be part of our curated programme with opportunities to deliver:
Running an interactive workshop or event aimed at family groups in the National Museum of Scotland (NMS).
Contributing to the University of Edinburgh drop in interactive science activity space at NMS.
Developing a self-guided walking tour using ArcGIS Storymaps (support available, see Discover Edinburgh's Mathematical History for an example of one of the tours delivered in 2022).
Delivering an evening event in the Bayes Centre aimed at adults.
Running an outdoor activity.
Apply now | Call for Ideas Edinburgh Science Festival 2023 University of Edinburgh Curated Programme
The deadline for applications to be included in our curated programme is 26 August 2022. The deadline for the Science Festival open call is 11 September 2022. You can find out more about our involvement with the Edinburgh Science Festival on our dedicated SharePoint site and join our Teams channel.
Edinburgh Science Festival Site
Edinburgh Science Festival MS Teams Channel
Nominations for the Tam Dalyell Prize will open in September.
Share