In this guest post, Eleni Kotoula, Lead Digital Research Services Facilitator in Digital Research Services, highlights an upcoming webinar series for University of Edinburgh colleagues about the digital research tools, support and services available to boost your digital research skills development.
You are invited to join a monthly webinar series from January until June 2022, organised by the Research Facilitation team.
Webinars at a glance

Themes and structure
At the first session, on 27 January 12pm, you will learn more about the Digital Research Toolkit, a selection of tools and services particularly useful for accelerating digital research and you will have the opportunity to ask questions to experts from Research Services, EDINA and the Library.
View the Digital Research Toolkit
The following webinars, from February onwards, are organised based on the stages of the research lifecycle, so you can choose to attend all of them or just the ones of particular interest to you. At each webinar, you will find out more information about the support, services and tools associated with each stage of the research lifecycle. Service experts will deliver short presentations with all the necessary information on how to get started using digital research services and a guest academic speaker will briefly discuss a research project or a personal research experience, relevant to the theme of each webinar. All sessions will include a Q & A session.
Book your place and find out more about the webinars here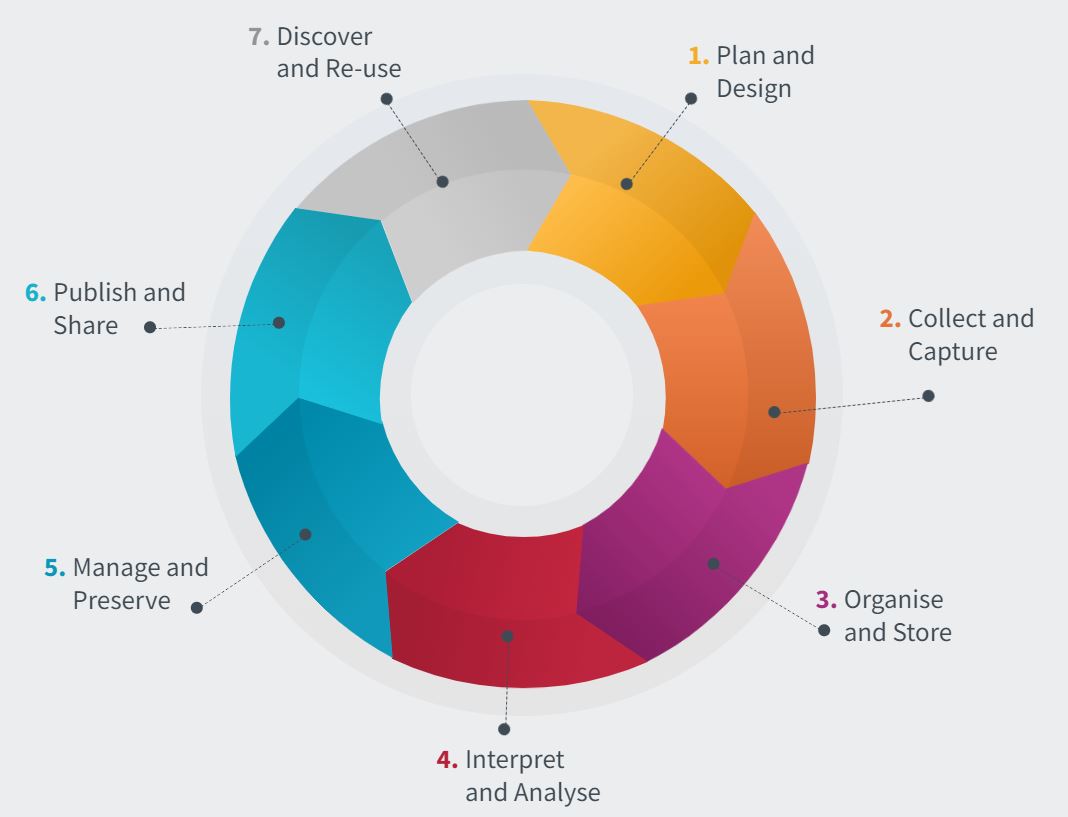 Who is this webinar series for?
We aim to help you develop a better understanding of the available digital research tools, support and services and boost digital research skills development. For those already familiar with the services, this webinar series will offer the opportunity to find out about recent additions in the digital research services catalogue. For new members of staff and research students, it is a great way to start navigating what the University of Edinburgh has to offer to support your research. Early or mid-career researchers without computational or information technology background, in the process of planning a project with a key digital component will benefit the most, but everyone is welcome.
The Digital Research Services website
The Lunchtime Webinar Series alongside other research facilitation activities aim to support you in getting the best value out of the available research services provided by the Information Services Group, the Edinburgh Parallel Computing Centre, Edina and the Software Sustainability Institute. Visit the Digital Research Services, the single point of access to all of the data and computing services available to researchers at the University of Edinburgh and discover examples of computational and data-driven research from across disciplines and domains.
Digital Research Services website.
Acknowledgement
We are grateful to Edinburgh Research Office, the Research and Library Services, Edina, the Software Sustainability Institute and the Edinburgh Parallel Computing Centre who contributed to the 2020 webinars and we are looking forward to delivering another successful webinar series in 2022 alongside our professional and academic colleagues.
Further information
If you have any feedback, comments or queries get in touch with the facilitation team at digitalresearchservices@ed.ac.uk or have a look at our Who Can I Contact page.
Share