In today's blog, Shonagh McEwan – Knowledge Exchange and Impact Advisor– writes about our social science researchers who put on public engagement events in the Economic and Social Research Council Festival of Social Science, and encourages more researchers to become part of this festival in the future!
What is the Festival of Social Science?
The ESRC's UK-wide Festival of Social Science  began life in 2002. It has grown into a vibrant annual festival, with varied public engagement events put on by social science researchers in November each year. During the festival week, hundreds of researchers and thousands of people, policymakers and practitioners take part.
At the University of Edinburgh, our social science researchers have put on engaging festival events for a range of audiences. In November 2019 we had 9 events in locations across Edinburgh from on-campus, within schools and in after-school clubs, to hotels, libraries and events spaces like Summerhall.
A wide audience reach
Our researchers collectively reached over 1000 people during the festival, which is credit to their hard work and highlights the key factor of working in partnership with other people and organisations to plan, design and market these events. And of course good public engagement training also enables researchers to make the best of this opportunity (editor's hint –read our blog on Let's Engage: pitching your research right which shares the key learning from this).
Public engagement varies with research, activities and audiences
The events in November also covered a wide variety of topics, showing how you can engage with non-academic audiences on any range of research issues. For example, we had groups of school children, parents and teachers learning more about multilingualism led by Bilingualism Matters with art activities, a pop up museum, exhibition and public talk; Dr Coree Brown Swan (Centre for Constitutional Change) led a public event on A Tale of Five Referendums, asking if referendums are bad for democracy or the only way to make big political decisions; and Dr Tom Clemens (Geosciences) ran interactive activities on population facts or fake news, to challenge his audience on how well they know their country.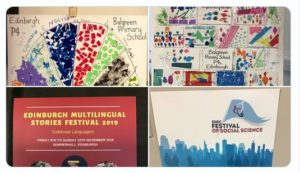 You can be new to this or more experienced
The researchers also had varying levels of experience of public engagement. Dr Gitit Kadar-Satat (School of Social and Political Science), for example, is experienced in public engagement and outreach with young people through her research. Gitit's event on understanding social inequality through numbers was aimed at young people from secondary schools and was fully booked.
Professor Tina Harrison (Business School) and Dr Emily Taylor (School of Health in Social Science), co-organised their event together. Tina and Emily partnered with McDonald Road Library in Leith to engage children and young people on the topic of financial literacy. They reached around 300 people through their exhibition activities.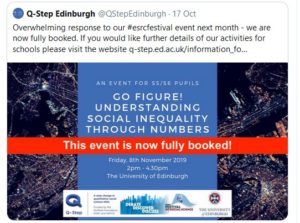 Many others however were completely new to the Festival of Social Science and 6 projects were led by early career researchers. In particular, we had Negar Ebrahimi (Edinburgh College of Art) who led an excellent event on Designing my Happy City where she partnered with an Afterschool Club to put on creative activities for children to learn about design and architecture.
Negar told us that she felt well supported to put on her event, and found the experience very worthwhile. She also received encouraging feedback from her project partner, who were delighted with her workshop and likewise received great feedback from the parents who thought the session was excellent.
Your audience needs to find it engaging and fun
The children, young people and adults gave feedback on what amazed them or what they learned from the events:
"How fun and creative it was" (Age 10, Designing My Happy City)
"Excellent! Very applicable, yet rooted in research" (Adult, Multilingual Stories from Scottish Schools)
"very well curated. Excellent information in the presentation and use of archive materials" (Adult, A Tale of Five Referendums)
"That there were 3 dogs and all of them were so cute, kind and gentle. This event was awesome! Hands [sic] off to the people for so much of hardwork. Please keep doing these kind of events!" (Age 13, Pet Science for Kids)
We hope you can be inspired to engage with non-academic audiences in lively, fun, creative and useful ways. This can bring a range of benefits to those audiences – some of which may be impactful of course – but also some can simply bring happiness and enjoyment to our local communities too.  I may say simple, but that in itself is of course an immensely worthwhile way to share social science research within a public engagement festival!
Thank you and well done again to all our researchers who got involved in this year's Festival of Social Science!
Want to find out more?
You can talk to our Knowledge Exchange and Impact Team, even if your idea for a knowledge exchange activity is still in its early stages. We work closely with other public engagement colleagues across the University too. You can find out more about Knowledge Exchange and Impact and how to contact us on the Edinburgh Research Office website.
More from this author
Share