In today's blog, Shonagh McEwan from the knowledge exchange team shares highlights from a recent event on evidencing impact, organised as part of the Edinburgh College of Art's (ECA) Research Successes Forum programme.
Researchers often ask the knowledge exchange team for advice on how to demonstrate the impact they are creating with their research. The seminar on evidencing impact, introduced by Dr. Patricia Allmer from ECA and with contributions from Dr. Anne Sofie Laegran, Prof. Laura Bradley and Prof. Catharine Ward Thompson, was relevant and timely to help address this key question.
Be practical and pragmatic
Evidencing impact can feel like hard work. There are ways to make this load lighter, as Anne Sofie highlighted, by stating that time spent on gathering relevant evidence needs to be proportionate.  She reminded us that there is no need for testimonials to confirm things already in the public domain – gather your evidence as you go, integrate this practice into your project and use as much quality evidence from the public domain as is relevant to your project. If you want to be efficient from the start – look at tips from Fast Track Impact on evaluating, tracking and evidencing impact here.
What about evidencing impact for REF case studies?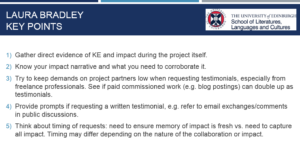 Laura shared her experience of being a REF impact case study in 2014 for her research on East German theatre censorship funded by the AHRC. Evidencing impact is important whether you are a REF case study or not, but there is particular guidance for REF case studies and Laura made sure this was done efficiently as possible for all concerned. She used a combination of audience and attendance feedback, filmed interviews with partners and of post-theatre performance discussions, emails and testimonials. But Laura's big tip was to try and keep the demands on your partners low when you are gathering evidence of impact.
She built the documenting of impact into the research design, but even then she still wished she had asked for testimonials at the time rather than having to go back to partners after the research had finished. To do this, however, she met with partners, wrote up a note of the discussion and used this as the basis of a testimonial that the partner could agree to rather than expecting them to do all the work. The use of a blog written by one of the research partners also publicly documented how her research had wider benefit, and media articles were also useful evidence from the public domain.
Use publicly available evidence to keep the load light
Catharine was also a REF 2014 impact case study.  She provided a refreshing approach that was positive and practical. Again, she kept the load as light as possible by using evidence of impact gathered from publicly available publications produced by research partners. With around 40 partners involved in Catharine's research, this meant that she did not need testimonials from all of her partners. Her project was also inter-institutional and she ensured the impact narrative was consistent and clear with wider colleagues.
Gathering testimonials by email provided an opportunity to develop and sustain relationships with contacts after the research project had finished. The emails were not only used as a means to corroborate evidence, but to engage partners within the next stages of new research projects for further mutual benefit. This is incredibly important, for it is about ensuring researcher integrity as well as maintaining sustainable relationship. This approach helps provide quality evidence, but also ensures impact is not a 'tick-box' exercise that stops when the research ends. Catharine emphasised again that evidence gathering has to be low energy and light work for your research partners! And forewarn them that they may be contacted later due to REF timescales, so they are not surprised if that happens.
Top tips from the event
After the presentations, the key feeling in the room was 'we'd better get on with it!' Evidence is based on relevance, and so not just from formal research partners, but the audience felt clear that working with partners from the beginning would help the research, potential impacts and efficient evidence gathering. Be strategic, build it into your planning stage and think about any challenges to gathering this evidence early on. Some of the best current resources and tips on gathering evidence are from Fast Track Impact. Find out more here.
Dr. Shonagh McEwan is KE adviser in the CAHSS Knowledge Exchange Team.
If you need any further advice and support, please contact the Knowledge Exchange Team at ke.office@ed.ac.uk. You are welcome to contact us at any point, whether you are at ideas stage, in the middle of drafting a funding application or need further advice during your research.
CAHSS Knowledge Exchange information and resources can also be accessed here.
More from this author
Share