In today's blog Marja Karttunen talks with Dr Emma Mickley from the commercialisation team at the College of Medicine and Vet Medicine about the role they play in helping take research to market.
There are many reasons why academic researchers may wish to work with industry. With everyone competing over the same finite pots of funding from traditional funding sources such Research Councils and charitable trusts, an increasingly popular option is to seek collaborations with commercial entities. This can take a number of forms; from cold hard cash for research; teaming up with companies to work on the same questions using complementary approaches; staff exchanges, or accessing commercial resources such as compound libraries or advanced equipment.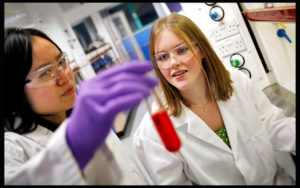 Furthermore, many researchers are now envisioning greater impact for their discoveries than academia alone can provide. New drug targets, devices, protocols and countless other results are produced at the University of Edinburgh every year, and many of them could have wide-reaching commercial applications.,Equally they could benefit from the wealth of expertise and resources that industrial partners may have. In many cases, industrial involvement may even be necessary to mediate rolling the product out to the eventual end users. For busy academics however, navigating the minefield of regulations can be time-consuming. Company policies; licencing; similar products already in the market, and the sheer cultural differences between academia and industry can seem off-puttingly complex and impenetrable.
This is why the University has a dedicated team of professional business advisors to help and guide academics with commercial relations.
I met with Dr Emma Mickley in the commercialisation team at the College of Medicine and Vet Medicine to learn more about the ways they support academics in their business ventures.
In broad terms, there are two main scenarios in which academics approach the team:
They wish to get resources (money, expertise, compounds, assays etc) from a commercial entity.
They have developed a product, a device or an assay which he/she thinks may be sellable.
Intuitively, business advisors fall into two main categories: Business Developers (BDs) and company creators. As a BD herself, Dr Mickley says:
"We all have an ongoing dialogue with many of the biggest pharmaceutical companies – GSK, Astra Zeneca, Roche, to name a few – so we know about upcoming calls for applications, and can suggest options to PIs."
In many cases, the researcher has come across a suitable company themselves. BDs can then help build a relationship with the company and prepare a highly professional and polished application. They are experts at fitting an academic idea to a commercial market – giving it a commercial edge to capture the company's interest.
And this doesn't just mean fancy logos and formatting. I enquire whether the BDs directly contribute to the content of the proposals they work on.
"Oh yes," smiles Dr Mickley. "Without going into mind-numbing detail, we help researchers cover aspects they might not have thought much about, such as what industry reviewers and regulars might ask, whether good manufacturing practice has been considered, how the invention fits in the current landscape of the field and existing, similar products? We try to present the product as something that enhances, rather than competes with, existing options."
Having an industry background themselves, the BDs know from experience how to sell different types of project to different companies.
"A lot of it comes from experience", Dr Mickley explains. "You have to understand your audience. We have built, and keep building, relationships with companies of all sizes and all over the world."
Cultural differences come into it at every stage. Dr Mickley and her team know that by and large with Japanese companies, you must earn their trust before an agreement can be reached, whereas American companies often want to have everything finalised as speedily as possible.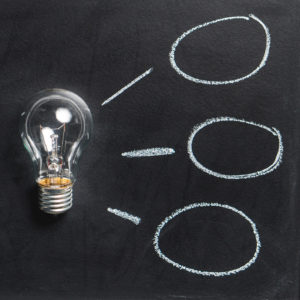 Importantly, the BDs work together with the academic and their Research Support Advisor to build a comprehensive but attractive budget, incorporating all the funds necessary to carry out the proposed research as well as University overheads. After an application has been submitted to the company, the BD coordinates the almost inevitable budgetary arm-wrestling and brokers negotiations with the company. Once an agreement has been reached, the BD liaises with the company, the Research Support Office and the Research Grants section of Finance to set up the award, and contributes to preparing the contract between the company and the University. Although the actual drafting and finalising of the contract is done by legal experts such as Edinburgh Innovations, RSO Contracts, or the University's legal team, the BD remains actively engaged in putting the contract together.
"Having been a involved in preparing the application ourselves, we understand what the research is about and can give the legal teams some background and help them interpret the terms and conditions in the context of the science", Dr Mickley outlines.
But it's not all one-way traffic with academics wanting money and resources from companies. The BD team maintains a reciprocal relationship between UoE and many companies. This involves keeping up to date with new directions that companies are following with their research, as well as what UoE academics are working on.
"We attend events and conferences, such as the BIO International Convention in San Diego, California, every summer. We're there to learn what businesses are up to, but also to pitch the wonderful research that's being done at the University", Dr Mickley enthuses.
This bidirectional understanding enables the BDs to proactively approach academics to initiate collaborations with industry. It is deeply satisfying when a good partnership is struck; when the expertise of an academic is paired together with the resources of an industrial partner, everyone benefits.
As for the second scenario, where the researcher has developed an asset, whether a drug, device, assay or anything else, and would like to take it to the market, that is where the 'company creator' arm of the business advisory team comes in. Like Dr Mickley, the company creators maintain an extensive network of contacts in industry and are very experienced in the kinds of hurdles come up when exporting a product from academia to the market.
"The company creators are very practical in their approach", Dr Mickley tells me. "They will think about how to set up a company around the product, where we can get more money from, who else ought to be involved? Can we approach venture capitalists for an initial cash injection? Can we sell it as a strategic approach to big pharma? Every case is different."
To sum up, the commercialisation team is there to support academics in research collaborations with industry. The earlier in the evolution of a project you approach them with your questions and ideas, the more help and advice they will be able to give. Not only does consulting them early on help you avoid many legal and budgetary tripping hazards – they can make the process smoother, your proposal more business savvy, and your product a stronger commercial offering.
If any of this has piqued your interest, please make a general enquiry by emailing emma.mickley@ed.ac.uk or phoning 0131 651 7897.
Marja Karttunen is a Research Support Advisor for the College of Medicine and Veterinary Medicine for the Research Support Office at the University of Edinburgh.
Share