In today's blog we get a little festive, as Shonagh McEwan, Knowledge Exchange and Communications Advisor for RSO CAHSS, shares some inspiring insights from taking social scientists into Leith's Ocean Terminal shopping centre on a busy 'Christmas Launch' day!
We hadn't planned for Santa to be there – the ESRC's Festival of Social Science date was set well in advance of the store deciding that the same Saturday was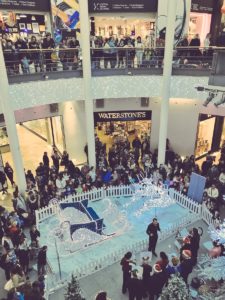 going to be their 'Christmas Launch' day! There were mixed feelings: excitement that our projects would get more foot traffic; as well as concern that talking about the challenges of social work may not chime well with the seasonal cheer. Practical problems became real – how could we find space for social science public engagement if we had to compete with the commercial priorities of a shopping centre on such an important day for them?
Solutions were found by working closely with the good will of people in Ocean Terminal, Leith Labs and Boardwalk. Our academic colleagues reached out to several hundreds of people that they would never have had the opportunity to engage with if we hadn't just gone for it and worked closely with our partners to find flexible solutions. We knew it was going to be hard work – indeed, all the preparation, planning, co-ordination and collaboration involved beforehand proved that! But perhaps we didn't realise what fun and how energising it could be to talk social science with shoppers on a busy Saturday with Santa…
Harmony Choir opened the show singing Sunshine on Leith and Christmas carols to c.500 people of all ages before Santa and his Christmas parade arrived. Liesbeth Tip and colleagues led the Harmony Choir, a project initiated by the University that helps reduce mental health stigma and show that singing benefits mental health…well Santa agreed, saying that singing makes you feel happier and we thought Santa had obviously done his research into social science studies that proves this!
Youth Arts View, with Simona di Folco and colleagues in clinical psychology who worked with artist Charlie Hacket, engaged children and young people in making art related to conflict and peace. For the whole afternoon, a large dedicated floor space was full of parents and children of all ages talking, reflecting and drawing pictures, many of which were put up as an exhibition for the public to view. The exhibition included artwork from workshops earlier in the week, where young people made quite thought-provoking drawings on their experience of terrorism in the news.
Yi-Shan Tsai and colleagues in  Digital Education provided three activities under the theme Help! My teacher is a Robot! It was amazing to watch the a steady flow of children enter their space to programme their own robot, listen to Yi-Shan's fascinating stories about robots, and talk to the camera about what they think their future teacher may look like (we look forward to seeing the result!).
Gary Clapton and colleagues from Social Work had brought up Experiencing the social work world, an exhibition made by colleagues from Birmingham, with emotive artwork made by social workers and service users. The exhibition provided an opportunity to have conversations with members of the public who may not have come to such an event at the University or any other formal place. These interactions including meeting a foster carer, a care experienced young person, and a young women considering studying social work.
So if you're planning anything new with your research in 2018: be inspired! Don't be afraid to take your research into new spaces, spark new partnerships, talk about your research with new audiences.
You won't regret it, and although it's hard work, it is also plenty of fun.
We would like to thank all colleagues and partners who were involved in this event, including the ESRC, Ocean Terminal, Leith Labs, The Living Memory Association and Boardwalk.  Ocean Terminal was the main venue used for projects who played their role in the ESRC's Festival of Social Science 2017, and features here for a festive themed RSO blog!
But we also wish to thank and highlight:
The Money Matters project with Tina Harrison and colleagues in the Business School, who hosted excellent workshops for young people on financial capability in the Museum on the Mound as well as a stakeholder event in the evening on their research related to this project.
An interactive event on 'Scientists have your data' with ADRC Scotland took place at Summerhall to enable dialogue on privacy, security and control over data and how it used in research.
Enjoy the festivities and have a Happy New Year!
More from this author
Share